Are you planning a quarantine birthday party? I didn't want to write this post, but it's a post that is very relevant right now and one that is real to us. We've had to plan 4 quarantine birthday parties in our family. Three of them for our kids and one of them for me! Good news is you can still celebrate, just in a different way!
Quarantine Birthday Party
The worst part of a quarantine birthday party is knowing you can't have a BIG party with lots of family and friends in person. The good news is that you can still can have a party, you just need to make sure you smart with how you go about doing it.
Virtual parties are the new "rage" now and they're easy to do and fun to have when you get a solid plan in place. I'm all about making sure that birthdays are to be celebrated, so for someone like me – I'm all about coming up with fun ways to have a quarantine birthday party.
There are some fun birthday ideas for kids during quarantine that you can come up with during this time. I know that it's strange to have a party online or as a drive-by, but the main goal and point is to make sure you're able to still celebrate with your family and friends.
You have (2) options when it comes having a quarantine birthday party:
Host an online birthday party for friends and family
Host a birthday parade
Regardless of what option you pick, there are some certain things you need to make sure you do.
(1) Create a guest list of all your family and friends that you want to invite. If you're having a birthday parade, make sure you have people who you know can drive by. If you're hosting a virtual one, the beauty is that you can invite people from all over the country. They don't need to be where you are and that's a plus for a quarantine birthday party.
(2) Choose your time and day and send out a virtual invite! Try and think about the best time for people to come to your party. When we hosted a birthday parade for my daughter's 7th quarantine birthday party we made sure it was in the evening so all activities and work was over for the day. It allowed more people to make it, which she loved!
(3) Make sure you go CRAZY with the DECORATIONS! There's one thing that nothing can stop and that's decorating for your party! Go extra fun with the balloons and streamers and banners and flowers and everything else. I love seeing what people do for their quarantine birthday party! I'm seeing walls of balloons and streamers galore. Decorating makes it feel like your birthday!
(4) You can still pick a theme! It doesn't matter if your quarantine birthday party is a parade or a virtual one, pick a theme! My husband had a wine one for me. He had all of my friends drive-by and bring me a bottle of wine. My daughter wanted her theme to be PINK. We decorated everything PINK and just had so much fun. Think about a fun theme and get everyone who "comes" in on it, too!
When it comes to a Virtual Quarantine Birthday Party it's all about making sure you're doing everything you can to celebrate the BIG DAY!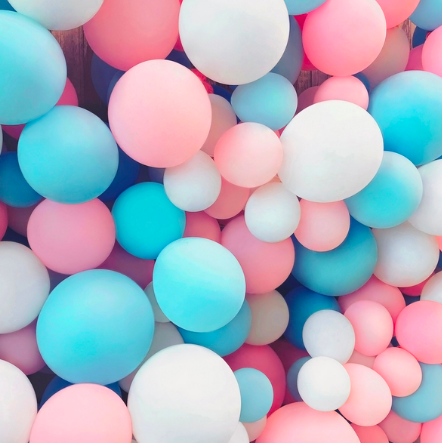 If you're going to host a VIRTUAL BIRTHDAY PARTY, here are some extra fun ideas to bring into your party:
1. Have some party games! There are a bunch of Virtual Party Games you can play! I actually wrote a blog post about 10 of them you can play online with family and friends. I personally think it makes a party to have some games. Even with younger kids – you can play "guess how many marbles" are in a jar. You can play a memory game – put some items out and take them away. Think creatively!
2. Have a cake and make sure you have everyone sing to you! The best part about a virtual party is that you can actually do components of a party that you normally would do in person. Make sure you have a birthday cake for your quarantine birthday party. You will never (EVER) forget this cake.
3. You could have an activity for people to do "together!" Think of something that everyone could do while they're at the party. Maybe you could cook together or do an art project together. It would be nice to have your friends there for a good time even if you're not actually together. The laughter and the happiness of everyone seeing each other do the same thing would be super fun!
4. You could even send party favors. You don't have to go crazy at all, you could send along a $5 gift card to a store or something special like that – all could be sent electronically. Most everyone that will attend will most likely have to gift to you a virtual gift card, so this could be your way of thanking them for attending.
If you're going to have a BIRTHDAY PARADE for your Quarantine Birthday Party, here are some things to keep in mind:
1. Encourage everyone who will be coming to the parade to make signs and beep their horns. This was so much fun watching my daughter's eyes light up as people when by beeping and screaming HAPPY BIRTHDAY!
2. Make sure you have music playing so people can get into the party mode as they drive by! This was something we didn't do and I wish that we did!
3. Have your birthday girl or boy ALL dressed up and ready for the PARADE! This is their big moment for their party and it's fun to get into the birthday spirit!
You can't go wrong with either option and it's just great to be able to host a birthday celebration. Nobody wants a quarantine birthday party and potentially birthdays in Jan and Feb *might* just miss the craziness of it, but if they don't – I wanted to make sure I shared with you 2 really fun options.
Birthdays are ALL about celebrating and regardless of how you do it, YOU make it special for the birthday girl or boy in your life! Make sure you do everything you can to make it special because I know this will be the ONE birthday that is remembered for the years and years to come!
Make sure you're following my Facebook page for more Mom Generations information!
Quarantine Birthday Party – How to Host the Best One
was last modified:
April 7th, 2021
by