If you follow me on TikTok, you know I love to share hairstyles videos for moms every single day. I'm all about easy hairstyles for moms because I know we're 1) short on time in the mornings 2) not everyone is good at hair. The reason I love doing Victoria's hair so much is because it's time for us to sit and laugh and talk and bond. Not to mention – I had 4 sons before Victoria, so I'm living out a dream right now
Easy Hairstyles for Moms
When it comes to easy hairstyles for moms I think the most important aspect is to find hairstyles you're good at doing and just keeping doing them, but with a different twist.
What do I mean by this? I'm showcasing today 6 easy hairstyles for moms that all revolve around the same kind of style, but I just changed it up to make the styles look different. It's about being a little creative and knowing what's comfortable for you to do and what's NOT!
I can't tell you how many times I've gone on Pinterest or YouTube and seen these intricate looking hairstyles that are very intimidating to me. But then I watch the full video or look at the step by step photos and realize that it's actually not that hard at all to do, it's just a matter of taking it step by step.
I know many of us don't have time in the morning to do step by step hairdos, those are saved for special occasions, but I do love a good standby hairstyle that I can do in my sleep! The 6 easy hairstyles for moms that I'm sharing today with you are just that – super easy. You'll also see that they're pretty much the same style, but I'm just swapping out the hair accessories.
My 6 Easy Hairstyles for Moms:
Style #1: I took a cut up tee shirt and turned it into a hair accessory! Honestly – you don't have to spend a ton money (or even a dollar!) for hair accessories. I looked in our donation pile and saw a tie dye tee my son was getting rid of and decided to cut it up for hair accessories for Victoria. They work perfectly!
I tied the hair strips into her braid and then just added the strips into her braid as I went down. I love the subtle look of it throughout her style. I think it's adorable and this could work on anyone.
Style #2: Talk about the quickest of the easy hairstyles for moms! This one is a snap to do. I'm using my own silk cabi scarf for this one (you will see it again 2 more times in the video!). I love this style because as long as you have hair long enough to do a ponytail, you can master this one.
As you can see in the video, create a ponytail and then just wrap the scarf around it for a good knotted tie. Let the ends dangle down and you're good to go! You can do a low ponytail, too for this one. I opted for a high ponytail because Victoria's hair is so long.
Style #3: Same scarf, but just used it for a messy bun hairstyle! I added the scarf right into her elastic band and just "pretended" it was her hair as I wrapped up her hair into a large messy bun. I personally love the look of this style the most. I think it's a chic style and very retro. I have done this one on my hair when I'm heading out in the summer!
Style #4: I found an old red ribbon hanging around our house and used it to braid through Victoria's hair. I love the bold color of the red because it really pops! The secret is just making sure you're securing it well enough into the elastic band before you start braiding.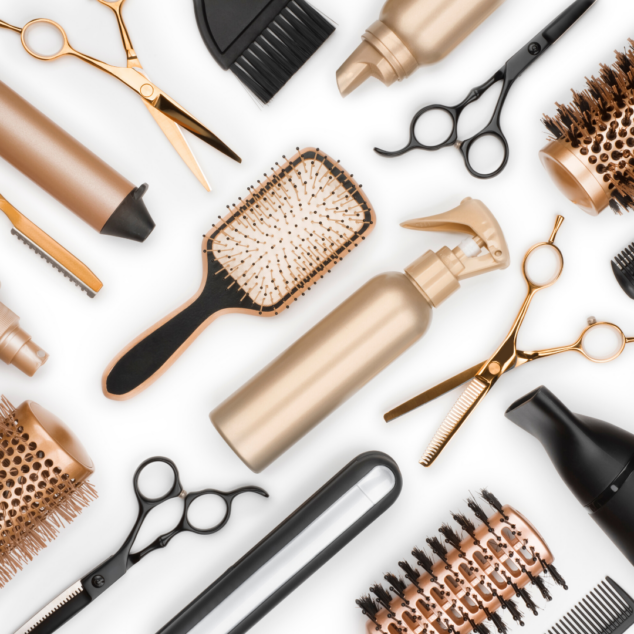 Don't forget to "puff" the braid out when you're done for more of a dramatic look. This is my favorite part of braiding hair, being able to go back and puff it out like this! Super chic and super cute.
Style #5: Same style as the braiding through and I used the cabi scarf again! This is why I wanted to showcase how easy it is to find a style (braiding hair accessories through the hair) and just switch it up with different fabrics and wraps. I love how elegant this style looks with the silk scarf.
Style #6: Same style again, but this time we used a yellow ribbon that came on a package we received! See how resourceful we are when it comes to finding the best hair accessories? Love being able to find items around the house and use them.
I hope these easy hairstyles for moms help you out. I don't want moms to feel that they can't do quick and easy styles on their kids. I love that these hairstyles all taken less than 5 minutes, too! These are the best kind! Your child will have the best hair in school once you master a few go-to styles!
Check out my 6 Lazy Hairstyles for Moms, too! These are 6 styles that us moms can do in a matter of minutes, too! I don't think there's one mom out there who has the time in the morning to play hair salon. We need to be fast and furious to get everyone where they need to be!
Easy Hairstyles for Moms
was last modified:
May 15th, 2020
by