One of the amazing resorts we got to visit and tour during our Disney World property press trip was Copper Creek Villas & Cabins at Disney's Wilderness Lodge. I had never ever visited and toured this particular property before and it was one that I was excited about because by looking at the photos it just looks INCREDIBLE! OK… OK… I know… all of the Disney properties are incredible, but this one really jumped out to me as a perfect one for our family.
Copper Creek Villas & Cabins at Disney's Wilderness Lodge
Why is Copper Creek Villas & Cabins at Disney's Wilderness Lodge a place I recommend?
Off the bat?
They fit a family of my size! I'm telling you right – with 7 people in my family, that's the first thing I look for when going to book something.
Welcome to new idyllic retreat that evokes a rustic-elegant vibe—a perfect nod to the rich and pioneering heritage of the Pacific Northwest. Consider this your new go-to vacation base camp when pining for serene surroundings located just around the river bend from Magic Kingdom park. Standout features include a full range of accommodations with modern amenities—from Deluxe Studios to 26 waterfront Cabins with wraparound porches.
I was simply dazzled by this amazing resort and couldn't wait to tour it with everyone. The accommodations at Copper Creek Villas & Cabins at Disney's Wilderness Lodge are fantastic because there are so many different options for guests.
Choose from a Deluxe Studio, 1- or 2- Bedroom Villa, 3-Bedroom Grand Villa or a private waterfront Cabin—all infused with nature-inspired design elements.
Enjoy the rustic elegance of frontier life in a Deluxe Studio, where cozy touches mix with modern design to create a uniquely tranquil retreat. Each one sleeps up to 4 Guests, with a queen-size bed and a queen-size sleeper sofa. This bright and welcoming room includes a convenient kitchenette, bathroom with either a full-size tub/shower combo, or a walk-in rain shower. There is also a flat-panel wall-mounted TV in the bedroom/living area, storage space for your family's belongings, plus a private patio or balcony from which a variety of scenic views can be relished.
Grow a lifetime of memories for years to come—even as your family evolves—in a 1- or 2-Bedroom Villa, or even a 3-Bedroom Grand Villa. One-Bedroom Villas sleeps up to 4 Guests, with a king-size bed and a queen-size sleeper sofa. While the 2-Bedroom Villas sleeps up to 8, with a king-size bed, 2 queen-size beds and a queen-size sleeper sofa. These Villas also feature a fully equipped kitchen with stainless steel appliances, washer and dryer and a sleek bubble-jet tub.
Luxe 3-Bedroom Grand Villas are ideal for extended-family getaways and can accommodate up to 12 Guests with a king-size bed, 4 queen-size beds and one queen-size sleeper sofa. Additional highlights include a stacked washer and dryer and a master bathroom fitted with a bubble-jet tub and an in-mirror TV.
And finally, set out past the towering pines and down winding trails to reach one of 26 unique 2-Bedroom/2-bathroom waterfront Cascade Cabins. These private, luxurious quarters can sleep up to 8 Guests and are exclusive to Copper Creek Villas & Cabins. In addition to a washer and dryer and a fully equipped, open-style kitchen, each Cabin features a double-sided stone-hearth fireplace and screened-in wraparound porch with a built-in hot tub—an ideal spot for peaceful chats over steaming mugs of morning coffee.
Let me walk you through the Cooper Creek Cabins & Villas
Disney's Wilderness Lodge is just magnificent! It's massive and beautiful and gorgeous! When you first walk into this Lodge it stopped me in my tracks! It's simple amazing!
We got to see one of the suites there, too! What I personally loved about the suites and the cabins was the washer and dryer! It was AMAZING to see this one little luxury there for everyone! I even took a photo in one of the suites and cabins!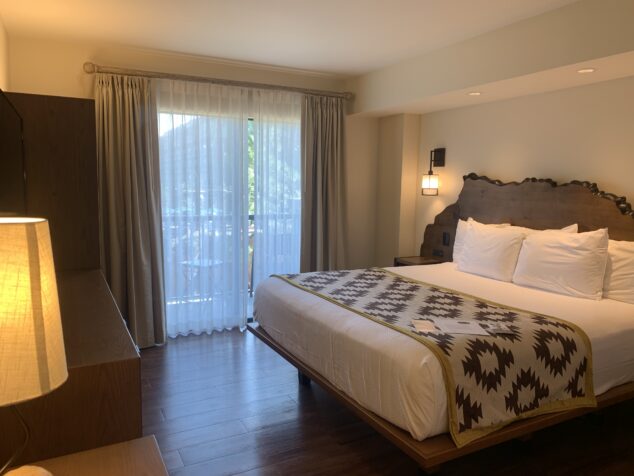 There are so pools for the guests to take advantage for guests!!
Dip into a pool area that suits your mood—choose from the playful Copper Creek Springs Pool or the easygoing Boulder Ridge Cove Pool.
Copper Creek Springs Pool
Follow the bubbling Copper Creek to discover a dazzling heated pool surrounded by nature. Here, you can zip down an exciting 67-foot waterslide built into rocks and relax in hot and cold whirlpool spas. Children can have a blast exploring the newly added aquatic play area. Nearby, Geyser Point Bar & Grill offers refreshments and snacks for you to savor at a patio table or on a lounge chair by the pool.
Boulder Ridge Cove Pool
Bask in the laid-back charm of this watery oasis nestled within the Boulder Ridge Villas at Disney's Wilderness Lodge. At this location, you can soak in the whirlpool spa, enjoy a swim in the zero-depth entry pool or score a first come, first served spot at one of 6 shaded seating areas.
Another perk of staying at this resort is that it's close and accessible to the different parks.
Discover details that harken back to a storied railway past, present-day luxuries and years of future adventures—all tucked away down the hidden pine trails off Bay Lake.
The main lobby of Disney's Wilderness Lodge is just steps away from the full range of modern, nature-inspired accommodations at Copper Creek Villas & Cabins.
Whether it's a night spent relaxing by the lobby's 82-foot-tall layered stone fireplace, or venturing out to delight in the near endless action of the close by Walt Disney World Resort theme parks, you and your family will find that this wilderness retreat is a magical backdrop for the timeless vacation tales you'll continue to tell, year after year.
We also toured Storybook Dining at Artist Point while there, too! I know all of my kids would fall in love with this restaurant! It was like out of a fairy tale!
Meet Snow White, Dopey and Grumpy every evening while dining in a rustic setting, inspired by the Disney film Snow White and the Seven Dwarfs!
Enter the Enchanted Forest to the sounds of delightful music that help bring a storybook fantasy to life.
And if you dare, meet The Queen—and even pose for a photo with her!
Guess who we got to meet!!??? The QUEEN herself!!
I can't say enough about this incredible resort! Please add to your list if you're looking for places to stay while visiting Disney World! It's magical and just a showstopper!
Also checkout my YouTube video where I showcase all the different resorts!
Check out my highlights of the other resorts:
Disney Art of Animation Resort
Disney's Fort Wilderness Campground
Copper Creek Villas & Cabins at Disney's Wilderness Lodge
was last modified:
July 22nd, 2019
by