With Memorial Day Weekend in full swing, we celebrated something extra special with my family this weekend, too — 10 years of fun with Elephant and Piggie! We're HUGE fans and love the books so much! When you can find a book series that works for all the kids in your family, you stick with it. You embrace it and you love it more than anything in the world. I'm thrilled to share this Elephant and Piggie party with YOU!
Elephant and Piggie
I fell in reading love with Mo Willems' beloved Elephant and Piggie picture book series literally 10 years ago! With 5 little ones, you can only imagine how much Mo Willems reading fun we have had throughout the years. He is truly an icon in our house and the Elephant and Piggie books have a very special place on our bookshelves! It's wonderful after all these years seeing my youngest, who is just 3 years old fall in love with Elephant & Piggie, too!
I truly can't believe that it's the 10th anniversary of Mo Willems' beloved book series! Where did the time go?  I loved being able to take the time this weekend and celebrate with my family!
How did we celebrate Elephant and Piggie?
Well – as you can see, we decorated for the occasion! The kids loved seeing what I had in the party pack to use for decor! It really made the kids super excited and happy!
The kids LOVED creating the DIY Elephant & Piggie lanterns! As soon as they saw this activity, they all "called" what they wanted to make. Fortunately everyone was happy with what they got – either elephant or piggie! I think they came out incredible! It was so cute watching them out everything together!
You can make your own Elephant & Piggie Lanterns, too! Click here for the DIY template!
The Elephant and Piggie Like Reading! activity sheets were big hits for the kids, too! I loved seeing Victoria get involved and really love being part of the celebration! She was so cute, she kept showing me what she did on the activity sheets!
Have some fun with your kids, too by downloading the activity sheets, too! Click here for the ones we played with at home!
Also… who doesn't love a stress ball? How awesome is that!? The boys wouldn't put it down!
My favorite was that we had our very own "Good for Nothing" button! With 5 kids, this was the MAJOR hit! LOL! I *might* have to hide it after the weekend!
What I loved finding out, too was that a new beginning-reader series created by Mo Willems! has been launched. Best friends Elephant and Piggie introduce kids to their favorite books – brought to life in original stories created by contemporary children's book authors and illustrators. I love this because I'm always on the hunt for new and incredible books for my kids!
Books in the Elephant & Piggie Like Reading! series:
The Cookie Fiasco by Dan Santat (2016)
We Are Growing! by Laurie Keller (2016)
The Good for Nothing Button by Charise Mericle Harper (2017)
The Good for Nothing Button by Charise Mericle Harper just released on May 2, 2017. It's recommended for ages 4- 8 and I'll tell you what – it's a HUGE HIT in our house! The kids love, love, love it!
What is it about?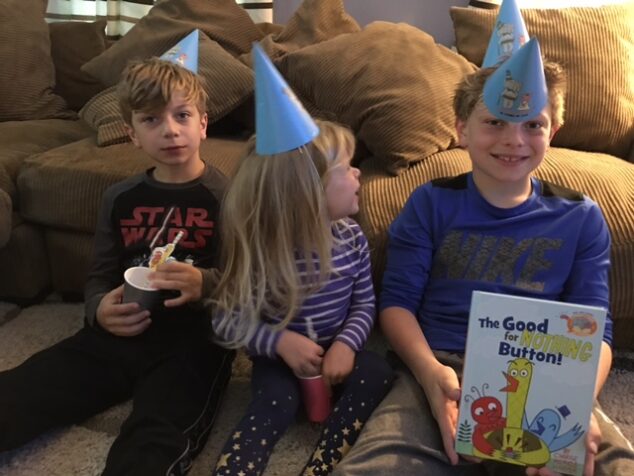 Yellow Bird has a button. It does . . . nothing! It is a good for nothing button.
 
Red Bird and Blue Bird are excited to try the button. But when they press it, they discover that the button makes them happy. Happy is something! A flabbergasted Yellow Bird insists the button does nothing. But it sure does seem to be making him mad. Mad is something!
The hilarious debate that follows takes readers on an emotional roller coaster that pokes at the power of imaginative play.
Definitely pick it up!!
And for some added fun, check out our Top 10 Favorite Elephant and Piggie Books:
Let's Go For a Drive
I'm a Frog!
Should I Share my Ice Cream?
I Am Going!
Are you Ready to Play Outside?
Today I Will Fly
I Am Invited to a Party!
The Thank You Book
There is a Bird on Your Head
Waiting is Not Easy!
Find all of Mo Willems books here.
Thanks for celebrating with me!
For additional info and fun with Mo Willems, head to:
Visit PigeonPresents.com
Tweet @The_Pigeon and @DisneyHyperion
Follow @DisneyBooks on Instagram
Like @MoWillems on Facebook
Hashtag #MoFun
GIVEAWAY TIME:
Giveaway Details –
Celebrate 10 Years of Fun with Elephant & Piggie!
One (1) winner from your site receives:
– The Good for Nothing Button
– 4 books from the Elephant & Piggie series
– Plus Elephant & Piggie stress balls and temporary tattoos!
Giveaway open to US addresses only.
Prizing provided by Disney-Hyperion.
How can you enter?
Leave me a comment saying who is the Mo Willems fan in your life!!!
I will choose a winner in June 5th!!
GOOD LUCK!!
Check out my Mo Mail Alert Blog Post
Check out my Thank O Rama Book Post
Disclosure: We love Elephant & Piggie at my house, and were so excited to partner with Disney-Hyperion on a sponsored post to celebrate 10 years of the series!
Elephant and Piggie – Celebrating 10 Years PLUS GIVEAWAY!!! #MoFun #Giveaway
was last modified:
May 22nd, 2019
by