It's definitely SPRING in Rhode Island! We've had rain showers every single day this week and we're expected to have more this upcoming weekend, too! As much as I love the shining sun, there's something very peaceful and beautiful about spring showers! I love having the best rain boots! They help make all the flowers and shrubbery outside my house look spectacular! So truly… I can't complain about the rain! Here's the one thing with rain, you need to be ready and prepared for it when it does come! What's one of the top things on my list for my family when it comes to rain gear?
Best Rain Boots for your Family
Easy… Best Rain Boots!
I have partnered with Kamik Footwear this season to showcase some of their fabulous options when it comes to seasonal footwear. They are leaders in bringing their customers quality and comfort, 2 things that are HUGE for me and my family when it comes to footwear. I was thrilled to pick out some rain boots for everyone in my family! Believe it or not, everyone needed a new pair! It's been forever since I've updated rain boots for anyone and believe me, with this season we've had here in Rhode Island we NEEDED rain gear big time!
I fell in love with Kamik's Jennifer Rain Boot (talk about the best rain boots!) I love a tall boot and the classic style of it just spoke to my fashion sense. I love how these boots can (literally) go with any look, they have such fashion versatility! These rain boots are made of lightweight RubberHe, and have built-in traction for slippery spring weather. The patch-and-buckle detailing complete these 100% recyclable and waterproof boots. I love that I slip these over my skinny jeans for a cute look! And – a HUGE factor – these were so comfortable that I forgot I had them on!
Since my daughter is a little fashionista, I let her pick out her own rain boots for the spring. She seems to have her own fashion style (everything and anything that is pink and purple), so when she saw Glitzy in Magenta, she was ga-ga!! These were the PERFECT boots for my little girl! She actually WANTS it to rain so she can wear these to school! It's adorable!
I can't get over her poses with the rain boots! I was dying! She kept saying to me, "Let's be twins!" So she kept wanting me to pose just like her!
I mean, truly… if you have a little fashionista on your hands, these are the rain boots for her! Add a little sparkle to those rainy April days with a pair of our Glitzy fashionable rain boots for girls. From walking to the school bus to jumping in muddy puddles, these cool rain boots made of lightweight RubberHe keep feet dry. They're adorable Canadian-made boots for rain, 100% waterproof and 100% recyclable.
As you can imagine, all Victoria likes to do with her rain boots is jump in puddles! She's a total kid… but then again, her big bros like to jump in puddles, too!
Here are all my kids sporting their Kamik best rain boots!

As you can tell, 3 of my sons are gravitated towards the exact same style! They were so funny when they found out that they all got the same ones! They couldn't believe it! My youngest son Henry was the only one who fell in love with a different pair!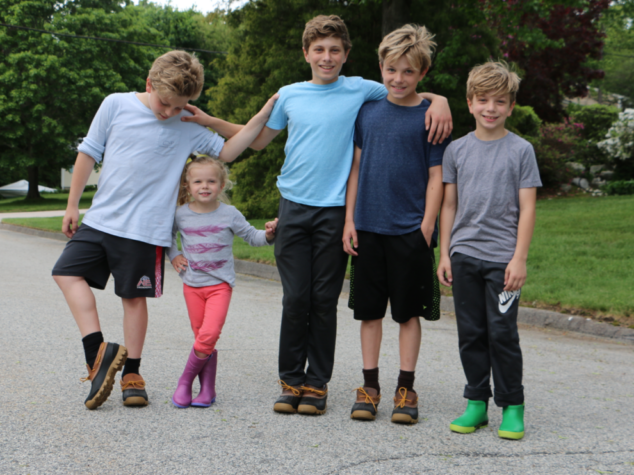 OK… Dad got the same ones, too!
My husband and 3 sons (William, Alex and Ben) are all rocking Kamik's Yukons! Believe it or not, my 3 sons are in MENS sizes! They have the biggest feet ever! The Yukons are such a classic style, one that they can wear with their school clothes or just hanging around outside at home. I love how easy they are for them to get on and off, the comfort level is huge for them! The Yukons are offered in 2 color options: Tan and Dark Brown. I love how they all match… really makes me smile!
Look stylish when you head outside this season, wearing our YukonS short boots for men. Whether they're for getting around the city on wet days or simply getting to and from work with dry feet, you can rely on these versatile three-season boots for men. Featuring waterproof and lightweight RubberHe bottoms for optimal traction.
The kids had a blast taking photos for me, especially Victoria! She was making the boys (and Daddy! ) laugh like crazy! She's a hot ticket!
My Henry… he really loved the Rainplayo in Green! Green is his favorite color, so I knew these would be a HUGE fave for him! The second he opened the box he said, "COOL!" So I knew he's be wearing these babies all the time! He wore them to school today and had them on all day, they're that kinda comfort!
Watch your little one frolic in the fresh spring air in a pair of RainplayLo short rain boots for kids. Easy to put on and 100% waterproof, these kids' rain boots let kids run, jump and play—even on wet and muddy ground. Featuring a reflective NiteRays patch for after dark.
I can't say enough good things about Kamik Footwear, they are a phenomenal brand that really knows how to combine fashion and comfort and quality.
The Kid Style is always amazing! Step & Stride for the shoe win! And the adorable EMU Austraila boots.
Best Rain Boots for your Family #KamikStepOutside
was last modified:
May 22nd, 2019
by