38 Things to Do with your Kids in the Car – Travel with Kids isn't always easy, you need to make sure you have Travel Games for Kids. As a mom of 5 – I know this to the core. I'm always in the car with my kids. We're that family that is always on-the-go. It's funny, when there's a day or a night with nothing to do, I'm kind of out of my comfort zone. Busy seems to be our lifestyle. My sons keep themselves occupied with iPads. They play games. They listen to music. They watch movies. They completely zone out. Make sure you have plenty of Travel Games for Kids to keep them busy!
Travel Games for Kids
That's the thing. They zone out. We just came back on Sunday night from Pittsburgh. It was a 10-hour trip each way. On the way to Pittsburgh, we let the kids be connected the whole entire time. It was nice. There was no fighting. There was no taunting of the brothers. It was quiet. I actually played on my iPhone the whole time, too. I'm all about finding ways to keep them occupied.
38 Travel Games for Kids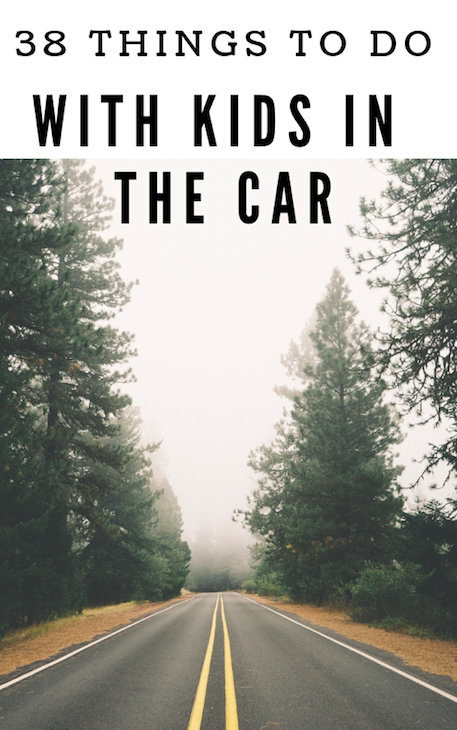 But here's the thing. We were ALL connected. There was no conversation. There was nothing. I didn't like it. It was too quiet. I felt like we were the exact reason (in that 10 hour drive) why people make the decision to disconnect from technology. Travel with Kids needs to be thought out BIG TIME.
On the way home, I changed it up. iPads needed to be down. My iPhone needed to be done. We were going back to the basics… the good ole days! I remember being a child and driving to a vacation spot or just heading to school or swim practice with my family – we would laugh and tell stories and just have fun together because there was nothing else to occupy us. No TV. No DVD. No games.
I have to say, the boys actually had a good time! They survived. They were reluctant to put the games down, but I made them. They didn't have a choice in the matter!
38 Travel Games for Kids
1) Play "Going on a Picnic"
2) Play the ELEVATOR Game
3) Look for the letters of the Alphabet on signs
4) Look for the 50 states on license plates
5) Sing songs
6) Play the radio and sing along to the music
7) 20 Questions Game
8) "I Spy!"
9) Try to find the Rainbow Colors
10) Find it First Game
11) Tell a Story where everyone participates
12) Boys played a Staring Content
13) Try to Make Someone Laugh
14) Say a statement really fast and see who can decipher it
15) Hum a song to see you can guess it
16) Clap a song to see you can guess it
17) Memory Game
18) Look for Animals
19) Look for drivers wearing sunglasses
20) Look for people with 4 people in their car
21) Guess how long before you spot a restaurant
22) Look for female drives
23) Try to get someone to wave in the backseat of a car
24) Rock/Paper/Scissors
25) Name a Letter and See how many names you can say with that letter (H – Henry, Hannah, Harry)
26) Bring a Deck of Cards – WAR, Go Fish, etc
27) UNO
28) Play Hangman
29) MASH (remember this one – help the kids!)
30) Read a book aloud
31) Madlibs
32) I'm thinking of a NUMBER Game
33) States and Capitals Game
34) See if you can name someone you know in every state
35) Count how many people are driving a type of car
36) Come up with a list of things you need to spot – Scavenger Hunt style
37) Tic Tac Toe
38) Thumb Wrestling
Add on!
What do you think!? What else am I missing when it comes Travel Games for Kids?
Check out Michael's and Target for some great games to grab, too in their game aisles!
If you're traveling by air, here are tips to keep kids happy on a plane.
Travel Games for Kids – 38 Things to Do with your Kids in the Car #RoadTrip
was last modified:
August 21st, 2019
by