If you're close by, head to Thayer Street Providence HOLIDAY LIGHTS! They're up and they're beautiful. There's something really special about seeing the lights lit and hanging in all of their holiday glory during the season!
Thayer Street Providence HOLIDAY LIGHTS!
If you're looking for some holiday cheer this season, head to Thayer Street Providence. Many of us are looking for things to do with ourselves and our families right now, well… this is a fun and easy outing.
Grab a hot cocoa or coffee or tea from the cafes on the street and stroll down Thayer Street. See the lights. Check out the stores. See what's going on. Feel part of the energy that only Thayer Street Providence offers.
Start at the "top" of Thayer Street and just work your way down. You'll know you're at the beginning when you see the beauty of SEASONS GREETINGS!
The best part is that the retailers and restaurants are getting into the holiday spirit, too! You'll have the opportunity to see the sights and the festive flair in the windows. It's always cool to see how the businesses decorate and share the holiday spirit!
Here is the display window from Pleasant Surprise! How pretty are these pink trees?
Here is the beauty of the AVON Theater! How pretty is that tree of lights on top?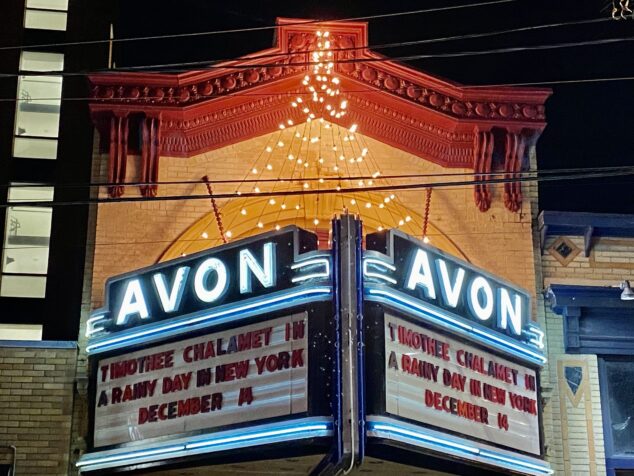 How beautiful is this intersecton? The beauty of the snowflakes with Andreas' Providence right here, too!
Love the tree pop-ups on Dojo on Thayer. Seeing the retailers get into the spirit of the season is amazing.
Berk's Clothing and Shoes is all decked! Ornaments and candy canes and lights! It's all there!
The Shaking Crab is getting into the spirit! The tree is all up there and ready for people to browse!
It's just truly so fun to walk down and see the festive lights up everywhere! Urban Outfitters has a fun set of snowflakes right in front, too!
There are so many amazing experiences on Thayer Street Providence. There are cafes and restaurants. There are stores and shops. There are experiences for people of all ages.
For those not familiar with Thayer Street, it's located in Historic College Hill on the East Side of Providence, RI and is surrounded by internationally renown educational institutions of Brown University, Rhode Island School of Design, Wheeler School, Moses Brown School.
It's the home of 40+ restaurants with tastes of and drinks from around the world including open air bistro seating, WiFi available Cafes to Grab n' Go. There's eclectic shopping Mix of Mom & Pop Shops with National Brands Urban Outfitters, Berk's Shoes & Clothing, Spectrum India, Sneaker Junkies, CVS, Brown Bookstore, Pleasant Surprise & More!
There are also Special Personal Services ranging from Salons, Barbershops, Threading to Printing to Tech Repair. There's also Entertainment ranging from Movie Cinema to Tarot Card Reading to Nightlife and Hookah.
Check out this link for a full directory.
Thayer Street Providence HOLIDAY LIGHTS!
was last modified:
December 7th, 2020
by