One of the biggest pieces of information I can give you as an influencer is to create an Influencer Media Kit. This valuable media kit will be your resume, brag sheet, accomplishments and updated stats all rolled into one.
Influencer Media Kit
I started blogging back before there ever was such a thing like Instagram, Pinterest, TikTok or (even) Twitter. To be honest with you – we weren't even called influencers, we were just "Mommy Bloggers." I actually hated when people would use the word "Mommy," I preferred "Mom Blogger."
Creating an influencer media kit was never in the cards back then, we kept it simple when trying to pitch agencies and brands. Basically all we had to share was our blogging traffic, that was it. Our resumes for blogging was (quite frankly) whatever we were doing before blogging.
Nowadays everyone should have an influencer media kit because it's an essential way to showcase who you are and why you're valuable as an influencer. The beauty of being an influencer is that it's not always about the numbers. I know not everyone believes this, but it's important for you to create media kit that showcases why you're different and what you bring to the table.
I've often used the correlation between a resume and a media kit when discussing the importance of a media kit for influencers. When you created your very first resume, you allowed it to be your brag sheet.
What set you apart from the thousands of other who had just graduated from high school or college? What made you different from the others so much like you already? You needed to put it all out there. That's how you should go into your own personal Influencer Media Kit.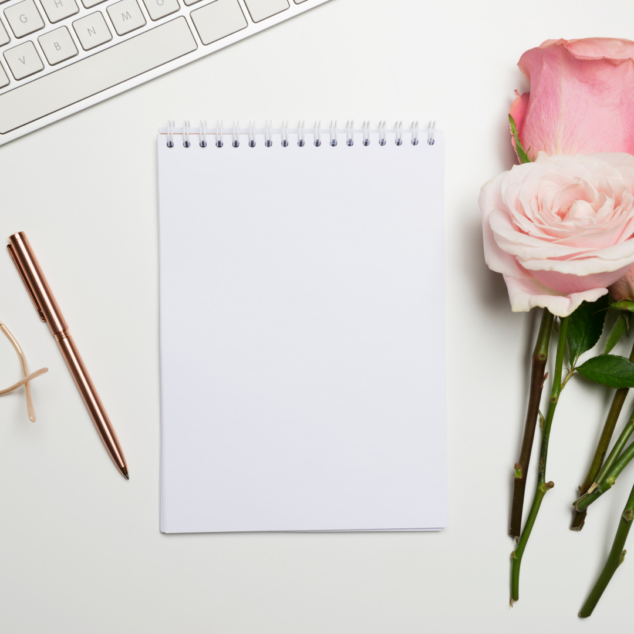 Start with a BIO
One of the most important things on your Influencer Media Kit is your bio. Here's where you share all about you. My advice? Make it short and sweet. 3 or 4 paragraphs of maybe 4-5 sentences. You don't want to give your life story, just who, what, where, how, when and why.
Who are you? What's the name of your blog? How long have you been blogging? Where do you live? How many kids do you have?
Do you contribute to any publications? Do you create any regular series on your blog or social channels? Are you on any blogging boards or special masterminds that are worth noting? Are you an ambassador for any specific brands?
Make sure all of this is covered in your bio. You want to make sure you're giving a solid and cohesive bio as to who you are and what you're all about. You can read my BIO here as an example for yourself.
Share your Headshot
Make sure you're sharing a headshot or a photo of yourself that your proud to share. My best advice to you? Don't crop your head from a group photo. Make an investment in yourself and get some headshots made for your Influencer Media Kit.
If you don't have the money to invest in a professional photographer? Have a family member or friend take photos for you on your phone. Make sure the lighting is good and that the photo is clear. Smile big and showcase who you are.
One thing that is also a good thing to do when creating your Influencer Media Kit is include photos of you within your niche. What do I mean by this? I blog about family. That's my specific niche. I have also included a photo of my family on my Influencer Media Kit so brands/companies see me as a mom, not just as myself.
If you're a fitness blogger, maybe you share photos of yourself in motion. If you're a food blogger, maybe you showcase photos of your recipes or in your kitchen. If you're a fashion blogger, maybe you share photos of you posing in some of your styles. Share WHO YOU ARE. Don't be afraid to do that.
Updated Stats
This is probably the 2nd most important piece of information. Now listen, above I mentioned that numbers don't always matter. This is why I feel this way, especially when it comes to creating your Social Media Influencer Media Kit – showcase all the places you are online.
You might not have the best Instagram numbers, but maybe some of the biggers Instagrammers you follow can't hold a candle to your blog traffic or Twitter numbers. Maybe the bloggers you know with the highest traffic can't hold a candle to your YouTube or TikTok stats. You see, there's so many things that go into being an influencer.
Maybe you don't SHINE in one particular social media channel, but you're everywhere with solid numbers. You've been able to scale across all of the platforms seamlessly. This is important for brands and companies and agencies to see, too.
Don't be afraid to share your stats. They're different for everyone. Be proud of what you have accomplished already and always know that there's always room to grow.
Major Accomplishments
Here's where you start your bragging! That's right. What accomplishments have your achieved in the digital space? Write them all down. Think long and hard.
Have you won any awards?
Were you the first to blog about something?
Did you hit a milestone stat on your blog or social channels?
Were you cast in something?
Are you apart of a special group or ambassadorship?
Are you a spokesperson for a brand/company?
Have you done live TV?
Have you done any interviews?
Share everything there that you can think of. Think of this section like your influener press kit. Share everything that you're proud of here.
Past Successful Campaigns
Who have you worked with in the past? Share some of your biggest partnerships and campaigns here. This is important because brands sometimes we feel more comfortable knowing that you've partnered and worked with some heavy hitters.
Share some successful campaigns that you've done that you're proud of and share why it's meaningful for you. This is something that not many influencers share in an Influencer Media Kit, but I think it important and essential to show your work history. Be proud of it.
All in all – you want to make sure your Influencer Media Kit reflects the best version of yourself. You'll hear people say that they should be a one-sheeter, but I've always kept mine a little longer. As long as you have the vital information on the top – BIO and STATS, I feel it's good to add more. Why not, right?
If you're in a lineup with a bunch if influencers, I'd rather have a brand have more information about me than not. This way they have the ability to see what I've worked on and what I've accomplished.
The big question I'm always asked when it comes to an Influencer Media Kit is "DO YOU INCLUDE RATES?" The short answer? No. I don't. I prefer to allow a brand to see what I'm all about and then we can go back and forth with rates.
I also know that it's not a one size fits all. I don't want to scare away a small company because I'm including prices for a larger one. And vice versa, I don't want to pigeon hole myself into certain price points if brands have more money to spend.
You need to do whatever you're the most comfortable with, but my advice is to keep it open to negotiation.
If you're looking for a Influencer Media Kit Template, check out CANVA. They have a bunch of templates that are perfect for this and can really help you out.
Again, you can view my entire MEDIA KIT here, which is also a good point. Create a Influencer Media Kit PDF, but also have it on your blog for brands and agencies to easily find. Mine is one of my top tabs.
If you have any questions, just drop them below!
Influencer Media Kit – How to Create One for Yourself
was last modified:
December 30th, 2020
by