Anyone else start to take down their Christmas decorations? Do you have a set Christmas Organization plan? It's important to make sure you have items that will help keep you organized for storage, but also get you set for when you take them down next year.
Christmas Organization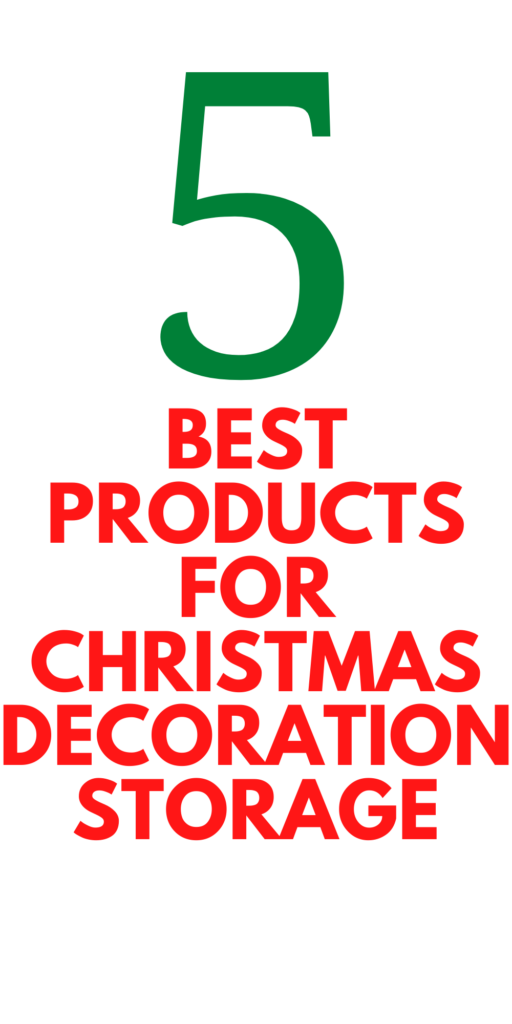 Having a set plan when it comes to Christmas Organization is something we only started doing last year. We were sick and tired of taking the decorations down from our attic and seeing that nothing made any sense.
We had random decorations in one box. We had string lights all knotted together in another. We had wrapping paper and tissues paper and gift baggies thrown in just about every box. There were ornaments scattered in boxes. It was a mess and it was really overwhelming to go through (especially with 5 kids).
When we took all of our Christmas decorations down last year, we immediately went online and bought Christmas organization systems that we knew would help us out. We didn't want to go through another year of craziness as we opened and took down decorations.
There are so many different Christmas organization items out there that are great to use. You really need to stop and think about what you have and what you need.
Most people have:
Ornaments
Lighting for the tree
Christmas wrapping
Stockings
Regular holiday decor
With 5 kids and being married now for (almost) 20 years, as you can imagine – we've accumulated a ton of Christmas and holiday decor throughout the years. We've actually had to go through items throughout the years and donate because we had so much.
It's important to have the right tools and products to be able to properly organize your Christmas decorations. I'm going to share with you (5) products that are super helpful to get you going on your Christmas organization path. You will be SO HAPPY you did this next year when you're unpacking. (I promise!)
Holiday Products for Storage:
Each one of these items for Christmas organization is 1) well priced 2) useful 3) has a specific purpose. You might not need all 5 of these, but hoping that one of them will jump out to you and help you out.
Let's talk ORNAMENTS.
This is what you need. We easily have over 100 ornaments on our tree (we might even have 200!), so we have (2) of these boxes. This is perfect for protecting your ornaments and keeping them all in one spot.
Organizer is large enough to fit up to 128 Christmas ornaments, each one 3 ". Individual sections allow you to store each holiday ornament in its own slot. Dividers are of sturdy cardboard that will keep your ornaments neat and collected.
Both ends of the Christmas organizer have sturdy handgrips, enabling you to lift and drag it with ease. Longer handles on the sides allow you to carry it on stairs or from room to room. On the exterior, there are additional pockets and a card slot for identification.
This has probably been my saving grace this year. It's amazing to have all of your gift wrapping essentials in one spot. It's been so crazy throughout the years buying more and more wrapping paper and then discovering I have it somewhere in the attic.
GIFT WRAP STORAGE – the ultimate solution for Christmas wrap paper storage, accessories, and supplies with the premium wrapping paper storage box! Keep an entire gift wrap collection neat and organized all in one place!, Dimensions: 14" x 40" x 6".
DURABLE CONSTRUCTION – gift wrap organizer storage made of ultra-durable 600D oxford-polyester fabric body is tear, puncture, water, fade, and moisture resistant; heavy-duty cardboard construction keeps the Xmas gift wrap organizer structured and strong.
CONVENIENT EXTRAS – 2 clear vinyl pockets keeps bows, labels, tape, scissors, and other materials organized in the wrapping paper organizer. If you have 36 inch rolls and under use the divider to add a compartment for extra accessories. Dual zipper closure keeps all your materials secure and easy to access. gift wrap storage box.
These bags can be used for artificial trees or (honestly) any other holiday decorations. These are great storage bags and wonderful to keep things in like inflatables, garlands, (fake) wreaths, etc!
Each bag is large enough to hold a 7.5 foot disassembled artificial Christmas tree. DIMENSIONS- 48 x 15 x 20 inches (LxWxH) – Soft Sided Duffel Storage Bag. PORTABLE – Durable nylon handles for easy carrying after the holidays.
DURABLE – Strong tear-proof poly material with a full length, heavy-duty zipper. EASY TO USE- Clean up is a snap, just insert your 7 1/2 ft. artificial trees, garland, inflatables and store for years to come!
These are the most amazing storage containers for Christmas decorations. These are the absolute BEST for Christmas Organization. You can sharpie on the side what's inside and they last forever. We have 12 of these and we LOVE them.
SNAP-TIGHT LID STORAGE TOTE: Keep all of your holiday decorations securely stored and organized. Protect items from dust and moisture. Securely store Thanksgiving and Christmas decorations, Xmas ornaments, stockings, wreaths and more.
STACKABLE STORAGE: Totes are designed to be conveniently stackable. Saving you valuable space to use your storage area more efficiently.
PLASTIC STORAGE TOTE: Durable polypropylene construction.
These are the most cumbersome to store, so it's important to make sure you have a solid organization plan in place for your string lights. Whether it's lights for indoors or outdoors, it's important to make sure they're not just tossed in a box.
NEVER TANGLE – 3 heavy-duty, virtually unbreakable metal reels make it easy to wrap all of your led Christmas lights for organized, untangled storage that keeps them in top shape; wrap your white Christmas lights, multicolored lights, Red Christmas lights, blue Christmas lights on a different reel for easily identifiable organization of your colored collection. Dimensions: 12.5" x 15".
EXTRA DURABLE – Storage bag for Christmas lights made of durable, tearproof and waterproof 600 denier Oxford polyester with a sturdy zipper that closes the holiday storage bag completely to protect Mr. Christmas lights from pests, dust, and dirt.
EASY CARRY – The storage container for Christmas lights stitch-reinforced, generously sized handles make it easy to tote the icicle Xmas lights bag to and from Christmas storage room and decoration destinations.
Hoping these ideas help you out. These products are so helpful when you're thinking about your Christmas organization. Again – you might not need all of these, but hoping some of these jump out at you.
Once you get this down, it's time to tackle your New Year's Organization! Check out my advice for starting with your clothing and parring down.
Easiest Christmas Organization – 5 Products To Help You Out
was last modified:
December 28th, 2020
by