Looking for some fun and free printables for Thanksgiving for your kids? Here is an easy and fun Thanksgiving Word Search Printable for Kids to do!
Thanksgiving Word Search Printable
When it comes to finding activities for my kids to do during Thanksgiving, I love being able to find things that will keep them entertained. I know my kids have always loved and enjoyed a Thanksgiving Word Search printable.
When it comes to getting ready for Thanksgiving, we've always gone to Pittsburgh to visit my in-laws. This year will be different, but whenever we've gone we always create a kids table. It's important to make sure the kids table has a bunch of easy activities to do.
I've created an easy Thanksgiving Word Search printable this year for your kids to do. I wanted to make it an easy Thanksgiving Word Search printable. There's nothing worse than a child trying to find words and feeling defeated that they can't.
It's also a fun one for kids to do with parents and grandparents. I know my parents love to do printables and activities with my kids. To have everyone try and do one word search together would be fun.
You could even have additional fun by dividing everyone into teams. See who can finish first!
We love to have family challenges during Thanksgiving. These kinds of things can range, but having everyone do the same task to see who can finish first is always fun. You can even amp it up by having some prizes. Maybe it's candy or the first one to get to the dessert table.
You will have so much fun with this one. This is a great activity for you to do with your kids! I feel like this year in particular it's going to be a very homegrown holiday and we need to make sure we're doing what we can to keep spirits up and grateful hearts.
As crazy as it sounds, even doing a fun word search like this can make you smile! It's just fun and something you can do with other people. I also love that there's a task at hand that needs to get done.
Here's the Thanksgiving Word Search printable for you to try at home:
There's different ways for you to find the words. You can circle them. You can highlight them. You can circle the letters. There's no wrong way to find the answers or locate them. You just want to make sure you child is having fun while doing it!
There are 10 words for your child to find. All of them are Thanksgiving – inspired. Take some time to read through the words with your child, too. This is part of the fun when it comes to doing activities like this together. You can sit and read and watch your child have FUN while they're also learning.
Grab the printable version here.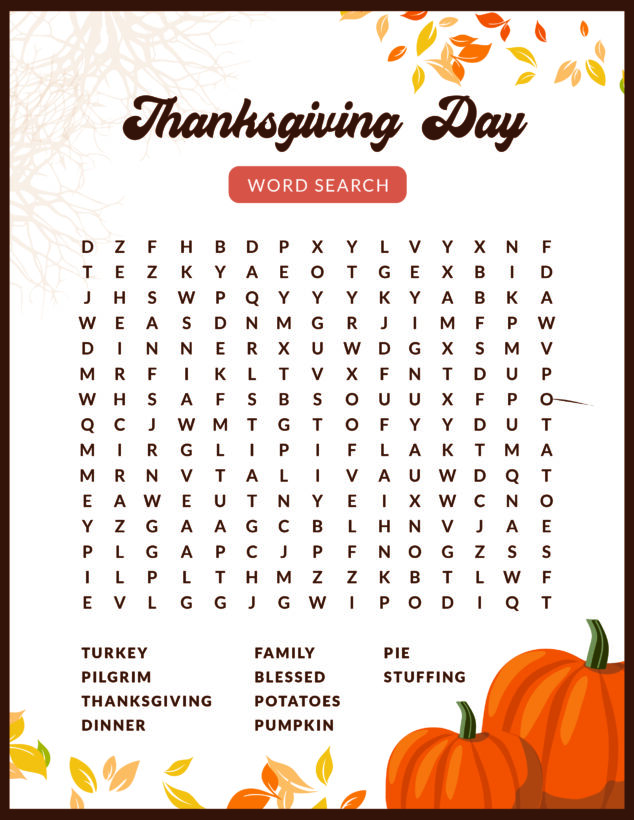 Grab the printable version here.
I hope you have some fun with these. Bookmark this blog post and make sure you use it when you need some additional activities. I'm a big fan of doing everything we can to keep kids having fun and busy.
I'm also wishing you all a very happy Thanksgiving. I know this year is going to be one our kids probably remember forever. Lots of plans have changed. Lots of families will be staying put. It's going to look and be a lot different. Embrace the changes as much as you can.
Keep in mind that we're all in this together, too! Hoping that helps when it comes to making everyone feel that they're not alone this season. We're all trying out best to keep everyone happy and (most important) healthy!
Make sure you're also following us over on Instagram, too. We share a lot of fun there, too!
Thanksgiving Word Search Printable
was last modified:
November 20th, 2020
by