I know you know this about me, but I live for Hallmark Channel movies. I actually live for them year round, so you can ONLY imagine how exciting it is for me during the holidays. NOTHING else is on my TV. I'm not kidding, just ask my husband!
I'm THRILLED to share that I will be LIVE TWEETING during Hallmark Channel Original Premiere of "A Christmas Tree Grows in Colorado" on Tuesday, Nov 24th at 8pm/7c!
How amazing does this movie look to watch? Check out the trailer! Erin is planning the town's Christmas celebration and must win over firefighter Kevin in order to obtain the beautiful spruce tree from his property for the celebration.
The cool thing is that A Christmas Tree Grows in Colorado is part of the 5 NIGHTS OF THANKSGIVING!! Don't forget to tune-in this week for the 5 Nights of Thanksgiving! It's going to be EPIC!!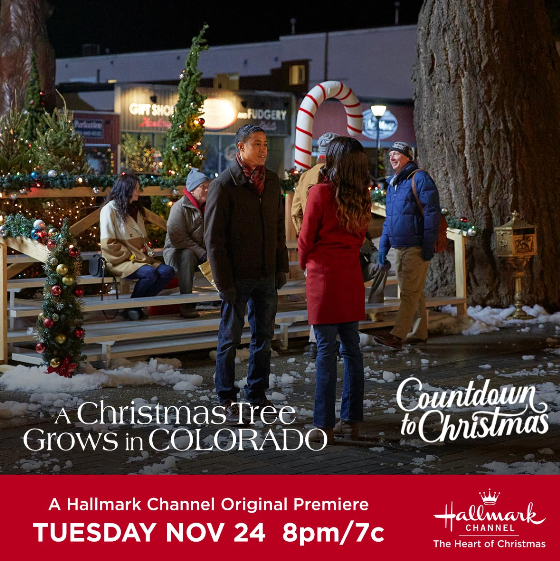 I have to be honest, my favorite tradition during the holidays is watching holiday movies. I feel like this is what Hallmark Channel speaks to my heart so much. It's celebrating the essence of Christmas for me. It's feeling the joy. It's seeing the magic. It's watching with my family.
My daughter and I will get super cozy, grab hot cocoa and sit and ENJOY!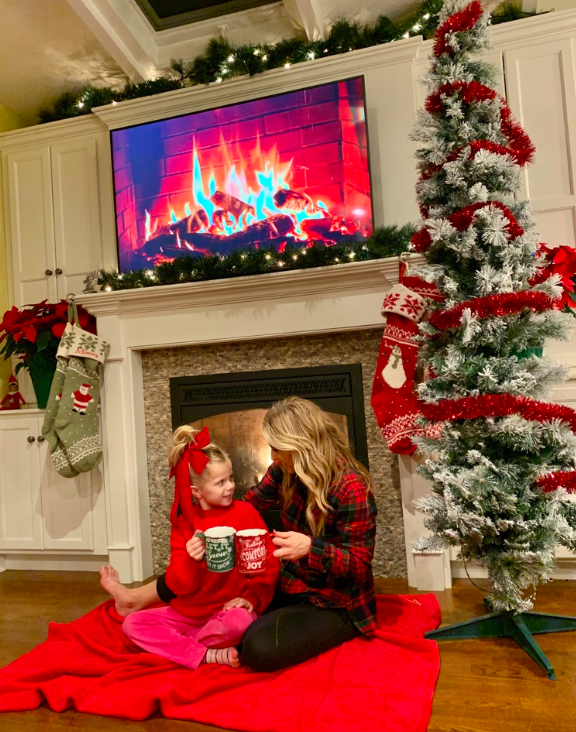 I love that all the Hallmark movies are wholesome and family friendly. I love that my 7 year old can watch with me and my 16 year old! Actually – all 4 of my sons will tune in with me (and my husband, too!). It's a tradition that I started years ago. It's one that I love and truly look forward to each season.
I'll even sit and watch holiday movies while I work, too. It's seeing that there is hope and love and magic out there. I love that this message is being served to so many people. It's also the happily every afters that I adore, too!
Don't miss out on all the FUN this holiday season on Hallmark! There are 23 NEW original movies premiering throughout the holidays. If you miss one, the good news is that you can always catch up!
Hallmark Channel also released new Monopoly game: Hallmark Channel Holiday Edition, The Republic of Tea Countdown to Christmas themed tea tins, new holiday titles from Hallmark Publishing, Bissinger's Countdown to Christmas chocolate calendar and Hallmark Flowers!
I'm obsessed with all of these new items for the season! I need every single one of them in my house!
Hallmark Channel's Very Merry Giveaway Sweepstakes (https://verymerrygiveaway.hallmarkchannel.com), SiriusXM's Christmas music destination, Hallmark Channel Radio; Hallmark Channels' Bubbly Sesh Podcast; and the Holiday Home Decoration Sweepstakes (https://holidayhomedecorationsweepstakes.hallmarkchannel.com) .
I hope you all TUNE in with my TOMORROW NIGHT!!!
Don't forget!! I will be LIVE TWEETING during Hallmark Channel Original Premiere of "A Christmas Tree Grows in Colorado" on Tuesday, Nov 24th at 8pm/7c!
Disclosure: This is a partnership with Hallmark Channel.
Hallmark Channel Original Premiere of "A Christmas Tree Grows in Colorado" on Tuesday, Nov 24th at 8pm/7c! #CountdowntoChristmas
was last modified:
November 23rd, 2020
by