Looking to bring back the Elf on the Shelf Magic? I've got you covered in a variety of different ways. We had a HUGE mishap last night at home. My daughter touched "Elfie" (what we've named our elf) and she completely panicked that she ruined the magic of our elf.
Elf on the Shelf Magic
It's right about that time when Elf on the Shelf comes out to play for the season. The true Elf on the Shelf magic is alive and well in our house. It's something our whole family gets into and it's a fun holiday activity for us to do together.
Every December 1st Elfie comes out to play and cause some fun holiday trouble for the the kids! We've decided to take him out early this year to add to the festive cheer of the season. We ALL need it right now.
This is the 2nd year that all 4 of our sons are in on the Elf on the Shelf magic. Essentially we've told Victoria that Eflie is an elf for Santa. He comes down to make sure that everyone is acting and behaving well. I created a fun 30 Day Elf on the Shelf Checklist last year for some extra help for parents.
This post is all about what happens if your child touches the Elf on the Shelf. I know that I can't be the only parent on the planet who has had this happen in our home. It happens, kids touch the ELF!
I went online to figure out what to do (in front of your child) if they happen to touch the Elf. I wanted to determine and find things to do when it comes to bringing back the Elf on the Shelf Magic. The good thing is that there are a few different things to do if the magic "goes away" by mistake.
What to Do If Your Child Touches Elf on the Shelf:
Cinnamon – There are some incredible magical powers in this spice. Sprinkle the cinnamon on your Elf on the Shelf and then let it sit overnight. It's as simple as that for your child. We've done this a handful of times already.
Letter to Santa – Have your child write a letter to Santa and apologize for touching the Elf. Let your child write whatever they want to write, but let them feel like they're able say what they want to say.
Time Out in the Freezer – You can pop your Elf on the Shelf into the freezer for the night. This is an easy thing to do for everyone because most everyone has a freezer at home. Let your elf go overnight and in the morning he's hiding.
Put your Elf in Quarantine – This is something I never would've thought of before, but after dealing with this quarantine for the last 8 months it seems the most logical. Keep your elf in quarantine for a few days.
Pay It Forward – Elves are good people. I've researched that the elf loves when you go good things for people. If your child does a good act or a good deed or pays it forward somehow the next day, it will bring the magic back.
Glitter – If you have glitter on hand at home, glitter makes everything better (especially for elves!). Take some glitter and sprinkle it all over the elf. Let your elf "sleep" overnight and in the morning he/she will be hidden again. Magic back!
Leave By the Fireplace – My friend did this for her son and it worked like a charm. Leave your elf by the fireplace where Santa comes and ask Santa to come and bring back the magic.
You can leave a note for Santa to come or make a wish. In the morning if the elf is gone, Santa arrived! (You might even want to leave something from Santa behind.)
Christmas Tree Magic – Your Christmas tree holds magical Christmas powers. Leave your elf in the tree for the night to recharge his powers from the tree. In the morning your elf will be hidden again!
Honestly it's all about finding some fun and meaningful and special ways for your child to understand that your ELF is OK and coming back with powers. The Elf on the Shelf Magic is REAL and it's something that we want to keep alive for our kids as long as possible.
Holiday Traditions: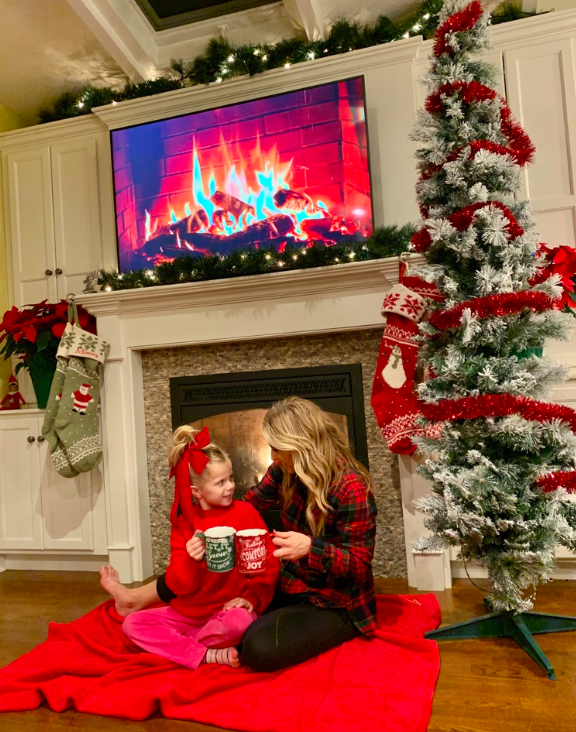 When I was a little girl we didn't have an Elf on the Shelf because it hadn't been created yet, but it was the holiday traditions that I loved so much.
It was taking a day off of school and baking all day with my mom and my sister. I always felt like it was a big secret!
It was going shopping with my Nana and my Grandma for holiday items.
It was decorating our tree the Sunday after Thanksgiving every single year.
It was putting up special ornaments that had meaning and were super special.
It was dancing to Christmas music before bed with my sister.
It was having a huge feast with my family on Christmas Eve and opening presents.
It was going to see Christmas lights on the houses.
These special moments made up the holiday for me and I cherish them. I want my children to have those same memories someway, somehow in their own ways.
I know that my Victoria thinks of her "Elfie" as one of her top holiday traditions and I love that about her. I want her to hold onto that magic and that special feeling she gets when she wakes up and finds him somewhere funny.
The Elf on the Shelf Magic is something I never expected to be such a big deal for my kids, but it was and it is. It's a tradition that they will remember and want to share with their own families someday. It's amazing to think that right now.
I hope the holidays for you are special this year. We have so much on our plates with everything going on in the world that I wanted to take this pressure and stress off of your shoulders. If that elf gets touched by your child, don't panic. HELP IS HERE!
Sharing a video on some fun hiding spots for your elf, too!
Elf on the Shelf Magic – What To Do If You Child Touches the Elf
was last modified:
November 19th, 2020
by