I'm all about a really good fashion deal that you don't want to miss! Some people to peruse Facebook and Instagram and TikTok in the morning to decompress, I love to peruse the deals online and see what I can score for an amazing price (just me?).
I share (minimum) 5 fashion deals a day over at my Facebook Group (Fashion Deals – Daily Dose of Style). It's become my little passion project online because it's just something I enjoy doing anyway and I love passing along the deals, too!
Love for you to join over there, too! We have a lot of fun and I additionally share trends, video tutorials and new fashion launches.
Today's my 1st day doing this and I hope to keep up doing this because I don't want YOU to miss any incredible deals out there right now. With the holidays almost here, I hope these deals save you lots of money on gift giving, too.
Fashion Deals You Don't Want to Miss Today (11/5)
(And for what it's worth – these deals are not in any particular order!)
J.Crew Perfect Rain Jackets are on sale today for $54 down from $138. These are the 5 color options that are available. This has water-resistant fabric, a fishtail hem for extra coverage (and splash protection), a flattering elastic bungee at the waist and a cute (and practical) hood, you'll be looking forward to every rainy day (well, maybe!).
Buy here.
If you're looking for a gorgeous coat, here's one and it's ON SALE today! This Velvet-trimmed Lady Coat in Italian Double-cloth Wool is $209 down from $425 today only. This flattering, feminine coat is trimmed with velvet on the collar and pockets and is cut with their signature double-cloth wool, which we've used in our collection every single year since 2001. It takes color beautifully and is made exclusively for us by Italy's Manifattura di Carmignano mill (known the world over for its exceptional woolen fabrics).
Buy here.
Looking for some leopard in your life? I found this Twist Headband in Supersoft Yarn on sale! It's $9.50 down from $24.50. This cozy twist headband in a magical mix of wool, alpaca and stretch that makes it supersoft. Bonus: This leopard print matches back to our texting gloves, scarf and beanie. Treat someone you love (or yourself!) to the whole set.
Buy here.
Ann Taylor LAST CHANCE SALE! This One-Button Blazer in Cotton Sateen is on sale for $30 from $159!! Designed in polished cotton sateen, this impeccably cut blazer has a hint of stretch that imparts an amazing fit – day to night. Notched lapel. Long button-open sleeves allow for versatility in styling. GORGEOUS!
Buy here.
Love these Crown & Ivy Jammies! Short Sleeve Henley Jogger Pajama Sets for $27 down from $45. Accented with an allover print, this pajama set from Crown & Ivy™ comes with a Henley-neck t-shirt and jogger-style bottoms.
Buy here.
I have this and I'm OBSESSED with it!! J.Crew Ribbed Scarf in Supersoft Yarn is on sale today for $26.50 down from $69.50. GRAB THIS SALE! I paid FULL price last year. Spotted: an un-boring scarf, in a magical mixture of merino wool, alpaca and stretch, which makes it supersoft (hence the name).
Buy here.
I hate that I saw this because now I NEED THIS! LOL! I love leopard, so this is all me. This J.Crew Cape-scarf in Double-sided Leopard is $34.50 TODAY ONLY! One Day Sale. Originally $75.00. They added armholes to this cozy scarf so you can wear it as a cape. Hello, versatility!
Buy here.
It's about that time… winter hats. These pom pom hats are marked down today on sale to $16.50 down from $45!! This is a stylish and super cozy winter essentials! The perfect beanie, with a cute faux-fur pom-pom on top. Available in these colors and also there's a cream one, too!
Buy here.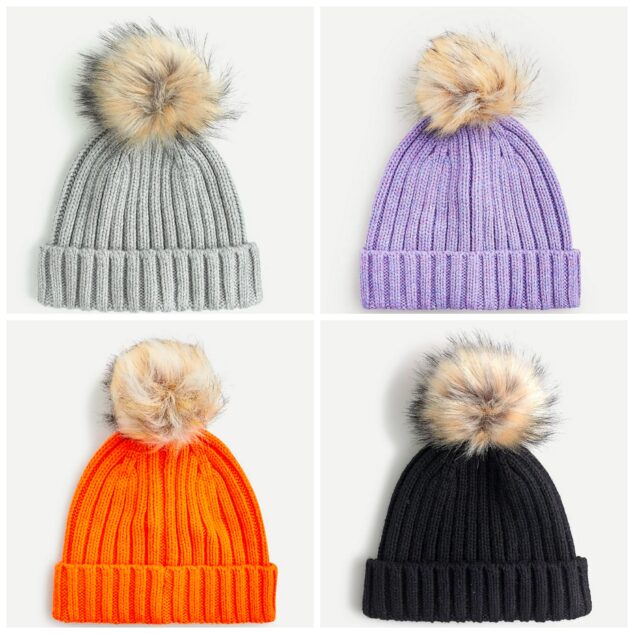 These Lou & Grey Houndstooth Ponte Leggings are 48% OFF today! These are amazing soft and so easy to pair with things. They're $25 today down from $49.50. They are soft, matte and stretchy, with a comfy waistband that's a little wider than most. Elasticized waistband.
Buy here.
Holiday scarves! These gorgeous J.Crew plaid and tartan printed scarves are on sale and TODAY only! They're $26.50 down from $69.50. A reversible wool scarf in festive prints are a holiday-gifting must (for yourself, too).
Buy here.
Design Cross Pendant Necklace is on sale right now for $24 down from $125! Beautiful holiday gift (or 1st Communion, Confirmation). A gold cross pendant necklace is great gift for any person of faith. – 18K gold vermeil Italian design cross pendant necklace – Spring ring clasp – Approx. 18″ length, 1/2″ drop
Buy here.
*Affiliate links are used in this post. I make a small commission off sales.
I hope you enjoy these fashion deals of the day!
Make sure you follow my additional fashion and beauty content here, too!
Daily Dose of Style – Fashion Deals You Don't Want to Miss Today (11/5)
was last modified:
November 5th, 2020
by