Dining out is a different experience right now for so many people. It's something that we're all getting used to in this "new norm." We recently just went to Ninety Nine Restaurant in Newport, RI for a night out with 3 of our kids. I was BEYOND impressed with the safety measures, the Ninety Nine menu (there's a NEW fall one!) and a cool fundraiser they're doing with the Boys & Girls Club.
Ninety Nine Restaurant
It's always fun heading out to dinner with our family because it's just different than eating at home. There's more laughter. There's more joking. There's just a fun sense about heading out. If you're concerned with everything that's going on right now and eating out, I want to let you know Ninety Nine has really taken some great measures.
Upon entry, everyone needs a mask.
We had to leave our contact information for contact tracing.
There were hand sanitize stations throughout the restaurant.
There was plexiglass between each booth.
The menu is all digital, there is NO paper menus.
I appreciate all of these safety measures because it made me feel safe with my family. I loved being able to relax and enjoy rather than be worried and nervous throughout our dinner experience.
When it comes to a menu, you've got to check out the Ninety Nine menu. They've got something for everyone, which is why we love dining there. My kids still get super excited about the complimentary popcorn that comes to the table. It's a BIG McClelland hit.
Right now they have their Ninety Nine menu for the fall season which is incredible. It's full of hearty and delicious appetizers and meals.
Fresh Crab Crusted Haddock
Fresh, local haddock topped with fresh, creamy-seasoned Rhode Island Jonah crab meat crowned with seasoned cracker crumbs and oven baked until tender and flaky. Served with a fresh grilled lemon and two sides.  17.99

 
Baked Shoreline Combo
Sweet Georges Bank fresh sea scallops, fresh, creamy-seasoned Rhode Island Jonah crab meat, shrimp and North Atlantic schrod topped with seasoned cracker crumbs and baked to perfection. Served with a fresh grilled lemon and one side. 19.99
Chicken Bacon Ranch Flatbread
Crisp flatbread glazed with ranch dressing, topped with grilled chicken, applewood smoked bacon and mozzarella and provolone cheeses. Finished with a drizzle of BBQ sauce.  8.99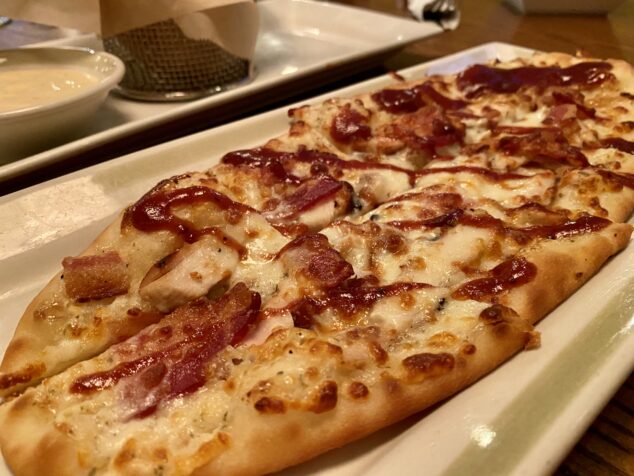 Harvest Chicken Salad
A taste of the season! Fresh mixed greens with grilled chicken, tomatoes, cucumbers, red onions and applewood smoked bacon. Finished with fresh diced apples, local dried cranberries, bleu cheese crumbles and sliced almonds. Served with honey mustard dressing.  11.99
 
Braised Short Ribs
Tender and juicy boneless braised short ribs in a robust red wine sauce served over Maine Russet mashed potatoes. Served with a House Salad. 15.99

 
Homestyle Chicken Pot Pie
The return of a favorite! Freshly baked to order. Tender, all-white chicken simmered in gravy with fresh carrots and peas. Topped with a buttery, flaky crust. Served with a side of Maine Russet mashed potatoes and cranberry sauce.  12.99

 
Spicy Crispy Chicken Sandwich
Crispy buttermilk tabasco-breaded chicken breast drizzled with spicy Sriracha ranch sauce stacked with lettuce, tomato and pickles. Served on a brioche bun.  10.99
Is your mouth watering a little bit right now? 🙂  I'm telling you… the fall Ninety Nine menu is a great one! There's something for everyone on it!
My husband and I ended up getting (3) of these entrees to split. We got the Braised Ribs, Chicken Pot Pie and Haddock. They were ALL INCREDIBLE. Each bite was better than the next! It was just great to have a hearty and delicious meal at these amazing prices.
This new menu is now available for guests to enjoy while dining-in, outside dining, as well as to go with curbside pick-up.
Ninety Nine Restaurant & Pub also just announced about their 107 locations across New England and upstate New York that the annual Boys & Girls Club fundraiser will take through Sunday, November 1st, with one hundred percent of the funds raised going directly to local Boys & Girls Clubs throughout the communities in which they serve.
The Boys and Girls Club chapters have adapted to many of the challenges presented during the pandemic and are supporting local communities by operating as virtual learning centers, providing daycare for first responders and essential workers, while also developing food service distribution programs and beyond.
Ninety Nine guests will have the chance to support local Boys & Girls Club members at their local hometown Ninety Nine Restaurant by donating in the following ways:
Donate $1 or more on a guest's check
Donate $1 or more when placing an online order (www.99restaurants.com)
Another great perk from Ninety Nine Restaurants??
In honor of all Boys & Girls Club members, kids eat FREE every Sunday in October beginning October 11th, all day on Halloween and November 1st. (Note: one free kids meal for every adult entrée purchased).
And a HUGE shout out to our waitress Jessica who as fun and sweet! I know working with the public has to be tough right now. Props to everyone who does this! Jessica was so amazing, so if you head there – say HELLO to her!And don't miss out on the delicious fall Ninety Nine Menu.

Take some time to do some fun fall activities this season! Here are 101 Fall Activities To Do with your Kids.
Disclosure. This was a sponsored partnership with Ninety Nine Restaurants.
Ninety Nine Restaurant Fall Menu, Safety Measures and Fundraiser
was last modified:
October 20th, 2020
by