World Sports Camp is so smart. They're reaching out to parents and kids NOW to encourage them to think and book summer camp for summer 2021. I know there are so many families out there excited and ready for camp this summer and I love that World Sports Camp is starting the conversation now.
World Sports Camp
World Sports Camp is an overnight and day sports summer camp for kids ages 6-16. They offer 2, 3, 4, 5 & 6 week sessions and focus on soccer, tennis, golf and basketball. It's an incredible camp for kids looking to concentrate on these sports OR for kids looking to brush up on their skills.
World Sports Camp is located at the beautiful Williston Northampton School, in Easthampton, Massachusetts. It's a wonderful backdrop for the athletes during camp where they can develop his or her skills to whatever level they choose. This is an important piece to share because your kids don't have to be at any particular level to attend.
Beginner? Totally fine.
Intermediate? Totally fine.
Advanced? Totally fine.
World Sports Camp welcomes all kids and their Sports Directors are very skilled in their sport and are knowledgeable regarding skill level training. Many of the assistant coaches are members of their varsity college teams in their specific sport at their school, so rest assured your kids are in good hands.
When it comes to the facility where World Sports Camp is held, your child will be getting an incredible place to enjoy, learn and live for their camp duration.
World Sports Camp Facilities:
• 2 All weather Turf Fields (same fields as the New England Revolution and Patriots – same company installed them.)
• 7 soccer fields (grass)• Indoor soccer facility
• 12 tennis courts (same as the U.S. Open in New York – same company installed them.)
• 2 full size, wood basketball courts with 10 hoops
• 3 area golf courses and 2 area driving ranges
• 2 Indoor golf nets
• 1 indoor six-lane Swimming Pool with Diving Well
• 1 all-weather track
• 1 fitness center with strength training equipment
• Beautiful dormitory living
• Award winning dining room
• Wifi throughout the campus
What's included in the tuition (starting at $1500):
· All housing in dormitories on the campus (95% of the rooms have 2 athletes per room, 2% have 3 athletes per room, 1% has 4 athletes per room and 2% are single occupancy rooms (typically for our coaches).
· 3 meals per day · All of the sports instruction (individual and team)· 24 hour security· Evening activities (Casino night, Minute to Win it Contest, etc…)
· Weekend Activities
· Wifi throughout the campus· A World Sports Camp – gold medal
· World Sports Camp T-Shirts
· A full time nurse and a full time athletic trainer
· A camp doctor for emergencies
At World Sports Camp, athletes have the opportunity to choose what sports they desire to participate in and to what extent. If an athlete would like to focus on one sport, that is available up to 8.5 hours per day (6 hours per day if participate in the English Classes) or if they would like to try multiple sports that is also available.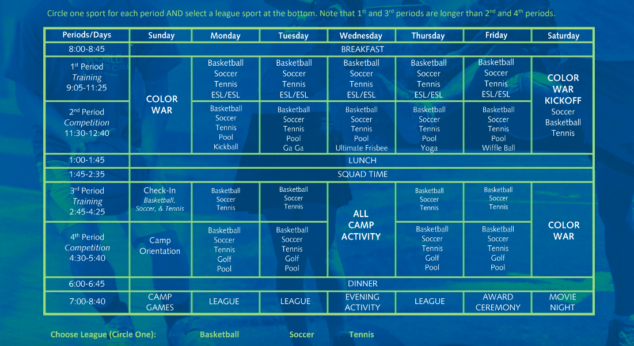 This is key for families to know and remember because if your child has a specialty it is possible for them to hone in while at camp. If you're child wants to experiment and try new things, this is a possibility, too.
The Director of each sport receives a list of names the night before, in order to create lessons based on the athletes abilities that they will have for each period the following day. Your child will even have the ability to decide while there what it is that they want to do. This camp flexibility is incredible.
At World Sports Camp their sports instruction is taught by ability level in addition to age and grade. If an athlete is 11 years old, and has the ability level of a 14 year old, that athlete will play with the 14 year olds who have equal ability.
The only time that this will not happen is when an athlete will be put in harm's way because of the physical difference in size of the other athletes. In addition, if an athlete is 14 years old and has the ability level of an 11 year old, we will NEVER embarrass an athlete, therefore, we will put that athlete with other 14 year olds who are of the same level.
World Sports Camp provides a happy, relaxed environment that encourages the athlete's participation without forcing or pressure. However, if an athlete desires intense sports development and competition, it is available.
They also provide participation in swimming and have English classes, Math and Reading tutoring and Private Lessons if desired. Athletes will have the opportunity to receive both individual as well as team instruction; in all of the sports he or she chooses to be involved in.
Another great benefit to camp is the bonding that happens and putting your child into new experiences and situations. World Sports Camp offer fun and exciting off campus activities for their campers, too. Some of the fun past experiences have been… Sports Executive Tour, New York City, Boston, Six Flags Basketball Hall of Fame, shopping mall, white water rafting, etc.
World Sports Camp also wants parents to now that all of their coaches are trained and experienced in positive reinforcement coaching. They are very sensitive to first time athletes, and go out of their way to make athletes feel as comfortable as possible. Within a few short days, athletes feel right at home.
In addition to our quality sports and activity programs, a great opportunity that presents itself for athletes is our camp community. World Sports Camp draws athletes from 96 countries, all over the world. Approximately 40% of our athletes hail from outside the United States and 60% are American. The opportunity to exchange cultural differences and participate in sports and other activities with peers from around the world is second to none.
HUGE NEWS —> I have a 20% OFF discount to share with YOU!!
Use the code: momgen
BOOK HERE.
I'm thrilled to be able to share this with families because I know this will be a great savings and a wonderful time to secure activities for your kids for the summer.
Another great thing to share is that World Sports Camp is a family owned business by the Shand Family. They're an incredible family who has a passion and a love for providing the BEST camp experience for kids.
A great resource for parents, kids and athletes is to head to their website, www.worldsportscamp.com. Here athletes are also able to use our Live Chat. This is available for real time answers to questions and concerns about their World Sports Camp experience.
Also – World Sports Camp was kind enough to share this additional information:
1.

      

World Sports Camp is offering a 100% refund if we are unable to open this summer. 
2.

      

Camps are expected to fill up quickly this summer, so reach out now to secure a space.  
The reason being:
a.

       

Many camps rolled over tuition from last year, thus reserving their clients space to attend this summer. (We did not do this, we gave a 100% refund.) This will limit the amount of space available for the "new" children to attend.
b.

      

All of the children, who missed camp this past summer and were stuck inside, will now be actively searching for camp.
c.

       

Virtual school and lack of sport options will create a need for children and their parents to look for summer camps. 
d.

      

Many summer camps will close as they will not be able to survive the repercussions of COVID.
*Also – World Sports Camp to let us know how they will be tacking COVID:
"In regards to how we will be tackling COVID, we will be following all of the state and local guidelines from the CDC, along with the steps that the school we are located at has done to open.  The safety of our athletes, coaches and staff is the #1 priority of our program.  We will consult on best practices from camps who ran in 2020 and will implement all necessary protocols to make camp safe and fun!"
*Sponsored post with World Sports Camp. All opinions are 100% my own.
Get 20% OFF at World Sports Camp – SUMMER 2021
was last modified:
October 12th, 2020
by