Looking for an easy egg white omelette to make at home? I've got one for you that you're going to love. It's an egg white ham and cheese omelette that is so good, you'll eat this for breakfast, lunch and (yes!) even dinner. It's that kinda hearty and that kinda good.
Egg White Ham and Cheese Omelette Recipe
I've always been someone who is conscious of how much cholesterol I'm putting in my body. Ever since I can remember, my mom would always take the yolks out of the eggs when she would make scrambled eggs, omelettes, you name it. As I've gotten older and now with kids of my own, I don't mind them eating all of the egg, but I still prefer a good egg white.
When it comes to finding really good eggs to use for ANY recipe, Eggland's Best (EB) is the #1 branded egg in the U.S. and provides an excellent source of vitamins D, B12, E, B5 and riboflavin.
Eggland's Best's hens are fed a strictly controlled, proprietary, high-quality all-vegetarian diet, which results in a better tasting, more nutritious egg that stays fresher longer. This is exactly what you want and something that you will appreciate when you dig into your eggs or recipes.
I love using Eggland's Best Liquid Egg Whites for my personal dishes (and my husband's). They are 100% real egg whites that come exclusively from Eggland's Best shell eggs. They're already separated and packaged in recyclable cartons, and the EB Egg Whites are fresh, easy and convenient to use right at home. It's (literally) mess free!
The best is that EB Egg Whites are pasteurized, so they are safe and ready to enjoy right out of the carton. EB Egg Whites have a healthy nutritional profile, and are naturally a good source of Protein – 5g per serving, Low Calorie – 25 calories per serving, Fat Free, Cholesterol Free, Low sodium, Gluten Free and Kosher.
Looking for an easy recipe to use with your Eggland's Best Egg Whites? Try this egg white ham and cheese omelette recipe. It's easy. It's delicious. It's yummy. It's hearty. It's perfection!
Take your ingredients: Eggland's Best Egg Whites, Ham and Cheese. We use deli ham to make it just that much easier. It's actually really good because it's so thin and delicious, also really easy to cut up for it. The cheese is a shredded cheddar, but it's so yummy to have it like this. I prefer it to be shredded, but you can use slices, too.
Add a little Olive Oil spray and let it heat up. You'll see that the spray turns to white, this is when you should be adding your egg whites right on in. Pour slowly right from the carton. This is why I love EB's in the carton because it's so easy to use and to cook with because no mess!
You'll make these egg whites just like scrambled eggs! I love to add enough to coat the pan. As the egg whites start to form, you'll start to scramble them up. It's just an easy recipe and it's one that you'll love to make because it's super easy and doable to do on your own.
Once the egg whites start to form you'll add in the ham and the cheese. Let them sit right in the middle and warm right up. As they start to bubble, flip 1/2 of the egg whites over and have them form a 1/2 moon. You'll start to see the cheese melt and the ham warm up, too.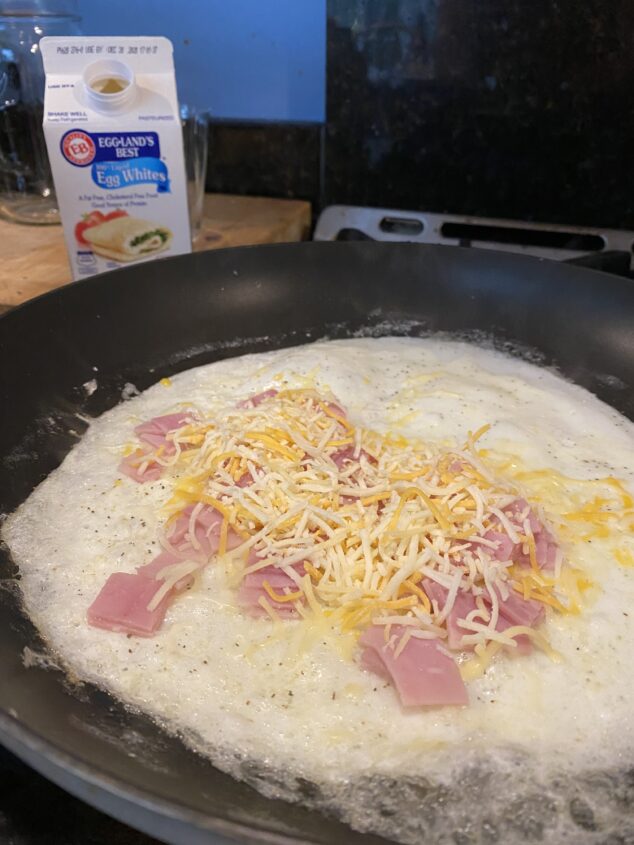 You can add salt and pepper to this dish, too. I really love to see the ingredients come together. It's so good to be able to start to see a recipe form. When you've see the egg white completely form you'll know it's ready to be plated. OMG… these egg white ham and cheese omelettes are the best!
Once you plate your Egg White Ham and Cheese Omelette, you're good to dig right on in! This is an easy recipe to make because there's really nothing to it. You've 3 ingredients and that's it. You'll appreciate the egg white option because it's just that much lighter. I know many people worry that it won't taste the same and believe me, you won't tell the difference!
I love being able to share easy recipes. I'm definitely someone who appreciates when a recipe doesn't call for 100 ingredients or take over an hour to prep. I need something that's quick and delicious! You'll always get that in our house when it comes to recipes that we do here.
Make sure you check out some of our other recipes, too! Let me know how your Egg White Ham and Cheese Omelette comes out! We're also BIG on easy dinner here. I just shared yesterday some easy and simple tips for morning routines, too. I hope these tips help you out on mornings when you're running late and just need some advice on what to do!
Egg White Ham and Cheese Omelette Recipe
was last modified:
October 21st, 2020
by