We just did the iconic driving Mount Washington trip with our family this past weekend and it was AMAZING! OK, driving up the mountain was terrifying and scary, but after we got up there? Absolutely amazing and beautiful. I felt like I was on top of the world and it was so much fun for our family to experience together.
Driving Mount Washington with our Family
When visiting North Conway, NH one of the best things is driving Mount Washington. It's located just 25 minutes north of North Conway on NH Route 16. The drive to from North Conway is picturesque and simply beautiful.We did this drive up Mount Washington when the boys were little, but not with our entire crew of 7. None of the boys remembered it, so we knew it would be the perfect time.
Driving Mount Washington was (in a word) terrifying on the way up! We have a Suburban, so I felt safe in the fact that we have a stable car but it was scary the entire way. The road gets very narrow and winds around, so you feel a little uneasy as you take the corners. You're relying on other cars abiding by the slow traffic rules, too.
The route up is 7.6 miles and we counted down every single mile up! The told us that most vehicles take about 30 minutes to make the 7.6 mile drive and about 30 to 45 minutes to come down depending on traffic, weather conditions and whether or not you need to stop to cool your brakes (which we did!).
The Auto Road is a steep, narrow mountain road without guardrails. Yes, that's correct without guardrails! The average grade is 12%. As the sign at the base of the Road states – "If you have a fear of heights, you may not appreciate this driving experience." My advice is that if you have someone terrified of heights, don't let them look or have them stay at the bottom!
I thought it would be fun to video our driving Mount Washington. I've been trying to document as much of our family and this summer as possible, so I knew this would be a good experience and memory to have for us.
As you can tell, it was quite the adventure! As terrified as we were driving Mount Washington, these memories will leave within our kids forever and ever. The kids will always look back and laugh about that drive up Mount Washington because it's something we all made it through together.
When we got to the summit, it was WINDY as can be! I wasn't expecting it to be that cold in the summer. At the bottom of Mount Washington we were in tees and shorts, but at the top in sweatshirts. Thankfully I brought them with us from the hotel. It was nice to finally be in our feet at the top. We took about 30 minutes to walk around and do a little sightseeing.
How cute is my husband on top of the rocks? He's the KING of Mount Washington here. As much as it was scary driving up, he did such a great job making sure we were safe. I was so happy to see him to excited at the top!
The best was seeing their faces while we were at the summit. They had a blast checking everything out and even let me take a ton of photos at the top, too. I love being able to capture these memories with my family because it's just a really fun and memorable time.
My baby girl was so cold at the top, all she wanted was to be held. As crazy as it is that she's getting so big right now – I took advantage of her wanting to be held. I love snuggling her and wanting to be with me. She tries to keep up with the "big guys," but sometimes she's just a little girl at heart (as she should be!).
I told my husband I needed one picture with my babies on the top! We got lucky and nobody was waiting near the sign when we got there!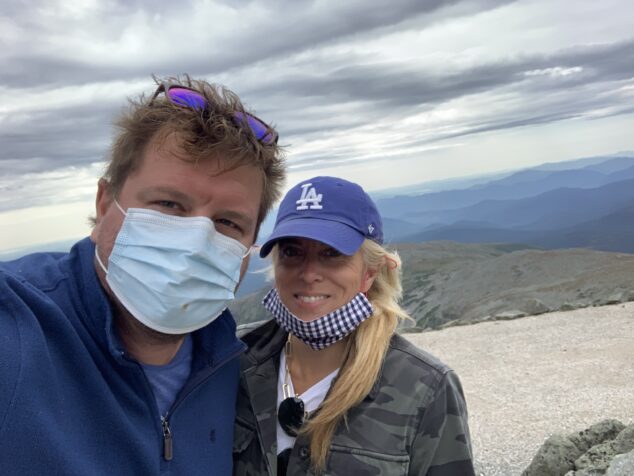 Gotta love a man who doesn't bat an eye when you say, "Let's go away this weekend!" We booked a hotel and hit the road. The beauty of New Hampshire was just what my body, mind and soul needed (even for just 2 days!). I mean… it's like vacationing in a Hallmark movie.

While we were driving Mount Washington on the way down, as you saw from the video – our brakes started to overheat! That was the ONLY time I started to get really scared. I didn't want to get stuck on the mountain, but thankfully my husband knew enough to pull over and let the brakes cool down.
While we waited, we decided to head down one of the paths in the woods and check it out. It was so cool to see nature up close and personal. I couldn't believe how quiet and beautiful everything was in the woods. It really made me feel like every stress in the world just melted away!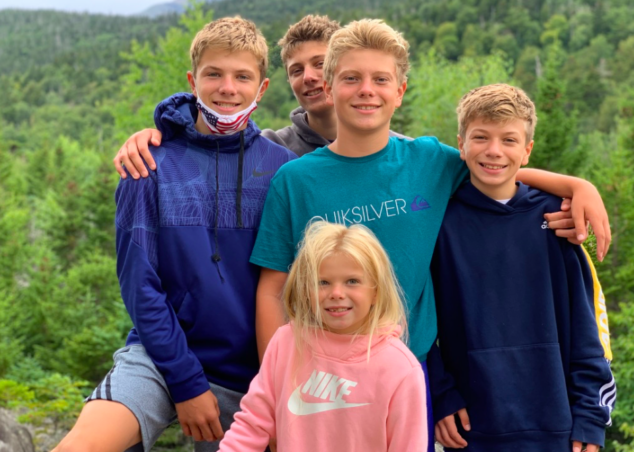 My advice is if you have the opportunity to do drive up Mount Washington, do it! It will be something you talk about for years to come. I think it's a tremendous opportunity for your family to bond and be part of something together. I love that it's something we felt we accomplished together when we were done!
Visiting New Hampshire was just what we needed. We didn't want to be around people, so we found things to do where we were alone. It was such a wonderful time for our family and it makes me yearn for the days when they were little! I just want to keep creating fun memories like this with them.
Make sure you check out my other post about traveling to New Hampshire. We went to Santa's Village in the summer of 2016 and had such a wonderful time with each other. It actually was a trip we could still do now with the kids a bit older. It was just a ton of fun!
Also – if you're looking for places to stay, we stayed at Fox Ridge Resort and it was fine for us for 2 nights!
Driving Mount Washington with our Family (slightly terrifying)
was last modified:
August 25th, 2020
by