I'm all for t shirt dresses because they're the easiest toss on and GO! If you're wondering how to style t shirt dress options, you've come to the right place! I just bought a new t shirt dress and I styled it 6 different ways this weekend to see what I could so with it!
How to Style T Shirt Dress
When it comes to how to wear t shirt dress options, it's all about figuring out WHERE you can wear your t shirt dress to for certain occasions. That's how I start as I'm thinking to myself how to style t shirt dress options. It's all about knowing where you're going and how you should be dressing.
The first thing you need is a really GREAT t shirt dress! I found one for around $18 from the Daily Ritual Collection and I personally love it. It's lightweight, easy to toss on and extremely versatile. This is what I love about versatility in fashion, I can wear it a variety of different ways and places.
I'm going to walk you through 6 different ways to wear a t shirt dress. What I love about these styles below is that I'm hoping one or all of them inspire you! I know it's easy to think about places that you could wear a t shirt dress, but it's easier to actually SHOW YOU how to do it.
How to Style T Shirt Dress – Style #1
Let's start casual on this one! I love being able to pair sneakers with just about anything, especially right now. I grabbed my fave pair of VANS and paired with an easy baseball hat. It's a relaxed and chill look. As long as you have sneakers and hat, you can make this look work.
How to Style T Shirt Dress – Style #2
I love taking items I have at home and pairing them with a t shirt dress. I blogged about sexy beach cover ups for moms (check it out!) a few weeks ago, so I took one of the beach cover ups and paired it with my t shirt dress. This cover up is more of a tunic, so it worked perfectly right on top as a layer.
How to Style T Shirt Dress – Style #3
I'm always asked about work outfits, so I knew this one would be a hit to share! I'm all about women having certain items in their closets because they're fashion staples. A black blazer is one of them. You can wear it a 100 different ways, one of them being over a t shirt dress. You can make it "dressy" in seconds by adding this one.
How to Style T Shirt Dress – Style #4
I wanted to share a chic look with the t shirt dress because I love having some dressier options (not meant for work!). I grabbed my fave straw fedora and sandals and tossed them on. What I love about this look is that it's pretty and easy to make it a great outfit for a night out. I also love anytime I can add a hat with items!
How to Style T Shirt Dress – Style #5
I bought this faux leather jacket last year at the Nordstrom Anniversary Sale and FELL IN LOVE! It's one of those essential items I feel like every woman needs out there! I paired it with my t shirt dress just to see what it would look like. I love being able to showcase some edgier options and this one is definitely it! It's cool and chill at the same time.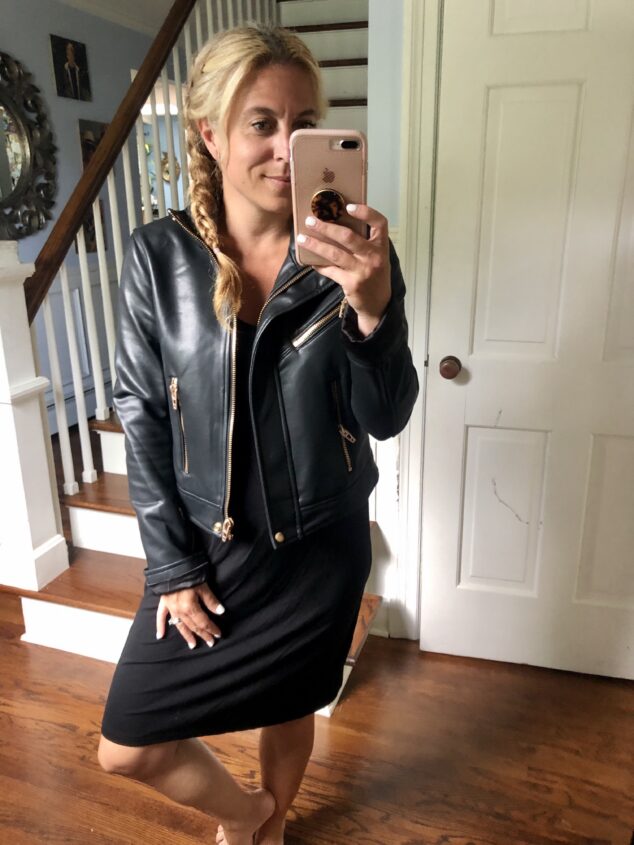 How to Style T Shirt Dress – Style #6
Last look for how to style a t shirt dress for the day! I love wearing longer cardigans with clothes throughout the winter and colder months because I love the look of a longer layer over something. I applied the same fashion love to this t shirt dress, but just grabbed my fave kimono and tossed it on top. I love how it looks with this dress, especially since tie dye is such a big trend right now!
I hope these styles help you out! I love being able to show style options that range from laid back and relaxed to dressy. I know that we can get a lot of life out of certain items and this little black t shirt dress is one of them. I just love it and know that it's a fantastic summer basic to have in your closet.
According to Amazon… this essential T-shirt dress features an open neckline, a ballet back, and an easy fit for an effortless look that's ready to style Luxe Jersey – Perfectly rich, smooth fabric that beautifully drapes Start every outfit with Daily Ritual's range of elevated basics! I'm wearing a size small for sizing reference (I'm 5 feet and usually wear a size 4).

Buy this t shirt dress here.
I just wanted to let you know that I've started a fashion group and post there every single day. It's called Fashion Deals – Daily Dose of Style Facebook Group (that I would LOVE for you to join) where I share trends and styles every single day in there, along with the best sales online for fashion. I fully believe that you can and should be able to look your best without breaking the bank.
Fashion fun in there! And you don't need to be 40 years old! Deals and deals and I love being able to help people save money on FASHION!! HEAD ON OVER AND JOIN US HERE!!! I also share beauty tips there, too. Love your support and let me know what it is you're looking for, too! Make sure you share with me if there's something you love and I missed it on the blog!
Fashion is so much fun in the summer and I hope you take the time (even right now!) to enjoy it! I love showing that simple items are sometimes the best items for you to have some fashion fun with for yourself! It's a great way to feel (dare I say it) normal again right now!
How to Style T Shirt Dress
was last modified:
July 14th, 2020
by