It's your birthday – what are you planning on doing? I'm sharing a bunch of things to do on your birthday with friends today. My birthday just went by and I had a great time enjoying the celebration with family and friends (even during quarantine!).
Things To Do on your Birthday with Friends
I just celebrated my 42nd birthday on Saturday! It was Memorial Day weekend, so it was wonderful have the 3-day weekend to unwind. My friends were wonderful wanting to do some fun things with me, and thankfully they were VERY sweet to find things! You can still find fun things to do on your birthday with friends, you just need to find be super creative.
You might be wondering, well… what are some of the fun things to do on your birthday with friends? Especially during this time? Oddly enough you can do more than you think you can do! I love finding creative and unique ways to do things together.
Sharing with you 6 Things To Do on your Birthday with Friends right now. These aren't in any particular order, I just wanted to share a bunch with you so you have an idea of what kinds of things YOU could do if your special day falls during this time. I feel like we're all going to be impacted somehow.
Right now there are TWO big things you need to think about when it comes to being with people:
1. Being 6 feet apart
2. Keeping your face covered with a face mask.
As long as you keep these 2 things in mind, you'll be good. You want to make sure you're doing everything you can to stay healthy and safe. You don't want to be careless and do anything you shouldn't do right now.
1. Beach Bonfire – I'm a big fan of the beach and I'm a big fan of a bonfire. This is a fun way to be with your friends on your birthday while enjoying a beautiful evening, too. Many of us love to have our fire pits lit up at night at home, but try it somewhere else.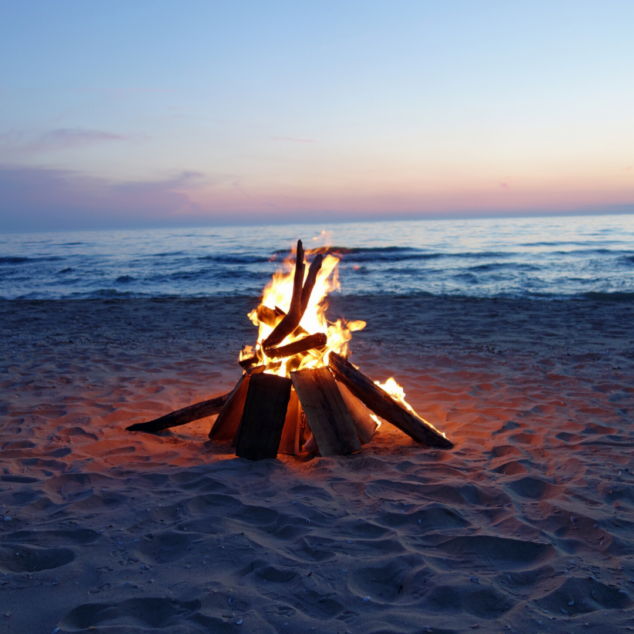 You might have to check to see if you local beaches allow this, but must do as long as they're put out before you leave. Enjoy this special evening by just relaxing and laughing with some of your friends. There's nothing like a beach trip!
2. Walk in the Park OR Hike in the Woods – This is a fun one to do. I know many of us are DYING to get out of the house. This is a fun way to be outside and with your friends, but in a safe way. There is so much beauty around us, we just need to find it.
I love walking along the bike path in our town. It's an easy path and it goes through some of the most pretty little sections. Great way to enjoy a birthday chat with friends while you're out and about. You actually start to feel a little normal being outside!
3. Picnic in the Park or Beach – I'm a picnic lover. Or better yet with friends, cheese and wine lover! Take some of your friends to a local park or beach and enjoy a picnic. Everyone can be apart in a safe distance and you can all dine and enjoy some yummy bites.
I personally love having everyone bring a beverage of their choice. Not everyone loves the same wine, so have some fun by seeing what everyone is going to bring. I'm a Pinot Grigio girl, so that's what I love the best.
4. Birthday Parade – It's NOT just for the kids! My husband wanted to do this on my birthday, but it was pouring so we aborted ship on this one! He thought it would be fun to have everyone bring me a bottle of wine or a bouquet of flowers. It's tough to expect ANYONE to head to a store right now, so this was his next best thing.
I thought it was a cute idea because I'm so used to doing birthday parades for the kids, it's fun to do one for an adult! We need some fun too and it's a clever way to see all of your friends during this time.
5. Outdoor Movie – Have a movie projector? Host a movie night! This is a fun way to bring your friends together for a night. Have everyone bring some snacks and drinks. This is a clever and unique way to just hang out with your friends in an easy atmosphere and enjoy a fun movie!
You can find movie projectors online or at local stores, so you can easily get one! This is a fun family activity, too! I love this idea and I know my kids love it, too!
6. Visit Local Outdoor Farm OR Vineyard – This is one that depends on where you live! I'm a lover of a local farm whether you're picking flowers or veggies or at a wine vineyard… this is a fun way to bring people together! I think this is the type of activity that I've been dying to do with friends!
I actually wrote a blog post on hosting online parties and how you can host a virtual birthday party! If that seems like a fun idea to you, make sure you head over and check it out! I also share 10 Virtual Party Games that you can play, too!
I just wanted to share this with you because it's important to make sure you're doing what you can to feel GOOD on your birthday. I know we're craving things to do with friends and I know it's a tough time for all of us right now.
I hope this makes you feel a little more "normal" (if that's possible) right now. The most important thing is to stay safe and healthy as you're with your friends. Keep in mind that we're all in this together and we're all hoping for the end to come soon. BUT! We can still find some fun things to do on your birthday with friends.
Join my Permission to Hustle Page that I run with my business partner and bestie Vera Sweeney for some additional advice!
Things To Do on your Birthday with Friends
was last modified:
December 8th, 2020
by