*Nintendo provided the game for my post
Animal Crossing: New Horizons is the most popular video game of all right now. Everyone I know is playing. Every time I log onto Facebook I see someone posting about it. Every time I'm on Twitter something about it is in my feed. And – to top it off – so many of my personal friends have become completely and totally obsessed with the game.
5 Things To Know About Animal Crossing
Animal Crossing: New Horizons hit the McClelland household last week. My sons had the incredible opportunity to head as guests of Nintendo to one of the biggest video game events open to the public, PAX East, when it came to Boston in February. I was away on a work trip, so I wasn't able to attend… but my husband took them and had the time of his life!
While there Nintendo had an interactive exhibit area showing off the new and upcoming games for the Nintendo Switch… one of them being ANIMAL CROSSING. They couldn't stop talking about it! All I remember them telling me about it was, "Mom! I can build my own island!"
As I've seen the explosive popularity of this game, I've become more and more in-tuned with why this game is so perfect for anyone, at any age. Honestly – my sons want to get my parents a Nintendo Switch so they can play, too!
What is it about Animal Crossings that makes it such a fun and enjoyable game? And most important – why is it a game that you can and should feel comfortable with your child playing?
I sat down with my son Benjamin (who I will say is the most obsessed in our family) to talk Animal Crossing. I watched him play. I watched him explain the game to his 6 year old sister (who took to it like a bee to honey). And I've watched him play endlessly for hours, loving every single second.
What's the magic in this game?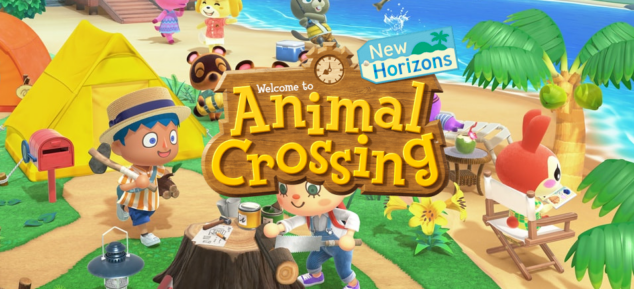 Well… I'm excited to share with you 5 Things You Should Know About Animal Crossing:
1. I love that you have the ability to create your very own world. You actually get to create your personal island paradise on a deserted island and it's brimming (like crazy) with possibility. You know – it's almost like playing dream world. You have the ability to be creative and use your imagination to soar the limits. I personally love that about it.
2. You have the ability to play with multiple people. This is what my son Ben loves the most about it. Usually video games are very individualized for my kids. I love that they can bring in friends and actually be part of something with others.
You can have up to eight players live on the same island within one game. That's right, up to eight Nintendo Account holders can play on the same island at the same time via local wireless or online play. I think it's wonderful that they have the option to do that.
3. There's LOTS of exploring within Animal Crossing. You can live life at your own pace as you garden, fish, decorate, hunt for bugs and fossils, get to know the animal residents, and more. Sounds like a dream, right? What's really cool is that the time of day and seasons match real life, so something is happening on your island whether you're there or not.
4. You can customize EVERYTHING on Animal Crossing. You are in the drivers seat and I think it's really cool to have that kind of freedom to create within this game. Create your own paradise and customize your character, home, decorations, and even the landscape itself. You decide what to build and where—inside or out!
I know my son loves this because he's able to do whatever he wants. He can really have some fun with it and not worry about having brothers to tell him NO! 🙂
5. Animal Crossing is just a really cool game. I had the chance to be part of Ben's island this past weekend and it was really fun. I love that you literally just tune out the world and get right into this one. There's something really powerful about that kind of relaxation right now.
I don't know many games out there that I know my parents could pick up in a second and understand. This game truly does smash any age barriers. I love that my 6 year old gets super excited about and then I see many of my mom friends online playing like crazy, too!
If you're thinking of getting Animal Crossing: New Horizons – get it. I'm here to tell you that it's a game your family will love. You will also feel comfortable with them playing it. There's NOTHING about it that would worry a mom or a dad. It's just plain FUN for everyone!
5 Things To Know About Animal Crossing
was last modified:
July 15th, 2020
by