It's right around the corner – the 4th of JULY! This year is going to be VERY different than previous years, so I'm going all out in the ways that I can right now – which is fashion. That's right, the red, white and blue will be worn from head to toe. 4th of July t-shirts will be worn by everyone in my family and we will look the 4th of JULY fashion part.
4th of July T-Shirts for Women
When it comes to finding the perfect 4th of July t-shirts women, you don't really have to look far and wide. There are some really cool and chic tees out there. I'm someone who has started to look now because I want to make sure I get some ones that I love and in the size I need. I hate last minute shopping!
These 4th of July T-shirts can be worn at some parties you might have online, throughout the 1st week of July and/or throughout the summer. What I love about some of the tees that I'm going to share is that they can easily work throughout the summer season. It's about celebrating the red, white and blue time!
These 4th of July t-shirts that I'm sharing are ALL under $40 and ready to be bought right now. I wanted to find some tees that are a mix of small business and mass retailers. I prefer to do a good mix because it just works well and allows people some choices.
I've fallen in love with this gray tee that says LOVE MY COUNTRY from Jane.com! These 4th of July t-shirts work year round! You don't need to just stick to the holiday to wear this beauty. It's $14.99 right now, too!
Buy here.
Are you all about the USA? Wear it proud on your tee! This one is also from Jane.com and is only $14.99, to! They really do have a bunch of tees that work for you to work all the time. Not just for one holiday!
Buy here.
Stars and stripes for the 4th of July win! I love graphic tees and these are perfect! These are only $16, too! You can choose red or blue or get both! I love that you're supporting a small business, too here on etsy!
Buy here.
I'm OBSESSED with these 4th of July t-shirts! These are perfect for any Mommy and Me duos, too! The second I saw these, I knew I needed to buy them. I thought they were so cool looking and just a fun tee to wear all the time! These start at $15.95!
Buy here.
USA! USA! USA! I love this basic tee to celebrate! I love the bold red and how classic it is for anytime of year! If you're looking for something to wear, this is a great one to choose! You can get this one for $10!
Buy here.
When I saw this Land of the Free tee, I knew that it could be worn all the time. I love graphic tees that I can wear underneath blazers and jackets and cardigans. This one just really called my name and I love it! It's only $10 right now, too!
Buy here.
This is a cute tee with a simple "It's Lit" with fireworks! I love a basic white tee for wearing year round, too! I love this tee to the moon and back for fashion stuff. It's a $14 tee.
Buy here.
AMERICA TEE! I love this tee because it's a retro looking tee. It's another tee that you can wear year round and I love knowing that it's also from a etsy shop, too! Again – another way to support small business. This is a $22 tee! The prices are just amazing!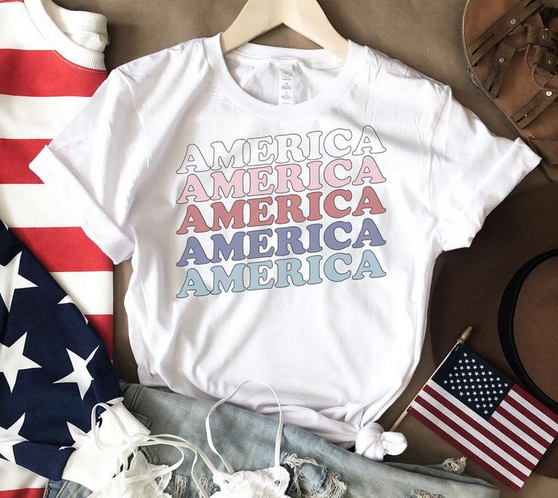 Buy here.
I'm seeing STARS!! I love this option for the summer. I love the red, white and blues on this tee with the stars! These are $22 and they're awesome! I was thinking of buying one and turning it into a dress for Victoria.
Buy here.
Are you ready for a little bit of FREEDOM in a tee! I love this one because it's a great message and it's one that you can wear year round, too! I love the color red and I think it's just a bold and beautiful tee! GREAT message for people! It's also on etsy and will support a small business! You can buy this starting at $22!
Buy here.
I hope you like these 4th of July t-shirts! These are meant to bring you some fashion joy this holiday!! May you have a wonderful holiday celebrating in your very best way! Wear these whenever and however you want! These are great for teens, too! I love seeing my teenage nieces in 4th of July t-shirts!
I also just shared some of the cutest White Jeans options for the summer, too that would look great with these! Loving my Fashion Over 40 – Daily Dose of Style Facebook Group (that I would LOVE for you to join) and I share trends and styles every single day in there, along with the best sales online for fashion.
I fully believe that you can and should be able to look your best without breaking the bank. You want to feel confident and beautiful and you CAN! I hope my info helps! We have a ton of fashion fun in there! And you don't need to be 40 years old!!!!!!!

HEAD ON OVER AND JOIN US HERE!!! I also share beauty tips there, too. Love your support and let me know what it is you're looking for, too!
4th of July T-Shirts for Women
was last modified:
May 14th, 2020
by