Are you a good conversationalist? Do you like to sit and chat with people? Conversations with people (especially now) are a gift to share with people. I want to share with you 10 Ways to Have a Better Conversation with someone. I hope these ideas help you out!
10 Ways to Have a Better Conversation
Whether you you're conversing with someone at work or someone in your personal life or someone you just meet on the street, having and knowing the skills to continue a good conversation is key. It's one thing I've been trying to teach my own kids. I came up with 10 ways to have a better conversation because I want these tips to give you some insight and guidance if you find yourself stuck.
I'm someone who could talk to a brick! I joke when I say that, but it's true. I love to talk to people. It doesn't matter if it's in person, on the phone or over ZOOM… I love getting to know someone through a good conversation. I've always been this way, but as I've gotten older – I've seen how important it is to be this way in business, too.
I came up with my 10 ways to have a better conversation by thinking about the different skills that I've picked up throughout the years. In college I took a bunch of public speaking courses, so I soaked up a ton of knowledge there. But (just being honest) being someone who has used communicating as my job, I have a ton of advice to share.
10 Ways to Have a Better Conversation:
Eye contact is one of the most important things when you're having a conversation. When someone is talking, make sure you are making direct eye contact. This allows the conversation to flow easier because you can tell that someone is paying attention to you (or) the person knows you're paying attention to them.
Try to limit outside distractions. When you're having a conversation with someone, make sure you're not going to be interrupted. I can't tell you how many times I've been chatting with someone  and their phones start ringing and they pick it UP! I'm always confused. That's not how to have a better conversation. Do you best to eliminate outside distractions.
Bring other people into your conversation if you think it will help. We all have someone or people in our life who we might have a tough time connecting with. The reasons? You sometimes never know. One way to make conversations easier and better is to bring someone or people into the conversation with you. It takes the pressure off of you.
If you can do a little research on someone before you get into a conversation with them, do that! I know this isn't easy for people to do all the time, but if you can – go for it. If you know you're having a conversation with a colleague or a potential client see what you can find out about them and bring into the conversation.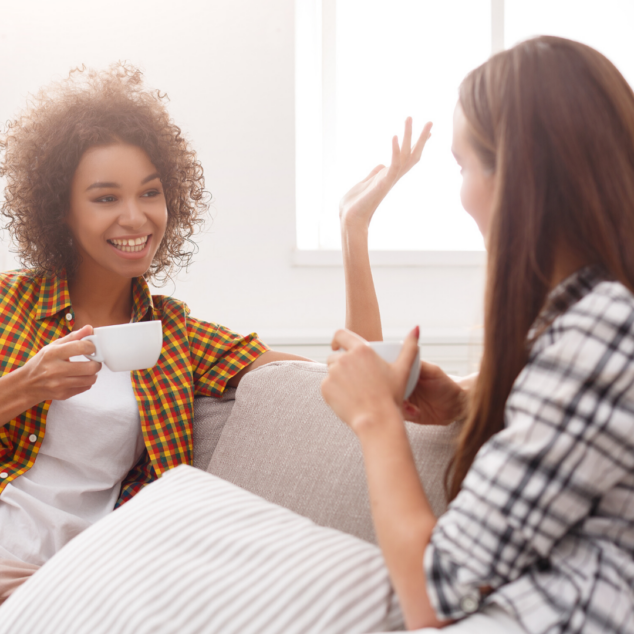 Ask questions during your conversation. Out of all my tips on my 10 Ways to Have a Better Conversation breakdown, this is probably the most important. When you ask questions, you keep the conversation flowing. It's an easy way to keep the conversation moving and it's a wonderful way to stay fully involved and engaged.
If you can find common ground, this is a great way to have a better conversation. My father in law is in sales, he once told me that if he was talking with someone who he knew was a father… he'd be golden. When you find that common ground it's easier to have a conversation flow. Did you go to the same college? Do you have mutual friends? Are you both parents? Look for these nuggets.
Positive conversations are better conversations. My advice to anyone would always to keep the conversation on a positive note. Unless you're conversing with a best friend or your sister (we all need someone to vent to), keep the topics positive. Heated or negative conversations are tough to recover from with people.
Make sure you're not interrupting someone during a conversation. This is the number one to kill a good conversation. Let everyone have their time (even if it's just two of you!). Yon don't want conversations to be cut off too quickly because someone is interrupting over and over. I stay away from people who interrupt.
Make sure you're YOU during conversations. Be your funny, open and honest self. The best conversations are the ones that truly are filled with exactly who you are as a person. Make sure you're giving whom ever you're talking to all of who you are in the conversation.
Be aware when you know the conversation is coming to an end. This is key with people you might not know that well. It's better to "leave" to conversations on a high note rather than one where there was awkward silence towards the end.
I hope that these 10 ways to have a better conversation help you out! Take whatever advice you need from this post and use it to your advantage when you're conversing.
I also wrote a post called 5 ways to listen better because listening is the other key ingredient to being a better conversationalist. I hope both of these help you in your personal and professional life.
Join my Permission to Hustle Page that I run with my business partner and bestie Vera Sweeney for some additional advice!
10 Ways to Have a Better Conversation
was last modified:
May 15th, 2020
by