We're all looking for activities and thing to do with kids at home right now. With 5 kids I know I'm constantly trying to keep them busy and them moving. I know with too much downtime of "nothing" it gets extra crazy here. With times being the way they are right now, activities need to be limited to the home so I know it can be extra tough coming up with lots of things to do. I wanted to help you out, so I created a master list for you.
Things To Do with Kids at Home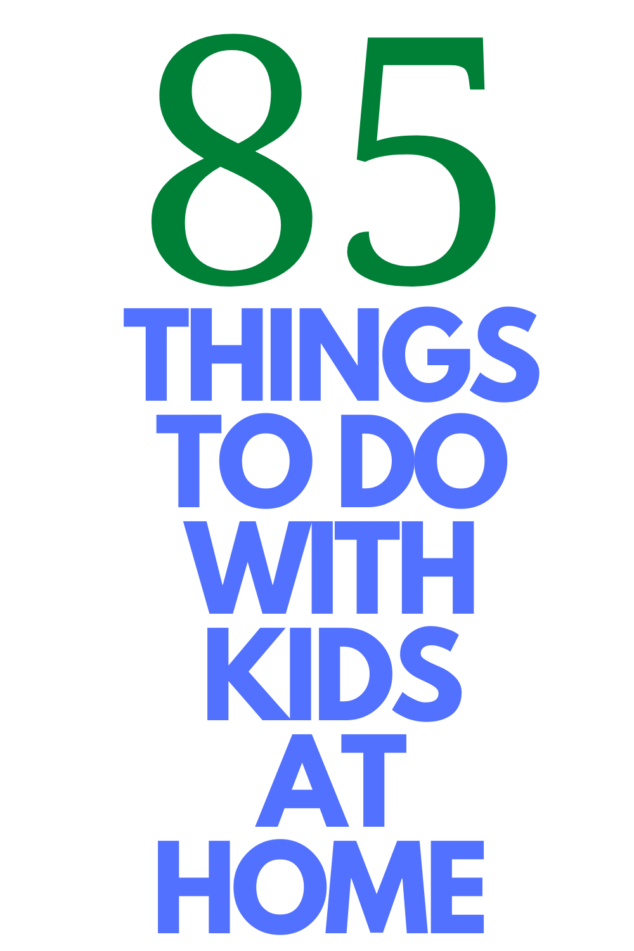 I spent about an hour thinking of different things to do with kids at home during this time. My kids are active kids and love to DO things. As much as I would love to have them read a good book, I know they need to do things that keep them moving and shaking around. I'm happy to have a list to work of off for the time being.
When you're thinking about things to do with kids at home, you need to make sure you keep their age in mind. I know with my kids they have a big age different. My daughter is 6 and my oldest son is 15 years old. It's tough to find things that are good for all of them.
I'm happy to give you a solid list of 85 things to do with kids at home. I feel like you'll find something on this list that works for you and your family. I feel that it's important to make sure we're looking into and finding the best things to do with kids at home all the time. I love looking at these kinds of lists year round for my family, too!
Here is my FULL list of things to do with kids at home:
Have them Cook a Favorite Meal with You
Have them Bake a Favorite Treat with You
Have them Do a Puzzle with You
Watch a Movie on TV
Play with LEGOS Together
Paint a Picture Together
Try a Tie Dye Project Together
Create a Reading Nook Together
Make some Puppet Socks
Have them Play a Game
Watch some TikToks Together
Have them Plan a Picnic
Have them Go on a Walk (around your neighborhood)
Have them Ride Bikes (around your neighborhood)
Have them Plan a Fancy Dinner at Home with You
Have them Create Brinner (breakfast for dinner)
Have them Plant a Flower Garden
Have Them Create a Vegetable Garden
Have them Play Video Games
Have Some Fun with Chalk in the Driveway
Have Them Do a ZOOM Playdate
Have them Do Yoga
Have them Try to Meditate
Have them Read Books
Have them Call a Grandparent
Have them Play Music (Learn an Instrument)
Have a Host a Dance Party (Virtual)
Have them Watch a LIVE Band on the Internet
Have them Try Dance Lessons on the Internet
Try to Learn a New Language on the Internet
Have them Teach YOU Something
Have them Play Basketball Outside
Have them Write A Letter to Someone
Have them Organize Something in Your House
Organize the Garage
Have them Watch a Sunset
Have them Watch a Sunrise
Have them Start a Scrapbook of this Time
Have them Create a Special Lunch for the Family
Have them Host a Virtual Family Get-Together
Have Them Pick Flowers and Arranage a Bouquet
Have them Make Breakfast
Have them Find a Pen Pal
Have them Go On a Virtual Field Trip
Have them Take a Bubble Bath
Have them Watch and "Old Movie" from Your Time
Have them Learn Something from YOU
Have them Camp in the Backyard
Have them Set up an Obstacle Course Outside
Have them Build a Fort in the Living Room
Have them Help You Clean your Car
Have them Do Some Fun Craft Projects
Have them Stay in their Pajamas all Day
Have them Work on a Family Tree
Have them Decorate the House for an Upcoming Holiday
Have them Gear Up for a Haircut Night
Have a Make your Own Ice Cream Night
Have a Pizza Making Night
Have a Fondue Night
Have them Build a Treehouse
Have a Spa Day Together at Home
Build a Birdhouse
Create Science Experiments
Make something You've Never Made Before (bread, etc)
Make S'mores at Home
Create an Outdoor Waterpark
Water Balloon Fight
Set Up Indoor Bowling
Jump Rope
Do Hopscotch
NERF Gun Time
Fly a Kite in your Backyard
Play with some Play-Doh
Paint Rocks with Inspirational Words
Make a Necklace
Make a Bracelet
Have a Tea Party
Start a Memory Journal
Dance in the Rain (if it's raining out)
Have a Fashion Show at Home
Create a Monthly Calendar
Create a Monthly Family Challenge
Have a TACO Night
Create a Mystery Box
Make Signs of HOPE for People
As you can tell this list of things to do with kids at home is meant to be a guide. I hope it's helpful and I hope it's meaningful for people during this time. I love finding ways to do things, too. I also love 101 things to do with your daughter, too! Also – if you're looking for your teens, here are 60 things for teens to do at home.
Once we're done with this home quarantine, there's so many things that they can do out and about our house! I'm looking forward to some beach visits and some pool time with the kids. It's getting tough for the little ones, but I am looking for ward to bright days ahead for our family and yours, too!
I just want to make sure you're as prepared as can be with things for your kids to do at home because it's not always easy to come up with ideas! Use this as a gauge for yourself and your family. I love being able to look at a list and cross things off as we go!
You can always ! You can see some new hairstyles we're rocking during this time!
85 Things To Do with Kids at Home
was last modified:
April 13th, 2020
by