If you're looking for romantic things to do with your husband, I've got you covered. I've been married for almost 20 years now, so I feel like I have the romance "thing" covered. I wanted to share today with you a list of 80 things that you could do with your husband.
80 Romantic Things To Do With your Husband
When you first start to date, the romance is on in full effect. You try to come up with the most lovey dovey things to do with each other and it's fun and romantic and special.
When you get married and start a family, life starts to become a little busy. All of a sudden you're working around work schedules and kid schedules! Time becomes a little difficult.
As I've gotten older I've realized more and more that the most romantic things to do with my husband are sometimes the most basic because it's just time spent together. It's walks around the block (you'll see that one below!).
It's cooking together and talking (you'll see that one below!). It's driving and just holding hands (you'll see that one bel0w!). I've come to realize that the most important and romantic things are the ones that bring you together.
It's just coming up with romantic things to do with your husband that are special. That's the secret.
I know not everything below will work for everyone. I just wanted to jot down 80 romantic things to do with your husband as thought starters. I feel like we all have the "things" that we love to do!
Maybe it's heading on your motorcycle for the afternoon. Maybe it's heading out on your canoe. It's different for everyone and that's what makes love so special, there's not one relationship that's the same.
80 Romantic Things To Do with your Husband (these are not in any particular order)

Bike ride – around the block or out and about!
Head to your local pool and swim together
Put the kids extra early to bed and just be together
Cook together – each taking turns with parts of the recipe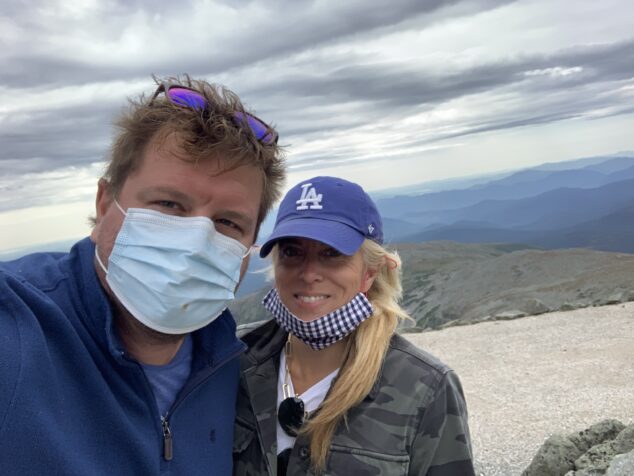 Go to the gym together – I love looking at Matt across the gym, something very comforting about it
Playing croquet – one of my all-time favorite games to play in the backyard
Match socks together – believe it or not, this can be nice to just sit and chat while doing this mindless chore
Head to the movies
Plant a garden – my husband's favorite and dream
Go see a play at a local theatre
Create a plan for the future together – this can be romantic when you dream big dreams
Paint a room in your house that you've been meaning to re-do
Shopping for something new for you and for him
Fancy dinner out
Scrabble
Head to a vineyard
Visit friends you've known forever together
Head to a local brewery
Long walk around the block – even with the kids
Picnic on the beach
When the kids are in bed, steal the Wii
A game of tennis
Watch the sunset
Put together a puzzle
Read a book together – I know… I know… but it can be romantic
Put together photo albums of your family
Enjoy an evening outside in your backyard, just sitting and talking
Cooking class together
Yoga class together
Head to a coffee shop and chill out
Snowball fight or just play in the snow together
Day trip to a special location nearby – for us it would be Newport or Cape Cod
Find a band you both like and see if they're playing anytime soon or nearby. If not, head to a local bar who plays music.
Dance lessons together
Try Ice skating together
Baseball game together – Major or Minor league
Check out a local museum
Bowling!
House hunting or just drive around looking at "dream" houses
Head to the zoo (you don't always have to be with the kids!)
Fishing – something my husband loves trying to get me to do
Sledding fun
Canoe ride
Bake together
Rollerblading – we used to do this all the time!
Create a vegetable garden – something we just did at our home
Learn how to play Call of Duty on XBOX OR another gaming thing
Kayaking together
Couple massages
Make dinner together
Run a 5K, 10K, 1/2 marathon, marathon together
Volunteer together somewhere special
Create videos for your blog together – if you're a blogger!
Whale watching
Mini golfing
Real golfing
Play basketball together (or teach her how to play)
Head to the beach and collect sea glass or shells
Monopoly
Recreate your very first date
Dance in the kitchen when the kids are in bed
Head to a flea market
Sit by the fire
Leave love notes around the house for fun
Go camping (Matt would have to pay me)
Create a vision board of goals and dreams you both have for your lives ahead
Hold hands together whenever you have a chance
Bubble bath time
Head to a spa together
Head out on your motorcycle
Watch the stars at night together
Visit a planetarium
Binge watch a show together
Attend an art opening or go to an art gallery
Try a new restaurant that just opened up near you
Adopt a whale together
Head out on your boat (or a friend's!)
Breakfast in bed
24 hour no technology day together

Skiing adventure
Hope you like these ideas! I'm also sharing 101 Thing To Do on Valentine's Day with your Love.
Please don't forget to join my Daily Dose of Style FACEBOOK GROUP! This has turned into my favorite spot online and I love sharing there every single day! It's been an outlet for me to be open and honest about my fashion loves!
It's a great place to learn new things, so I hope you come on over! I'm also going to be starting a kid fashion one soon, too!
Loving this Fashion Over 40 – Daily Does of Style Facebook Group (that I would LOVE for you to join) and I share trends and styles every single day in there, along with the best sales online for fashion.
I fully believe that you can and should be able to look your best without breaking the bank. You want to feel confident and beautiful and you CAN! I hope my info helps! We have a ton of fashion fun in there! And you don't need to be 40 years old!!!!!!!

HEAD ON OVER AND JOIN US HERE!!!
Make sure you share with me if there's somehting you love and I missed it on the blog!
80 Romantic Things To Do With your Husband
was last modified:
December 1st, 2020
by