If you're a bronzer wearer, you're going to love these liquid bronzer options! I'm not necessarily a bronzing expert, but I am a lover of all things bronzer and I feel like I know enough to share with you! Excited to share with you some of my favorite bronzing options!
Liquid Bronzer Options
I probably have about 10 bronzers in my makeup arsenal right now. I'm always asked what my favorite ones are and I have to say, it all depends on whether you like powders or not. I'm someone who loves liquids and powders, so I have them both. It doesn't always work that way. Some people just love liquid bronzer and some people just love powder bronzer.
What I personally love about BRONZER in general is that it's a great way to add a little glow to your face. I live in New England so November through March it's COLD here! There's no sun and there's no way you can sit out and enjoy the sun. You're too cold. In the summer I can get a little glistening glow and I love it! With bronzer you can get this look year round.
I want to share with you some of my favorite Liquid Bronzer products and encourage you to try some of these out! I also wanted to make sure I gave you a mix with prices. Not all bronzers are expensive and believe me, some of my fave ones are on the cheap side! I love knowing that there's a price point for everyone.
#1 Liquid Bronzer – IT Cosmetics CC Cream Physical SPF 50 Bronzer with Luxe Buki Brush $43.50
This is my personal FAVORITE at the moment!
What is it: IT Cosmetics Your Skin But Better CC+ Cream Bronzer with SPF 50+ is your full-coverage color-correcting cream, antiaging serum, broad spectrum SPF 50+, and now your sun-kissed bronze glow all in one! The Heavenly Luxe Buki Bronzer Brush effortlessly blends this skin-loving cream onto your face and body with ease.
Who is it for: Anyone looking for the power to achieve the look of their most beautiful and healthy-looking, glowing skin ever. Anyone who wants the look of instant youth and vitality. Anyone looking for a natural-looking bronzer that imparts antiaging benefits. Anyone who wants to instantly color-correct and camouflage the look of skin imperfections.
Why is it different: Your Skin But Better CC+ Cream Bronzer is truly a multitasking beauty miracle. It's your SPF 50+ UVA/UVB sunscreen that protects against the rays that both burn your skin and age your skin. This highly pigmented multitasking bronzer won't crease or crack in fine lines, and gives you a healthy-looking, Your Skin But Better glow. The antiaging hydrating formula is infused with peptides; niacin; algae; vitamins A, C, B, and E; hyaluronic acid; and hydrolyzed collagen.
How do I use it: For a radiant, vitality-filled complexion, blend bronzer over top of your makeup or directly onto bare skin with brush. A little goes a long way, so make sure to blend well until you have reached your desired look.
#2 Liquid Bronzer – Bronze Goddess Shimmering Oil Hair & Body Spray $50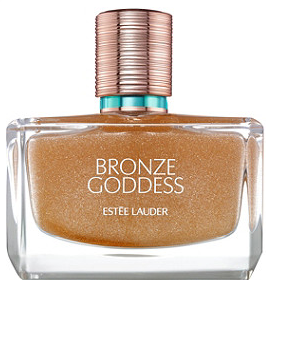 It's endless summer. The super-luxurious Estée Lauder Bronze Goddess Shimmering Oil Hair & Body Oil Spray has an all-new look. This oil spray helps revitalize and condition dull, dry skin and provides a shimmering, sensual sheen. It can also be used on hair in order to help tame flyaway hair, reduce frizz, and enhance gloss and shine. This oil is lightly scented with the seductive, sun-kissed Bronze Goddess Eau Fraîche fragrance. All heat. All desire.
#3 Liquid Bronzer – Clinique  Sun-Kissed Face Gelee Complexion Multitasker – $29.50
Sheer, oil-free gel creates a warm, healthy glow.
1 oz
An instant pick-me-up for skin
Appropriate for all skin types and tones
Ophthalmologist tested
#4 Liquid Bronzer – BAREPRO GLOW™ Bronzer Liquid Face Bronzer Makeup – $29.00
This clean bi-phase liquid bronzer provides sheer, natural-looking color with light-reflecting mineral pearls. Naturally derived botanicals help blur the look of pores and fine lines, while absorbing excess oil. Use for an all-over bronze glow, contour, or create a sun-kissed, no-makeup look with a hint of shimmer.
#5 Liquid Bronzer – PÜR Limited Edition Bronze your Selfie – $29.00
Product Description
A travel-friendly kit filled with everything you need to get that natural, picture-perfect look in a flash.
Brand Story
At PÜR, we believe that innovative beauty shouldn't be a burden on anyone. That's why we've been committed to creating cruelty-free products from the start. All of our makeup and skincare products are free of animal testing.
Let me know what you think about these products! I'm obsessed with these 5 and I would love to know that these are working for you, or tell me what you use and I will make sure I try it, too! It's always fun to try new products!!
Please don't forget to join my Daily Dose of Style FACEBOOK GROUP! This has turned into my favorite spot online and I love sharing there every single day! It's been an outlet for me to be open and honest about my fashion loves! It's a great place to learn new things, so I hope you come on over! I'm also going to be starting a kid fashion one soon, too!
Loving this Fashion Over 40 – Daily Does of Style Facebook Group (that I would LOVE for you to join) and I share trends and styles every single day in there, along with the best sales online for fashion. I fully believe that you can and should be able to look your best without breaking the bank. You want to feel confident and beautiful and you CAN! I hope my info helps! We have a ton of fashion fun in there! And you don't need to be 40 years old!!!!!!!

HEAD ON OVER AND JOIN US HERE!!! I also share beauty tips there, too.
Make sure you share with me if there's something you love and I missed it on the blog! See my last post on tarte Shape Tape Concealer! I share something on the fashion and beauty front every single day and I love it.
Liquid Bronzer Options
was last modified:
January 26th, 2020
by