The one item every fashionista must have in her closet is a poncho. There, I said it. The tough part comes when you're trying to figure out how to wear a poncho, but I've (literally and figuratively) got you covered on this front, too. The reason I love a good poncho is because they're cozy, versatile and super chic and fashionable.
How to Wear a Poncho
I've had ponchos for as long as I can remember. When I first moved to NYC to work for Donna Karan back in 2000, I remember being introduced to the poncho as an item that really was extremely versatile. You could wear it so many different ways and find ponchos in so many different colors and patterns and prints. It quickly became my favorite item to have in my closet and these ladies in NYC taught me up close and personal how to wear a poncho (and I love them for it).
So how to wear a poncho, right? How can you make it an item that works for you continuously in your life? There are a few ways you can wear a poncho:
Wear it over your shoulders as is
Cinch it with a belt
Wear it as a scarf
I'm going to work through each way with a poncho because I love wearing mine all these ways! I mix it up quite a bit with mine, but have really been loving the "cinching it with a belt" style lately the most. I feel like in the winter months here, I need to be as warm and toasty as possible. But the fashion truth is, you can wear it anyway you want – these are just the ways that I love mine!
How to Wear a Poncho: Wear it over your shoulders
This is the easiest way to wear it. There's really no though behind it, you just toss it on and GO! I love this way because anyone can do this, yes… ANYONE! My advice is to find a poncho that has sleeves that are sewn in. Many times when you find a poncho (like the white and black one above) you don't have sleeve sewn in spots. This is great when you want to wear it as a scarf, but it can be tough keeping it in place when  you're wearing it as an actual poncho.
I prefer to wear a poncho like this with just about anything! Leggings work… skinny jeans work… skirts work… dresses work. Everything works! I love it because you can really add this to a look to change it up! You go from one look to another with one added layer. Easy peasy!
How to Wear a Poncho: Cinch it with a Belt:

My favorite look of all! I have to say, this is the style that I do the most and I just love it to pieces. I feel like it's very chic and fashionable and very doable for anyone. Take your poncho and pop it over your shoulders, just like you would do above. Take your favorite belt (it doesn't matter if it's skinny to thick or "normal" size) and wrap it around your waist. Cinch your belt (tie/buckle) exactly over your belly button. There you have it!
Viola! Done and you have for yourself a easy and adorable look! I'm telling you, this is the one that I get the most comments on and I think it's the easiest. Not to mention – you could wear this with skirts, jeans, dresses and trousers. Easy work style, too – which is always an added bonus to any look!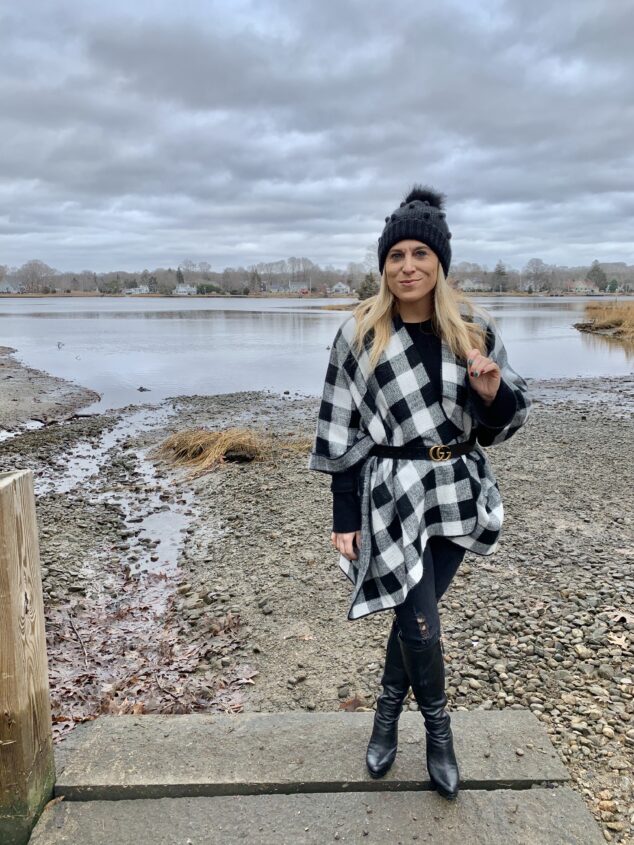 How to Wear a Poncho: Wear it as a scarf:

Wear it as SCARF ladies! OK, I probably lied above – this might be the easiest way to style because it's literally just a toss around the neck and go! I love this style because I just think it's awesome to have another approach to a cape scarf. I feel like it's important to show and note the various ways you can wear an item. I love the versatility with it and how it's just a true go to item. It's worth the money and I love that about it!
I took some time to show you (firsthand) on video how to wear a poncho, so I hope you like this video and I hope it helps you out! Sometimes it's just easier to see someone DO rather than just explain. This is my favorite plaid wrap that I got at LOFT that I wear all the time, too!
Please don't forget to join my Daily Dose of Style FACEBOOK GROUP! This has turned into my favorite spot online and I love sharing there every single day! It's been an outlet for me to be open and honest about my fashion loves! It's a great place to learn new things, so I hope you come on over! I'm also going to be starting a kid fashion one soon, too!
Loving this Fashion Over 40 – Daily Does of Style Facebook Group (that I would LOVE for you to join) and I share trends and styles every single day in there, along with the best sales online for fashion. I fully believe that you can and should be able to look your best without breaking the bank. You want to feel confident and beautiful and you CAN! I hope my info helps! We have a ton of fashion fun in there! And you don't need to be 40 years old!!!!!!!

HEAD ON OVER AND JOIN US HERE!!!
How to Wear a Poncho
was last modified:
January 10th, 2020
by