Graphic tees are my go to items to wear throughout the year. You're able to style them so many different ways. My fashion advice is for you to bring some graphic tees into your wardrobe or take them out! I'm sharing how to style graphic tees in various ways today for you!
How to Style Graphic Tees
This is what I love about sharing ways on how to style graphic tees, they're just EASY to style. That's the secret. That's the fashion tip right there! The best thing is that there are SO MANY DIFFERENT graphic tees out there for you to choose from. You can also buy graphic tees at various price points, too. You don't have to spend a ton of money to get this trend!
So where do we begin? I'm going to share with you various ways in which I've worn my own favorite graphic tees. As you know, I love wearing items in a variety of different ways. I love to see if I can make a graphic tee work for a dressy look, too. I'm just all about seeing how far I can push an item. I also think that graphic tees are that one item that you can wear at any age. They just work.
#1 – How to Style Graphic Tees
Who says you can't rock a graphic tee in snow boots and a pom pom hat? I wore this outfit last year in the middle of the winter! We had one of those usual winter snow storms, but then the next day it was a little warmer out! I was outside with my graphic tee (I did have a coat with me, too!). I love this laid back, ultra casual look! I love the She Can, She Will mantra, too!
#2 – How to Style Graphic Tees
Make it a little sexy! I grabbed my fave tall leather boots and my black jeans to pair with my green TRAILBLAZER tee! I'm all about finding tees that showcase girl power and female entrepreneurism. This tee embodies everything I believe when it comes to women in business, we are all trailblazers. I think it's important to wear powerful mantras!
#3 – How to Style Graphic Tees
Dress it UP! I love taking my graphic tees and wearing them with skirts! It's such a cute look and a fun look! I love my new black pleated skirt and I had some fun mixing and matching different looks with it. When I tossed on my "Fashionably Late" graphic tee, I loved it! I thought it worked perfectly with it. Don't be afraid to use your graphic tees with skirts for work!
#4 – How to Style Graphic Tees
Casual boyfriend jeans with a sweater coat! I love this look because it's cozy, comfy and casual! The 3 C's! I really do love being able to feel chic, but also feel comfortable at the same time. It's something that I feel we all need to do more often!
You don't need to be over the top with your style, but you don't also need to be so casual you're in pajamas! This is the perfect meeting in the middle. Not to mention, I LOVE COFFEE MILK, so it works for me!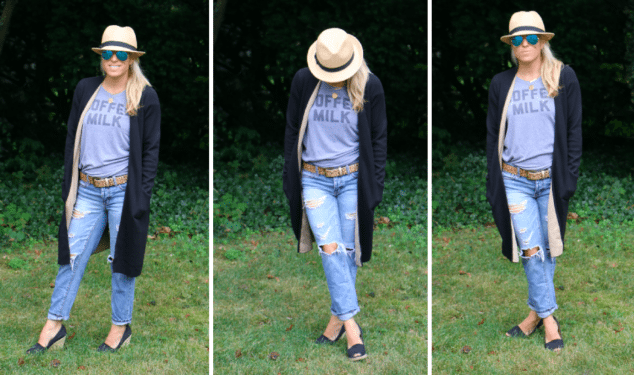 #5 – How to Style Graphic Tees
Monochromatic look with a touch of LEOPARD! Roar! This is a perfect look for work. If you're not sure how to make it work, this is an easy go-to look. Just grab one color from head to toe. I prefer to do this with black because I have tons of black blazers and black jeans, so it's easy for me. Grab your graphic tee and you're good to go! I added leopard heels for a little fashion fun, but you could easily do a black heel or flat!
#6 – How to Style Graphic Tees
I'm obsessed with wearing a graphic tee with skinny jeans and heels. It's the easiest and (in my opinion) chicest look of all! The best part? Toss my hair up on the top of my head and GO! This look is one you can wear out with the girls or around town! I feel like we don't wear fun heels (note my strappy ones!) enough. They're not just for work! I love this look from head to toe! It's GOOD TIMES!
#7 – How to Style Graphic Tees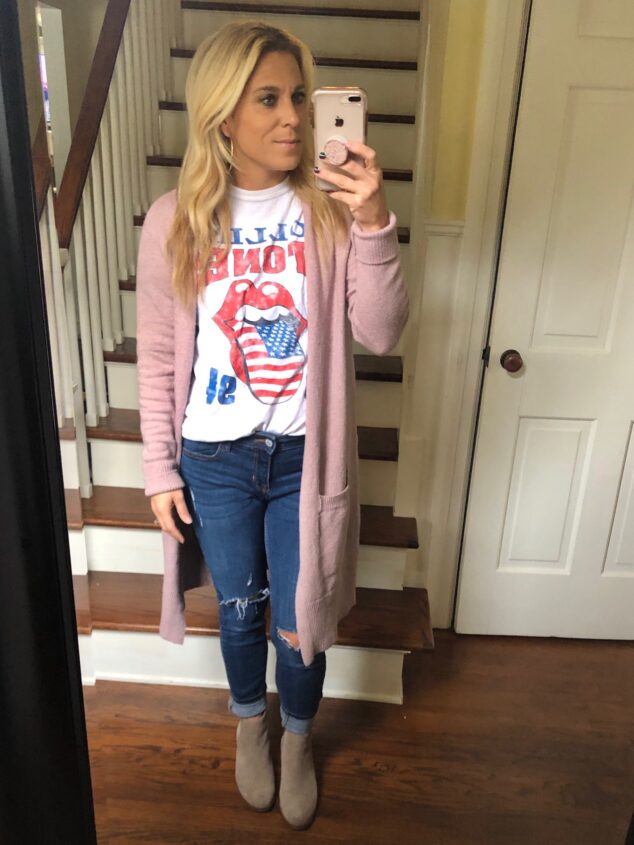 This is a look I wore last week! I'm obsessed right now with my long pink cardigan, so I've been wearing it whenever I can! I was heading out the other night, so I grabbed my Rolling Stones graphic tee and my jeans – the questions was, "What to wear over it?" (It's winter here!). My pink cardigan was it! I thought this look was easy and chic and trendy. I paired it with my booties and off I went!
I hope these styles help you! I love to be able to give fashion inspiration whenever I can for you! As I said, I love graphic tees and they're my favorite to wear with just about everything!
Please don't forget to join my Daily Dose of Style FACEBOOK GROUP! This has turned into my favorite spot online and I love sharing there every single day! It's been an outlet for me to be open and honest about my fashion loves! It's a great place to learn new things, so I hope you come on over! I'm also going to be starting a kid fashion one soon, too!
Loving this Fashion Over 40 – Daily Does of Style Facebook Group (that I would LOVE for you to join) and I share trends and styles every single day in there, along with the best sales online for fashion. I fully believe that you can and should be able to look your best without breaking the bank. You want to feel confident and beautiful and you CAN! I hope my info helps! We have a ton of fashion fun in there! And you don't need to be 40 years old!!!!!!!

HEAD ON OVER AND JOIN US HERE!!! I also share beauty tips there, too.
Make sure you share with me if there's something you love and I missed it on the blog! See my last post on tarte Shape Tape Concealer! I share something on the fashion and beauty front every single day and I love it.
How to Style Graphic Tees
was last modified:
January 24th, 2020
by