Who loves jalapenos? Who loves cornbread? Have you ever married the two together? Say hello to a family fave – Jalapeño Cornbread Casserole! It's my husband "famous" family recipe and it's incredible!
Jalapeño Cornbread Casserole
There's something about cornbread with a little kick to it! We make cornbread throughout the year. We don't just make it for the holidays. My kids would eat corn muffins for breakfast every single day if I made them. They love it! My husband started making this Jalapeño Cornbread Casserole recipe a few years ago when he created his own The Backyard Food Company Candid Jalapenos!
The recipe for Jalapeño Cornbread Casserole is pretty easy, it's not nearly as difficult as it sounds (for me, it sounds hard whenever someone says casserole!). My husband is the cook/chef/baker in our family, so I always leave kinds of things up to HIM! I'm excited to share with you how to make this delicious recipe and how super easy it is to make (although – huge shameless plug – you need The Backyard Food Company products to make it a smash hit!).
Here's a spicy spin on a fall classic. The Jalapeño Cornbread Casserole is a sliceable side that's moist and delicious with a touch of jalapeño heat.
Commitment:
Skill Level: easy

Prep Time: 5 minutes
Cook Time: 30 minutes
Total Time: 35 minutes
Ingredients:
10 ounce can of whole kernel corn, drained
10 ounce can of cream-styl​e corn
8 ounce container of sour cream
1 egg
8.5 ounce package of dry corn bread mix
2 cups of dry corn bread stuffing
1 8 ounce jar of candied jalapeño
1 cup shredded cheese
How to Make Jalapeño Cornbread Casserole:
Preheat oven to 350 degrees F
Grease a 9"x13" baking dish
Strain candied jalapeños, reserve brine for finishing
Finely dice candied jalapeños reserving some for garnish
Thoroughly mix corn, sour cream, egg, corn bread mix, corn bread stuffing, diced candied jalapeño and shredded cheese
Pour into greased baking dish
Bake for 25 minutes
Lightly drizzle glaze over casserole and garnish with whole candied jalapeños
If you're pressed for time, pick up a pre-made cornbread and drizzle a little Candied Jalapeño brine over the top. Cut and top each piece with a jalapeño ring.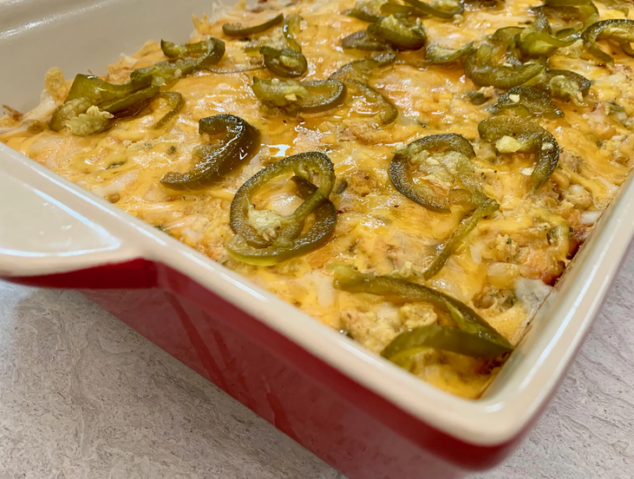 This is another reason why I love Jalapeño Cornbread Casserole, jalapenos are good for you to eat! Why? Here are a few benefits of eating jalapenos from Daily Juice Cafe:
1. Weight loss:
Peppers contain a chemical known as capsaicin, which is actually what gives peppers their hot properties. Capsaicin is also good for helping you lose weight, and is commonly found in many weight loss pills and supplements.
2. Arthritis:
Capsaicin also acts as an anti-inflammatory, which makes it great for reducing swelling and pain in those who suffer from arthritis.
3. Headaches:
The capsaicin in peppers is also known to block the neuropeptide known as Substance P, which is amain pain transmitter to the brain. What this means is that peppers can actually help to ease pain away.
4. Nasal Congestion:
The heat in peppers, again caused by capsaicin, clears the sinuses. It even helps to fight sinus infections by cleansing the airways. This means you can literally breath easier with the help of jalapeño peppers.
5. Ulcers:
Peppers kill bad bacteria in the stomach and intestines, and often this bacteria is what leads to stomach ulcers.
6. High Blood Pressure:
Jalapeño are a chili pepper, and chili peppers commonly have lots of flavonoids, Vitamin C and Vitamin A. Flavonoids are good for lowering one's blood pressure.
I'm all about finding reasons to eat certain foods and I think this speaks for itself! I hope you enjoy this recipe and try and try it again and again and again! Love for you to tell us what you think!
And check out my husband's The Backyard Food Company! The Backyard Food Company is Committed to Making Food Better by Using the Same Simple Ingredients You Use in Your Home. They have over 18 products and are sold online, Amazon and in over 500 stores in the Northeast!
See my other recipe: Pumpkin Roll with Apple Butter Filling! Another BIG HIT that you will love year round! Who just wants to wait for the fall for a delicious treat like this one? Make it now and enjoy it all the time! This is FABULOUS chilled with some vanilla ice cream, too! A summer fave for our family!
Jalapeño Cornbread Casserole
was last modified:
December 3rd, 2019
by