When it comes to Thanksgiving it seems like a pretty even split – someone people dress up and some people keep it casual. I wanted to share some Thanksgiving Outfit Ideas with you because it's the kind of holiday that goes either way. If you're hosting at your house, you're most likely keeping it casual. If you're heading out to someone else's house, you're most likely dressing it up! I'm here to help with some fashion ideas!
Thanksgiving Outfit Ideas
I've always gone to my in-laws for Thanksgiving, so I can say (without hesitation) that I've always dressed it up! I've enjoyed dressing it up throughout the years and have even dressed my kids up, too. I know Thanksgiving isn't as dressy as Christmas for me, but it's still a holiday that someone else is hosting me for, so I've always kept that in mind when thinking about Thanksgiving Outfit Ideas.
This year we're hosting and it's a little bit different. As much as I'd love to be dressed up in a dress and/or skirt, I know I'm going to be in the kitchen with my husband over a hot stove and mixing and prepping and serving. The thought of wearing a dress isn't on my radar. I'm thinking dressy casual is the way to go because I know it's the most realistic option for me.
Regardless whether you're hosting or not… or whether you're dressing it up or not… I'm going to offer some Thanksgiving Outfit Ideas for some fashion inspiration. I do think it's possible to "meet in the middle" with a dressy casual look that will work for everyone, even if you're not hosting. Sometimes you just don't feel like dressing it up to the nines and I totally get that vibe, too!
Thanksgiving Outfit Ideas – Casual Dressy
Let's face it, you shouldn't show up in sweats or be wearing sweats when someone comes over. That goes without being said (right?). I'm all about finding ways to dress up jeans. It's such an easy way to work a dressy casual style into your Thanksgiving Day attire. Especially if you have kids, it's easier to be in clothing that you can chase/run/dart/jump and crawl in on the fashion front.
Outfit Idea #1: Jeans with a Long Cardigan Sweater and High Boots
It's a simple way to wear something dressy, but casual at the same time. I'm all about long cardigans this season. They just work well with just about anything. Wear them with jeans to create a dressy look for the holiday. I love wearing colors that inspire Thanksgiving likes yellows and oranges and browns. Super simple and super cute. I found this yellow cardigan and I love it.
Thanksgiving Outfit Ideas – Outfit #2:
Leopard Print with just about ANYTHING. When it comes to dressing up for something, think about what's trending at the moment. Is it plaid? Is it leopard? Is it stripes? Take a trending style and wear that to your Thanksgiving function. It's such a safe way to go, but just such a stylish way to rock your fashion. I'm obsessed with this J.Crew Leopard Sweater!
Outfit Idea #3 – We're going to Little Black Dress it UP right now! I'm obsessed with this Amazon Little Black Dress! Toss on and go with booties or flats! You can't go wrong with this great dress. It's truly an one of a kind and it's available in a bunch of other colors, too! Only $21.99!
Thanksgiving Outfit Ideas – Outfit #4 -I love a good moto jacket! It's such an easy layer to wear when you're not wanting to go over the top on the dressy front, but want to look cool and chic. I love this option because it's a great look for any kind of occasion. If you're looking for a casual dressy look for Thanksgiving, this is an outfit idea to keep on yur list!
Outfit Idea #5 – If you're a skirt lover, I've got a great idea for you! Grab a plated skirt – any print and/or any color and wear it with a denim shirt. I just started wearing skirts this past year and I love them! They are the perfect go to item when you want to dress it up. I bought this leopard skirt on Amazon and I've worn it a variety of different ways! I love this chic and easy look.
Thanksgiving Outfit Ideas – Outfit #6 – Statement sweater! I'm all about finding some sweaters that just are eye catching and so beautiful. I feel in love with this colorblock sweater from J.Crew this past August. It's such a great color combo for the fall and it's also a wonderful sweater to transition you into the winter months ahead. You will wear this so many times!
Outfit Idea #7 – I'm all about trying to wear items in some fun ways. I bought this plaid wrap at LOFT recently and decided to belt it with some jeans. I think it's a chic look and it's perfect for Thanksgiving. I also think it's a look that you can wear just about anywhere in the fall and winter. Love how easy it is and how trendy it looks for a holiday!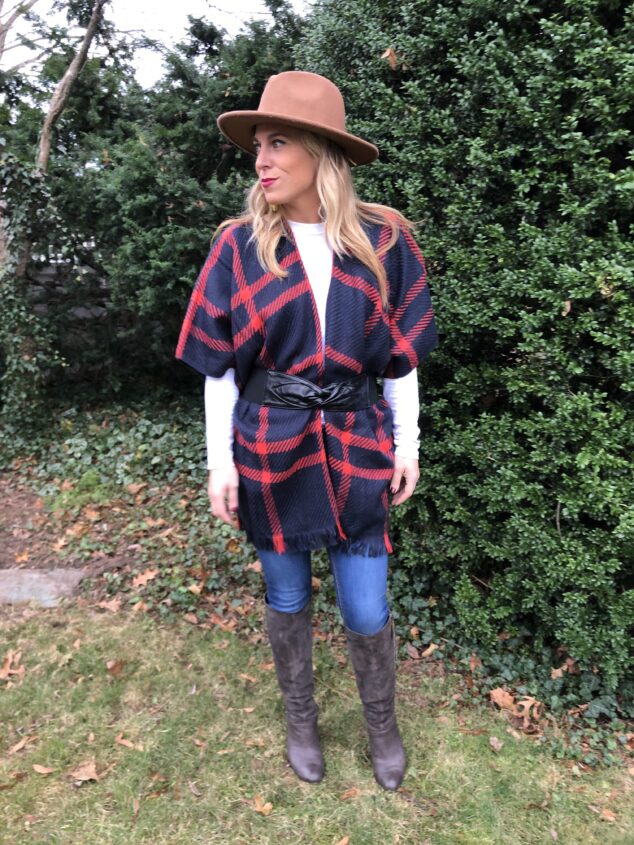 These are just some ideas to get you going! I hope these help! I feel like you've got a good mix of dressy and casual dressy here. My advice is to have some fashion fun! I also wrote a post on the best Thanksgiving Shirts to wear, too! These are the kinds of tees that are fun, but also chic to wear on the "big" day, too!
Please don't forget to join my Daily Dose of Style FACEBOOK GROUP!
And for all of my mama friends! I also have a Fashion Over 40 group that I would LOVE for you to join! I share trends and styles every single day in there, along with the best sales online for fashion. I fully believe that you can and should be able to look your best without breaking the bank. You want to feel confident and beautiful and you CAN! I hope my info helps! We have a ton of fashion fun in there! And you don't need to be 40 years old!!!!!!!

HEAD ON OVER AND JOIN US HERE!!!
Make sure you keep sending me what kinds of fashion and styles you'd like to see me share! It makes it so much more fun to create content when I know people are looking for certain things. I've been getting lots of requests for winter holiday dresses and jackets!
Thanksgiving Outfit Ideas
was last modified:
November 24th, 2019
by