If there's such a thing as "perfect fridge," I think I've found it. Say hello to the LG InstaView™ Door-in-Door® Refrigerator with Craft Ice™. It's a game changer on the fridge front and I think I need one pronto! Actually, I know I need one pronto. I'm all about making my kitchen a destination in the house that I love and feel so comfortable within. I feel like it's key to have items that are useful, trendy and cutting edge.
LG InstaView™ Door-in-Door® Refrigerator with Craft Ice™
LG's newest InstaView™ Door-in-Door® refrigerators have everything you need to become the ultimate home entertainer. Dual ice makers with Craft Ice™ automatically create crushed, cubed and LG's exclusive slow-melting round ice on demand, for upscale, craft drinks at home – helping beverages taste their best longer.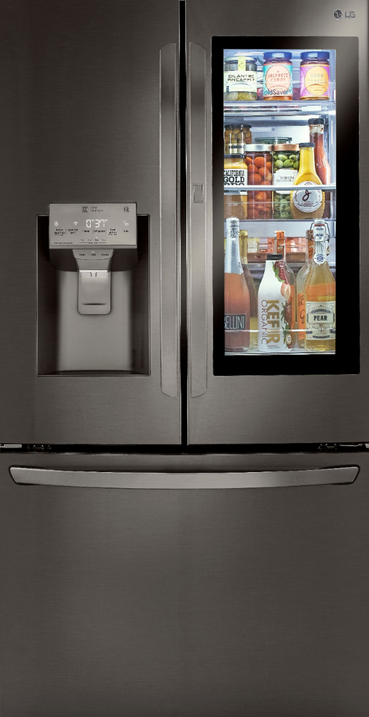 So what's so amazing about it? Let me bring you through some of the features.
LG brings one of the hottest beverage trends home with the Craft Ice™ maker that automatically makes batches of slow-melting round ice—without the work. That's right, no more messing with expensive and time-consuming molds that only produce one or two at a time. This is a major game changer for home entertainers, Craft Ice™ opens a new world of high-end drinks and keeps your soft drinks, lemonade and iced coffee tasting their best.
InstaView™ Door-in-Door®
: See right through the glass panel door. Access on-the-go items, beverages, condiments, and more without having to open the whole fridge. There's no guessing anymore and there's no kids asking, "What do we have?" You can look and easily see. This is such a simple feature, but such an amazing one to have on hand at home for your family. It's funny, but it really is a game changer when you have this feature. If you already have it, you know how easy it makes everything!
As you can tell it offers quick and easy access to favorite foods, the popular Door-in-Door® design gets even better with an adjustable bin that fits snacks and drinks of all sizes. Another great thing, too is that the bin glides smoothly up and down and locks into place with minimal effort.
What else makes this fridge worth it?
– Electronic controls: Make operation simple.
– Drawer divider: Makes it easy to organize frozen food.
– Organize contents with ease: Includes 4 split shelves, 3 fixed shelves, cantilevered shelves and more to provide ample space for storing items.
– Measured fill: For clean, fresh-tasting water.
– Water dispenser uses LT1000P replacement filter: Delivers filtered water with one touch.- PREMIUM LED interior lighting: Bright lights to illuminate interior.
– Door alarm: Alerts you when the refrigerator door is accidentally left open to save energy. *This is the best feature of all because it's a great alarm to alert you before the entire fridge goes bad!
– Dual Ice Maker and Slim SpacePlus ice maker: Provides a steady supply of ice without the mess of having to refill ice trays.
There's just lots of fresh innovation! We're talking that it keeps produce fresh up to 2X LONGER and only LG offers 3 innovative cooling technologies that work together to extend the life of fruits and vegetables and help keep all foods fresh and flavorful. There's Linear Cooling, which maintains consistent temperatures within 1°F of the setting. There's Smart Cooling uses digital sensors and an array of vents for total cooling control. And… the coolest part (pun intended) Door Cooling + delivers blasts of cool air that reach all areas of the refrigerator.
Disclosure: Partnership with Best Buy.
LG InstaView™ Door-in-Door® Refrigerator with Craft Ice™
was last modified:
October 22nd, 2019
by