When it comes to autumn weather, it's a little funny. It's not too cold, but it's also not too hot. You need to find items that are "right in the middle" for you. Finding the perfect autumn jacket isn't always easy, but I'm here to help! There are some great options out there right now that are perfect to be able to toss on and go. You don't need anything with down or puffiness, you just need a great lightweight layer.
Autumn Jacket Options
When it comes to finding the perfect Autumn Jacket, you need to make sure you're thinking of these few things:
1. Find a color that will work well with your fall wardrobe. I had a friend recently buy a mustard color autumn jacket, which was adorable – but she never wears that color. She's worn it once or twice because she doesn't think it goes with anything! So find a color that will work well for you.
2. Make sure it's a good quality jacket. The whole function of an autumn jacket is to provide an additional layer. You want to make sure you're getting enough "coverage" with it. You don't want it to be too heavy, but you also want to make sure you're getting out of it what you need.
3. Let's talk prices. You don't need to spend a fortune on an autumn jacket. The season really lasts 3 months, so you don't need to be spending $500+ on one. If you want to, go for it! If you don't want to, it's perfectly fine, too! Just make sure whatever it is that you're buying works for you and your budget.
I'm going to share 3 of my personal faves this season. I'm all about looking and digging and finding the perfect one! I haven't bought myself an autumn jacket in a few years, so this year I actually did search and buy. I knew I wanted one that I could dress up and dress down. I wasn't sure what color/print/pattern I would want, but when I found the "perfect" one for me – I just knew!
Let's kick this list off with my personal fave! LOFT has the coolest Drawstring Utility Jacket that I'm in love with right now. The second I saw it, I knew I needed it. It's exactly everything I was looking for – color, style and price point. I also knew that it would be perfect with the weather in New England. I know I need a WARM jacket when November roles around, so I just need something for the next 2 months here.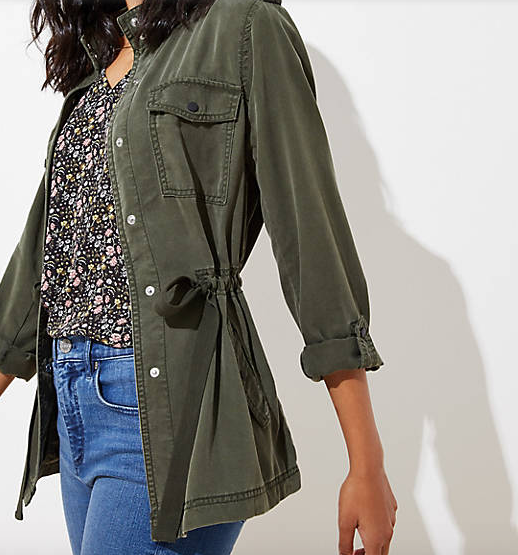 In a super soft washed texture, layering doesn't get cooler than this endlessly versatile utility jacket. Stand collar. Epaulets. Long sleeves with roll-cuff button tabs. Button front. Button flap patch chest pockets. Drawstring waist. Lower button flap pockets. Back yoke. • Softly fitted • Fluid woven • 27″ long Available in: Blue, Green, Grey
Here are some examples of how to dress it up and down. I wore this outfit the same day – once with jeans and a tee and then once with a dress.
It's $109 – best money I've spent! LOVE IT! Buy it here.
Next up – this Soft Brushed Peacoat is perfection from Old Navy! I love this one because it's a peacoat style, but it's not as heavy as a winter one is for you. I'm really thinking that this option is the way to go if you love this style.
A classic for a reason, this peacoat kinda makes us look forward to chilly fall days. Designed with made-to-move material to keep its shape for a super flattering fit, you can wear this coat day after day after day. Best part? Luxurious soft-brushed fabric makes you look like a million bucks without breaking the bank.
Spread collar and notched lapel.
Long sleeves.
Six-button double-breasted front (three functioning; three decorative).
On-seam pockets in front.
Approximate 6 1/2″ vent at back hem.
Move-with-you fabric has just the right amount of stretch for an incredibly comfortable fit.
Soft-brushed, warm acrylic/polyester/wool shell, with smooth taffeta lining.
This jacket is only $55! This is such a great option. Buy it here.
My next option is Women's Denim Jacket. I'm telling you, there are tons of option out there. You can't go wrong with finding the perfect denim jacket. As long as it's denim, it's perfect. You can also get any denim wash. This option from Levi's available at Kohl's is perfection.
Add a cool, lightweight layer to any look with this women's Levi's original trucker jacket.
PRODUCT FEATURES
Button front
Long sleeves
4-pocket
FABRIC & CARE
Jeanie, Sweet Jane, Uncut Malbec & Chronicles: Cotton/Elastane
Ultra Black: Cotton, Tencel, spandex
This option $79, marked down to $64.99! Buy it here.
I hope you like these options! There are tons more I want to share with you, too. Make sure you ask me if you have any questions. I'm all about finding the best items for the season. I love a good autumn jacket because it's an item you can wear every fall season. It's not the kind of jacket you just toss after one wear.
I'm also sharing some of my fave "what to wear" posts below, too! You will hopefully get some use of out these! I love when people ask me about what to wear with certain things. Please let me know if you have any questions!
Also check out my YouTube page and love for you to join me over there, too!
Autumn Jacket Options: 3 Not To Miss
was last modified:
September 26th, 2019
by