I'm all about finding sweaters that are chic, trendy, versatile and (most important) comfy for the fall/winter months ahead. I live in Rhode Island so I need to make sure I'm adding in some warm pieces for the cold weather that's coming (which I secretly hate). Amazon sweaters are a gold mine. I'm not kidding, a true GOLD MINE to be found because you will find the exact styles you want at prices that make you double take they're so reasonable.
Amazon Sweaters You Need This Season
I'm not trying to be dramatic, but I'm telling you – these sweaters are must haves. Not all of them will fit your style, but anyone of these are perfect for the season. If you're looking for some Amazon Sweaters you've come to the right spot. I have found 5 picks for fall and winter that are great quality and also reasonably priced. I don't want to break the bank when it comes to adding in items to my closet. I want awesome items at great prices.
I spent hours scouring Amazon for some great picks. I go in knowing what kind of style I'm looking for and then I don't stop until I've found them all. I personally love fashion and get some a high off of finding some awesome picks to share. I also know that every season it's fun to add in some new items to your closet. Amazon can feel like a black hole sometimes, but you need to really scour. Sometimes you actually do find a few items that don't actually fit the description, but I'm telling you guys, once you find some big hits – you'll be thrilled.
I'm attaching all of my finds below. I bought 15 sweaters to check out. My husband almost died seeing all the packages arrive.  Not all of them were good enough to showcase, actually only these 5 made my top picks because of: trend factor, quality and price. Nothing here is OVER $40, actually nothing is over $35! I hope you love these and I even created a video (posted at the bottom for you to take a look at, too!).
Let's kick it off with this PINK COZY SWEATER. Pink party is what this sweater is for me! It's the softest, coziest ever! It feels like a soft sherpa fleece and it's everything you want to have wrapped around you in the colder months.
I paired with my fave denim shorts, but I'll tell you – it still works! I love being able to transition into the fall with some shorts and cozy sweaters, too. It's always a treat to have a few go to sweaters and this is it!
For $33.98 you can't go wrong! There are sweaters you can get like this for over $150! This is incredible quality for this sweater!
Next up is the cutest LONG GRAY CARDIGAN sweater ever if you're in love with long cardigans! I love this gray cardigan because it's a lightweight fabric that is perfect for an add-on. I love how easy it is to grab and go with this item. Not to mention I love that it has buttons all the way down.  This baby is ONLY $23!
This casual fashion knit outwear is suitable for many casual and formal occasions, such as working, party, beach, vacation, home, daily wear and other activities. This cardigan sweater suit for spring, autumn and winter.
I love that you can wear this just about anywhere! Think over a little black dress or with a cute tank and jeans!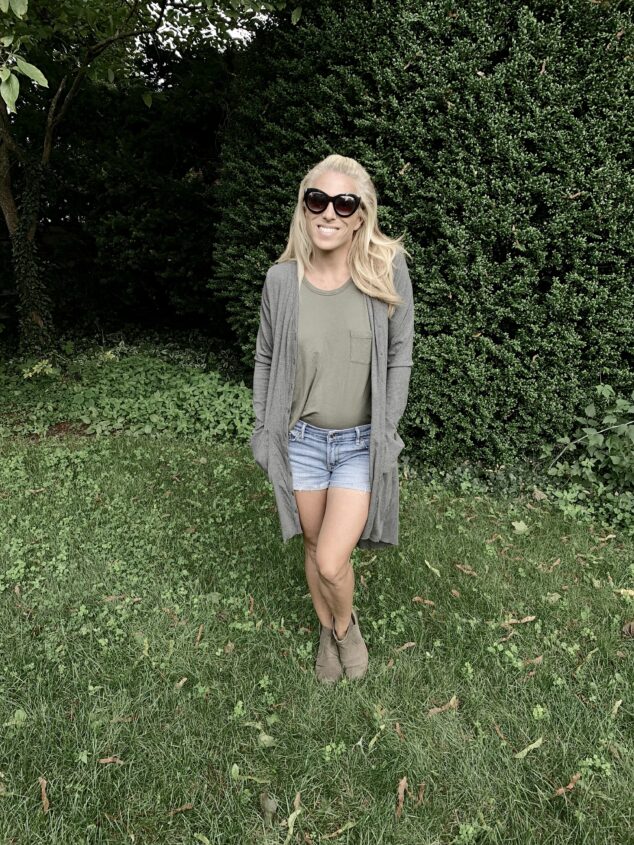 Cardigans are always the perfect layering piece to show your good taste. You can put them on over everything from a T-shirt to a simple blouse, and then fit them in easily with jeans, leggings, boots, skirt,etc. Great for every day wearing.
Next on my amazon sweaters list is this trendy WHITE DISTRESSED SWEATER! This is not a sweater that I would wear out a lot, but it's super cute and very trendy right now. I'm telling you right now, I saw this exact sweater at Nordstrom for $150+ and I found this replica on Amazon for $24.99.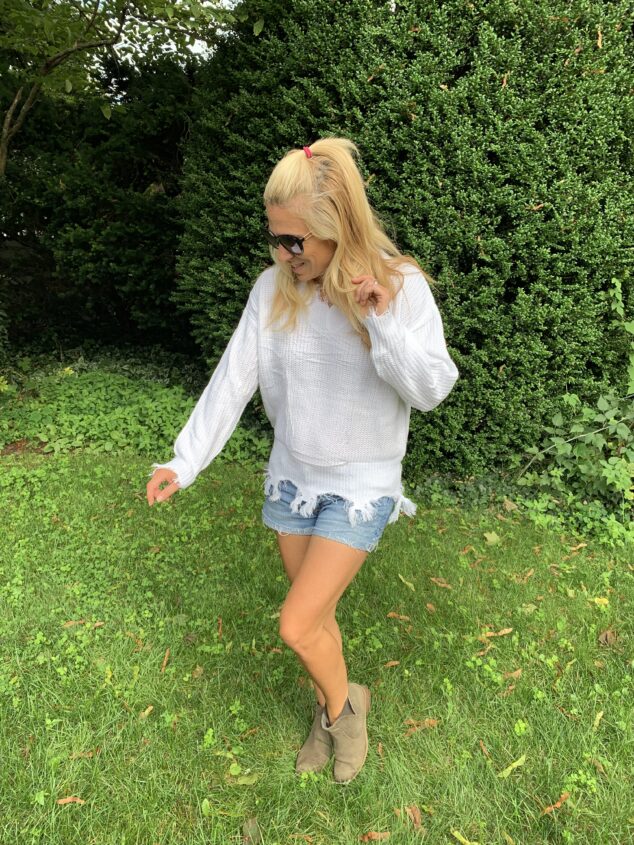 This destroyed hem sweater is such an edgy look for winter nights! We love the frayed and destroyed bottom hem and sleeve cuffs – it adds the perfect pop of style to this classic sweater! The knit pullover sweater great for party, hang out, dating and daily wear, This trendy look is simply perfect with a lace bralette, jeans, and stylish tall boots!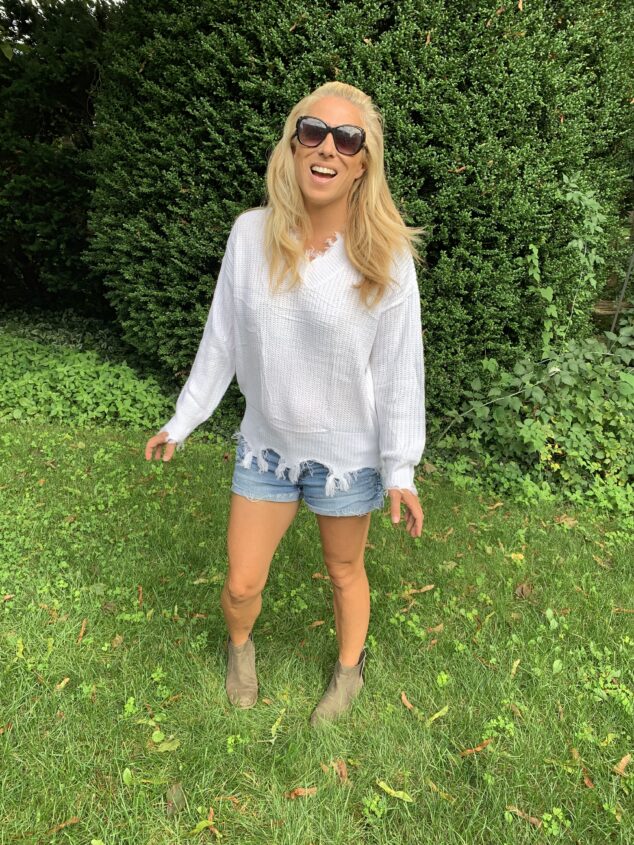 Next on my Amazon Sweaters list is this adorable LONG STRIPED CARDIGAN sweater. I'm in love with stripes in all shapes and sizes. I love me a fabulous stripe, they're so easy to wear and it doesn't matter your age or size – anyone and everyone can rock stripes. This is only $31 for Fall.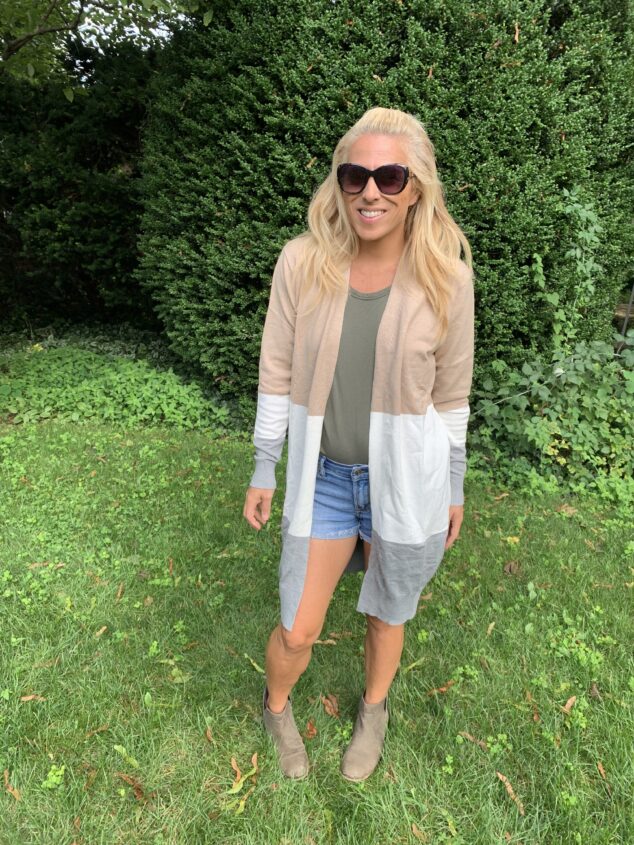 The lightweight cardigan sweater is very comfortable to wear and you won't feel tight. It is made with soft fabric making it more comfy against the skin.perfect for women wear with a jean or other pants.
The cardigan sweaters with long sleeve,striped print,lightweight and knee length,looks fashion and sexy. Perfect for women wear in spring, autumn and winter.
Last on my amazon sweaters list is this DEEP BEIGE V-NECK SWEATER for only $21.99. I love, love, love this one! It's exactly what I wanted but for a fraction of the price. I love that it's off the shoulder and so relaxed and boho. This one is only $21.99.
Fashioned with a front/back v-neckline, ribbed edges, long sleeve, loose style to incorporate a subtle feminine touch. Easy to pair it with skinny leggings,jeans,pants.suitable for casual, work,home, street,shopping,office, party and daily wear.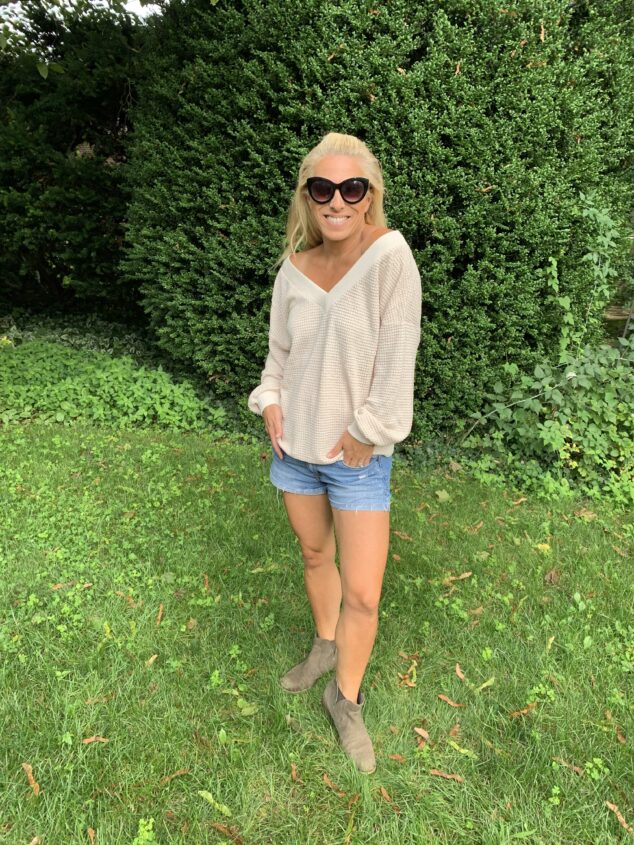 Made of a soft, breathable,waffle knit fabrication for the best fit and feel. It can easily wear as a one shoulder, off the shoulder, or classic v-neck pullover!
I hope all of these options are fun for you! I also hope one works for you and what you're looking for! I'm also sharing this video below of all of these in action!
PINK SWEATER for $33: https://shopstyle.it/l/60eA (affiliate)
GRAY LONG CARDIGAN for $23: https://shopstyle.it/l/60hs (affiliate)
WHITE DISTRESSED SWEATER $24.99: https://shopstyle.it/l/60lu (affiliate)
LONG STRIPED CARDIGAN for $31: https://shopstyle.it/l/60ms (affiliate)
DEEP V-NECK BEIGE SWEATER for $21.99: https://shopstyle.it/l/60o7 (affiliate)
Also check out my YouTube page and love for you to join me over there, too!
Amazon Sweaters You Need This Season
was last modified:
August 15th, 2019
by