I'm all about finding the perfect summer romper. I've always loved a good romper because they're easy to wear, always on trend and just a chic item to have on hand in the summer. Everyone and anyone can pull off a romper and I love that about them. Forever 21 rompers are in full effect right now at some incredible prices. I'm always asked if (ahem) ladies over 21 can rock anything from Forever 21. I'm here to say, YES. Especially on the romper front.
Forever 21 Rompers
Forever 21 rompers come in so many different prints and colors. I'm all about finding a romper that is solid print and just the kind of romper I can dress up and even (yes) dress down. I love being able to get as much "play" out of an outfit as possible. I love seeing rompers worn with blazers and jean jackets. It's pretty easy to dress one up if you know the look you're going for. I love seeing a romper worn to work because it's such a fun item to wear!
I started to scour Forever 21 rompers to find price points that work for women, too. Nobody wants to pay more for anything than they need to pay! You want to make sure you're getting something reasonable, but also something that works perfect for your style and your wardrobe. Don't go too crazy when you're looking to add items in, regardless of the price. Fashion is such a personal thing you and really want to make sure you're getting what you want and what you feel the best in for YOU.
Here are over 12 Forever 21 Rompers all under $35! You can't go wrong with any of these styles and selections! All of these could be worn with espadrilles OR flip flops! You can really have some fun with these and find a way to make them work for whatever occasion you've got brewing! You will rock these left and right and up and down, I promise!
When it comes to finding the perfect romper that works for your body, you need to make sure you think about a few things:
1. The style of the romper. Do you want sleeveless? Do you want a tank top? Do you want a long sleeve one? You really need to make sure you know the kind of style you want.
2. Make sure you know what fabric works best for you. I'm all about anything but silk! I can't wear silk because it's too lightweight for me. Rompers come in so many different fabrics now, so you'll easily be able to find one that works for you.
3. Make sure you know the kind of cut you want on your romper. You want to make sure that the waist of the romper sits exactly where your waist is. I've had issues in the past where the waist is higher up than it should be, make sure you don't do that to your body. I love being able to make sure it hits my waist properly.
4. Know the length that you want. Many times rompers can come on the short side, so make sure you determine how short you want go. I'm all about making sure I can chase Victoria and bend down without being worried about it!
I found a red romper that I just fell in love that I wish I could wear every single day! It's a gorgeous red one from Great Jones and it's the most comfortable romper I've ever worn! I love the red color. I love the pockets. I love the tie in the back. I love that it just moves with me and doesn't feel anything other than perfect on me. I'm always on the hunt for the best pieces to bring into my life and this is one of them!
My husband snapped some photos of me in my backyard and even he loved it! You know when your husband loves something that you've got it right! The red color really popped in these photos and it made it that much clearer to me that I need this more than anything! I paired it with some of my fave espadrilles and an easy straw fedora! I'm all about adding in some accessories with my fave styles!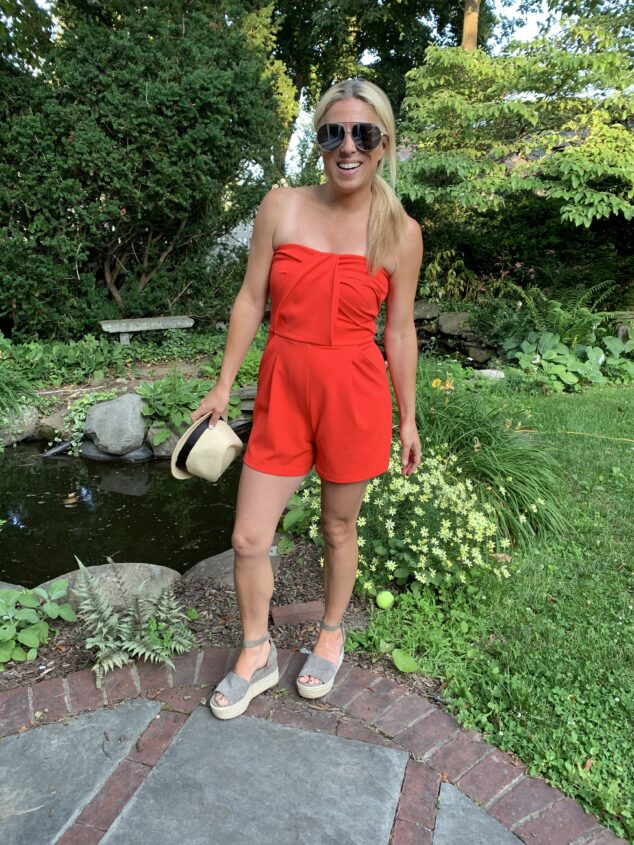 My advice when it comes to shoes is to find a shoe that is versatile. You want to make sure you're getting a shoe that is either a nude shade, tan shade, black shade or navy shade. You can't go wrong with any of those colors and pairing it with any print and/or color there is out there. I'm a sucker for a fabulous gray, so this is what I paired with his one. I just love being able to get some use out of shoes over and over and over again.
I'm just in love with rompers this season and I love that even though this one is $200+ you can find some for much less that are just as stylish and just as gorgeous! I love that Forever 21 rompers are the kind of items that you can feel good about buying because the price points are so reasonable, but also that they are super chic and trendy. You can't always count on that and I love that you can find them there.
I hope you'll grab a few Forever 21 rompers this summer to have some fun with for your events and occasions! I just always remember my mom wearing rompers when I was a kid. She would always look so pretty in them. Rompers really are such a classic and summer go to item. Bring a few into your life and have some summer fun with them! They really are such a sensational item to have on hand! You can just (literally) grab and GO!
Make sure you check out some of my other posts on summer fashion, too:
Floral Dress Trend for the Summer
How to Wear Shorts this Summer
Best Summer Dresses for Any Shape
Short Gold Dresses for the Summer
Also – make sure you check out my YouTube channel for more info about our family and fashion and beauty! We love having new viewers!
Forever 21 Rompers
was last modified:
July 8th, 2019
by