I'm a huge Justina Blakeney fan and a huge BAND-AID® Brand fan, so when I heard they partnered up with Target for an exciting and meaningful campaign I was ALL in!
Justina Blakeney Partners with BAND-AID® Brand
Everyone needs a fabulous and functional first aid kit whether you are at home or traveling this summer.  It's just one of those essentials that you need, period. As a mom of 5 I know firsthand how important it is to always have a first aid kit around. In my 14 1/2 years of being a mom, I've probably opened a first aid kit hundreds of time (literally). I've got an active crew that range in age from 14 to 5 years old, so I'm always on my toes and ready for anything!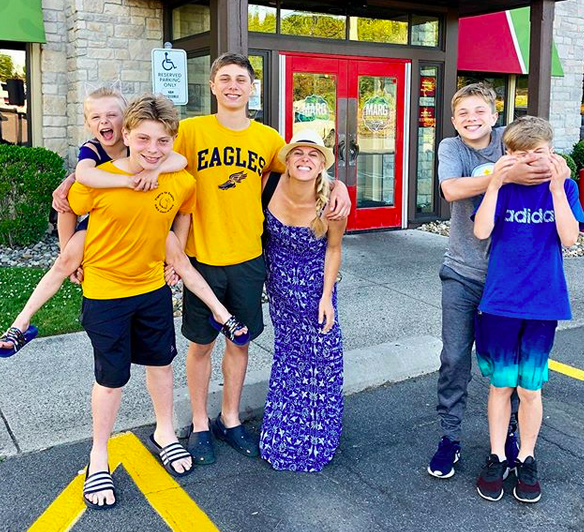 Even last night my son Alex cut himself while he was mowing the lawn. He ran inside the house screaming, "Mom!" And even those he's 13 years old, every mom knows that scream. I immediately ran for the first aid kit because I knew I had all the supplies inside to take care of his finger. In just a few minutes he was all bandaged up thanks to BAND-AID® Brand.
It's just a known mom and dad thing that cuts, scrapes and boo-boos can happen at any time and anywhere. As much as you do everything you can to prevent an accident from happening, they happen and you need to be prepared and ready. I'm all about making sure I have a first aid kit in my car, my house, my suitcase when traveling, my beach bag and even my workout bag. You just never, ever know!
Create your own JUNGALOW First Aid Kit
I'm thrilled to share with you a really cool and exciting partnership! BAND-AID® Brand, Target & Justina Blakeney, designer, artist, and founder of JUNGALOW®, have teamed up and want you to be prepared and to Build Your Own First Aid Kit at Target! If you've never done this before, now's the time to do it!
All you have to do is buy three (3) qualifying products in store or online, exclusively at Target, and get a  new, free JUNGALOW® designed First Aid Kit, which embodies the thoughtful, bohemian style of Justina Blakeney!
Justina is known for her wild, free-spirited vibe and I love that she has brought her style to life through her creations with BAND-AID® Brand. I mean – the bandages are like little masterpieces, each one!
I had the awesome opportunity to meet her and chat with her last week in NYC about this awesome partnership. Justina couldn't have been more lovely! She shared her excitement about the partnership and also talked about her work/life/balance as a full time working mom. I thought I loved her already, but I left really feeling this great connection to her.
What I loved the most was how Justina really captured the importance of having a first aid kit on hand, but that she's also added her touch of style to it, too! I think it really does add some extra fun to the mix when you're creating your very own first aid kit. Why go with something so-so, when you can go with something fabulous!? Justina Blakeney really did an exceptional job at bringing some style to a first aid kit!
And honestly? Who doesn't want their very own Jungalow case? My daughter Victoria wanted me to go back and buy her own for her markers and crayons, too! The bag is just really colorful and fun and wild! It's that perfect bohemian feel that is ALL Justina.
My daughter wears bandages like their accessories, so I know she'll be in love with these fun ones from JUNGALOW! It's always adorable to see her wearing (literally) 20 up and down her arms and legs to show off the creations! She's all over them like bees to honey! I know these will be a HUGE hit!
Here's an old video of Victoria opening up a fun package a few years ago!
Make sure you grab JUNGALOW BAND-AID Brand® Adhesive Bandages ($3.29) to Neosporin® to Motrin®, curate and build your own first aid kit so you can be ready for anything this summer! You'll be glad you did! Here's to a summer of being prepared and ready for anything.
Head here to build your own and to find out more information!
BAND-AID® Creates Patriotic Bandages
The McClelland Family is Built for Play Thanks to Johnson & Johnson
Justina Blakeney Partners with BAND-AID® Brand for something WILD
was last modified:
June 11th, 2019
by