I've been an Annie Potts fan since Designing Women.  I remember watching that show with my grandma and just loving it.  Annie Potts as Mary Jo was my fave. When I first heard Bo Peep speak in Toy Story, I knew immediately it was Annie Potts. You can't miss her voice.
Annie Potts as Bo Peep on Toy Story 4
Photo Credit: Jennifer Borget / Cherish365.com
When I found out that I was going to get the opportunity to interview Annie Potts in a small setting I was thrilled! I mean, THRILLED! She's one of a kind. She's an incredible actress. She has such range. I adore her to pieces and just couldn't wait to hear what she had to say about being the voice of Bo Peep for Toy Story and the change in Bo Peeep in Toy Story 4.
Without giving too much away about Toy Story 4, we see a different Bo Peep in this movie. She's worldly. She's evolved. She's strong. She's independent. She's a hero. She's someone little girls will look to as being a totally cool chick. I just love who Bo Peep is in this movie. She's someone I want to be like. I couldn't wait to get Annie Potts take on her.
Photo Credit: Jennifer Borget / Cherish365.com
The first question we kicked off the interview with was, "Going off of off Bo Peep being a strong independent woman, is that the message you're hoping for or is there more to it?"
"I have the privilege of presenting those qualities that are so admirable and inspiring and everything. She's been knocked around quite a bit and she's, you know, just kept on going and in a cheerful inventive way. I mean, this girl drives a Skunk Mobile. No one is going to screw with her. She's figured out a way to make it happen. I mean, she's so fantastic for young women and young boys to see. It's like this is what a woman is and to young girls, this is what a woman can be, and is. I'm just thrilled to voice those qualities. It is such a privilege when you're giving positive messages to especially children."
Considering that my Victoria dressed like Bo Peep for Toy Story 4 really pushes this to the max. Victoria looked at Bo Peep as the coolest character in the movie. I loved seeing a character come alive so much within my daughter's eyes. It was amazing to see and amazing to witness it happen. It's incredible that Pixar has the ability to create characters so strong as this.
It was awesome to hear Annie Potts view on this new look of Bo Peep. I mean, she's totally cool in this movie. Just look at her! We wanted to know how early on in the process she got to see the "new look" of Bo Peep!
"Oh pretty early on actually. Oh I thought it was great. I mean, she'd had some limitations before being a lamp. Once they got her off the base, all bets were off. She's very sassy, ripped off her skirt, uses it as a cape. Even though this isn't a Superhero Movie, her super powers are her heart and her courage, you know. And I think that's the greatest Super powers of all!"
I asked Annie Potts right after she answered that question what it will be like to see a new crop of "little" Bo Peep's walking around.
"At the earlier screening, there was a little girl there who had on a Bo Peep outfit and I hadn't seen one except on the thing that I have of Bo who walks around the park. But of course, it's thrilling. I can hardly wait until Halloween and see all the little girls because she is, I think she's very relatable. She's feminine, but nobody's fool. And I think little girls are empowered by that and I think the world is moving that way and I think Bo gives it a nice shove in that direction."
Amen to all of this and beyond! A-MEN!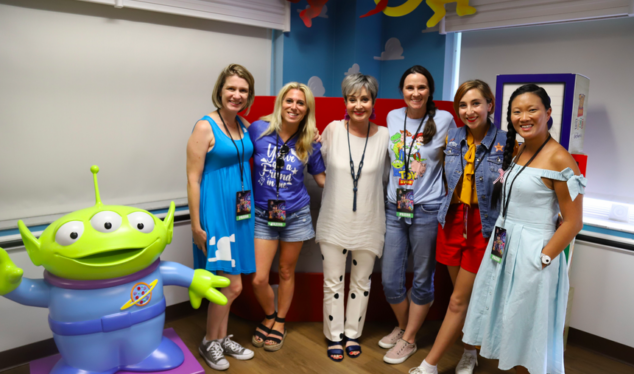 Photo Credit: Jennifer Borget / Cherish365.com
Annie Potts was a breath of fresh air! She was everything I thought she would be and then some! She was so sweet and kind with answering all of our questions and beyond that, she took photos with us, too. When I met back up with my husband after the interview he asked me how it was because he knew how excited I was about the press conferences (I mean, hello KEANU REEVES!) and interviewing Annie Potts.
My greatest takeaway was interviewing Annie Potts. I've always thought of these celebrities as bigger than life and just super confident in what they do. But Annie said one thing that really made her so relatable to me. She opened up to us in a real, raw way that made me love her even more than I already do.
Photo Credit: Jennifer Borget / Cherish365.com
She was chatting with us about seeing herself as Bo Peep in Toy Story 4 and the amount of pressure she felt. She explained to us the responsibility she felt. "I became more aware of the size and possibilities of Bo's role in this, about 2 months ago. I was like 'Oh, I had no idea. Oh it's too much.' And then all the way on the drive to the studio to screen the film, I was convinced to just prepare myself. 'You're gonna be the first actor that completely screwed up a Pixar Movie.' Just accept it now before you go in, that could be you. So I sort of watched through my fingers."
I'm thrilled to share that she didn't. She rocked it. She nailed it. She just dazzled the screen as Bo Peep, but I loved that she shared that with us because it showed the real side of Annie Potts. The side that at the end of the day, she's a woman who deeply cares about her job and wants to makes sure she does her very best.
I just loved that she shared that so much!
Interviewing Annie was a dream and thrilled to have had the opportunity and just be in her orbit for that short amount of time! I love seeing strong woman rock it!
See my other Toy Story 4 content:
Toy Story 4 Keanu Reeves, Tim Allen, Christina Hendricks and More (!) Press Conference
Josh Cooley, Tom Hanks, Tony Hale (and more!) – Talking with the Toy Story 4 Dream Team
Toy Story Land at Disney's Hollywood Studios
Toy Story 4 Review for Parents
See my YouTube Channel for video content of Toy Story Land!
Annie Potts as Bo Peep in Toy Story 4 [INTERVIEW]
was last modified:
June 21st, 2019
by