I'm all about a FABULOUS LOFT SALE! I actually live less than a mile from a LOFT store, so I'm able to frequent it and look and shop around often! I absolutely love it! What I love about LOFT is that the cater towards the modern woman. There are pieces that fit any style at any age. I love how they have classic and iconic looks that will keep you feeling fashionable and stylish for years to come. It's something that they give their customer that I appreciate and why I'm such a loyal customer!
LOFT Sale
The one thing I love about a LOFT Sale is that they always have great ones going on! I'm someone who loves fashion and staying on top of trends and I love that their sales are offered on the latest and greatest trends out there! They really do have so many different LOFT sales and promotions going on, and it's awesome because you're able to really stock up when you need to! I'm going to share with you some of my faves from LOFT right now! If you're reading this post during a different season, no worries! Head over there NOW to see what's hot and see what kind of LOFT Sale an LOFT Coupon Code they have going on!
With SPRING in full swing here and summer right around the corner, I'm all about trying to find some prints that exude happiness. I want to be able to blossom during the spring and summer and really feel the full effects of the sunshine and the beauty all around me. I live in New England, so for me – the winters are dark and cold and freezing! I really want to be able to enjoy the spring and summer outdoors as much as I possibly can!
LOFT has some amazing options right now when it comes to spring pieces that can easily be worn into the summer. My strategy? Find items that I know I will get some fashion longevity out of them! I want them to be able to wear them again and again and again! Not just one season and done!
1st UP?
This LOFT Double V Sweater! How adorable is this? The LOFT Sale right now has this for $20! JUST $20! marked down from $54!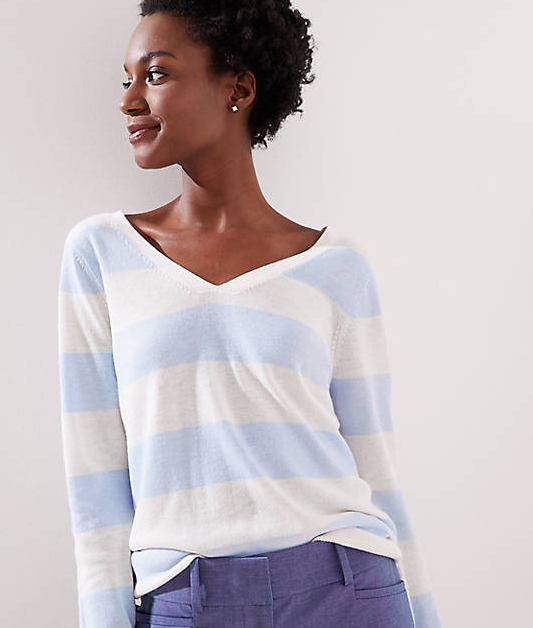 A V-neck and back makes this modern sweater twice as effortlessly cool. V-neck and back. Long sleeves. • Softly fitted • Soft knit • Hits at hip • Please note: this item is slightly sheer
Crepe Tie Waist Shorts! These are perfection for the summer! Dress them up with a blazer or down with a cute little tank or tee! Super cute! Love how elegant these are for women! $59 dollars with 50% OFF right now! So these will be about $30!
These fluid shorts are tailored to the point of perfection and all tied up with femme flair. Front zip with hook-and-bar closure. Belt loops. Waist ties. Front slash pockets. Back welt pockets. • Mid rise • Short length • 4″ inseam
Lace Cap Sleeve Tee. This is classic and you will wear this about 100 times. Hands down. I love anything with a cap sleeve and the lace trim just adds to the elegance and the beauty of it. I'm obsessed with this and wish it came in a zillion other colors, too! Grab this before it goes! This will be around $15!!
This super soft tee winks at flirty flair with lace cap sleeves. Round neck. Cap raglan sleeves. Available in: White
Chambray Modern Blazer. You will wear this a million times, too. I'm ALWAYS on the hunt for gorgeous blazers that I can wear season to season. There is a fabulous floral blazer right now at LOFT, but I just can't see myself wearing it a ton after this season! This blazer? I would wear all the time. Think timeless. Think classic. It's $120 with 50% off, so you're talking $60 for this blazer! It's a MUST HAVE for the spring and the summer! Fabulous add on layer for work or play!
Suit up in effortlessly flawless chic with this single-button blazer, a modern tailored layer that never fails to impress. Notched lapel. Long sleeves with button cuffs. Single-button front. Front flap pockets. Back vent. Lined. • 27 1/4″ long Available in: Blue
Tulip Button Strappy Cami. It's just perfection as can be! I love this simple, yet chic cami that works perfect under blazers or all on its own! It's a must have for the spring and summer. You could rock with jeans, too! I love the colors on this cami, too! VERY spring! This is only $20 during the sale!
Finished with an effortless shirttail hem, we're into the clean lines of this strappy essential. V-neck. Front covered buttons. Spaghetti straps. Racerback. Shirttail hem. Lined. • Flowy fit  • Fluid woven • Hits at hip Available in: Green
Modern Denim Jacket. OK, every woman (I don't care how old you are!) needs a denim jacket. It's a staple. It's a must. I'm not saying anything else about it. You need it. There, I said. The denim is gorgeous and I'm telling you right now, you're not going to beat this price so scoop this little baby up right now when you can at this low price! It's 40! That's right – 40 dollars! At J.Crew they're $110! GO GO GO!
Cool yet classic, hard-wearing yet soft and comfortable – no wardrobe essential is more of a style hero than this denim jacket. Point collar. Long sleeves with button cuffs. Button flap chest pockets. Button front. Side welt pockets. Raised-seam paneling. Front and back yoke. Button tabs at back hem. • 20 1/4″ long Available in: Blue
You can't beat this sale! There is NO promo code or coupon code! Everything is set as it is on the site. You will really get some incredible deals right now on some in season and on trend items! I usually only can get off season clothing on sale, but this is different! Scoop up everything now! Today! Or head in store to try some items on if you need to do that, too!
Top your items off with some gorgeous jewelry from HAVERHILL Collection! See my faves here, too!
LOFT Sale: My Fave Picks for Moms
was last modified:
April 25th, 2019
by