When I was in high school, swimming was my life. I saw 5 days a week, 2 times a day. I would wake up at 4AM to head to practice before school and then head to practice after school for another couple of hours, too. Swimming was everything. I had pictures of Summer Sanders on my bedroom wall. I read Swimming World Magazine. I truly just loved everything about the sport. I knew I would never be in the Olympics, but it never mattered to me. The competition of it all was between me, myself and I. If I could better my times with each swim, that's all that really mattered to me. I just wanted to give it my best and give it my all. That was my goal.
I was the fastest I ever was in high school. I loved swimming for my high school team because it was an honor to represent my high school when I competed in Rhode Island High School Athletics. It was amazing to put on my Eagles sweatpants and sweatshirt and bathing suit and walk on a pool deck. It felt like superhero clothing. It really felt good to know that I was going to go out there and hopefully score some big points for my team. It was just an awesome pleasure and I loved every single second of it.
Last night I was inducted into my high school's Athletic Hall of Fame. Truthfully? It was a HUGE honor for me.
I moved back to this very town 2 years ago and I have fallen in love with this town all over again. There is a part of me that wonders why I ever left. My high school helped share and define me. It challenged me and made me want to be the best version of myself possible. Swimming gave me an additonal purpose in high school and it always felt good. My good friend Heather Piazza nominated me this past fall and when I got the email that I had been accepted, my heart skipped a beat. To have your high school recognize you this many years later is a big deal and I wasn't ignorant to that at all. I was able to stand up last night among the other inductees and accept this award feeling very full.
What made it even more special was having my family and friends there to cheer me on. My husband never knew my in high school, but we're both athletes so I know he knows how hard I worked and tried and pushed to go after my goals. He sees this same determination in me today as a businesswoman, but this energy was focused on something else back then. It felt good to walk up there and show my children what happens when you don't stop and you hustle and work hard to be the best, or at least try to be the best at what you love.
I was always one of the shortest swimmers, standing at 5 feet tall. I always joked that I needed to swim fast just to make up for the height difference! But it's more than that in swimming. It's setting goals. It's working hard at practice. It's going into a swim meet ready to rumble. It's not backing down, even on the days you want to. It's never stopping and just going going going until you're where you want to be. As I type all of this right now, it's not that different from how we all are today in whatever it is that we do in life. I'm this way as a mom, wife, daughter and friend. I'm this way in my work. It's within us all to do this, you just need to actually do it.
I was grateful to have my parents there on hand, too. They were the ones that woke up with me every single morning driving me to practice, making me breakfast, helping me go after my goals. As all parents know, it takes a village. Swim meets are hours and hours long. My parents never missed on meet and I loved that about them. They not only came to meets, they timed and worked the snack bar. They did whatever they needed to do. I couldn't have done it without them! I hope my kids will know and understand the sacrifices we all make for our kids.
My swim coach came to support me last night, too. Sandy Gorham started coaching me at my summer pool club when I was about 12 years old. He was tough, but he pushed us to be the best and we didn't want to let him down. He was a great motivator and saw the best in us, even when we didn't! I was so excited to be able to have him there last night and acknowledge his great coaching.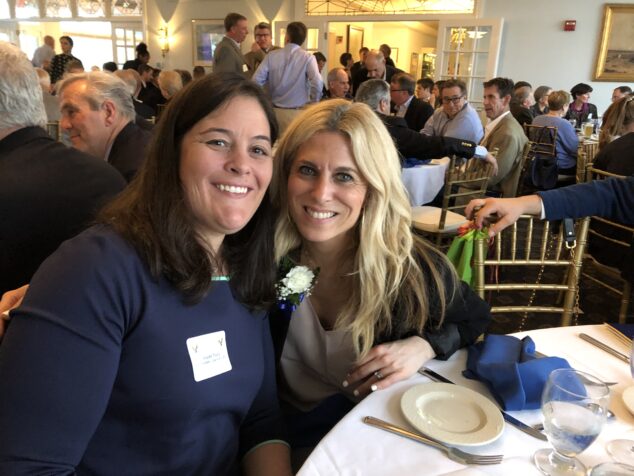 My dear friend Heather who nominated me! She's an outstanding athlete and I feel that athletes understand each other. We know the work that goes in and so there's a level of respect and understanding between us all. I'm so thankful she tossed my name into the hat to get nominated!
And again… just to have my kids and my parents there. My son William heading to the same high school I attended next year. It's crazy to think that he's getting to be so big! I loved seeing him listening last night to all the inductees talk about sports and our town and how special it is. I also appreciated the town I grew up in, but now that I'm an adult and a mom of 5 kids in this town… I just can't express enough how much I truly truly love it here.
What a night! Deeply honored and humbled!
Inducted into my High School's Athletic Hall of Fame
was last modified:
April 14th, 2019
by