When I was a little girl – all I ever wanted to be was a broadcast journalist. I would dream of sitting in front of a camera – telling the news, interviewing people and really shining a light on stories that needed to be told. I guess I've been a storyteller throughout my entire life. The Rhode Show gave me a chance 8 years ago to come on over and be a guest. My first story over there? I got to share about kid fashions from T.J.Maxx! I loved being on air. It truly was one of those moments where I stopped and thought, "This is really what I want to do!" That first time on air turned into a consistent guest spot seat over at The Rhode Show and I have loved every single second of it!
The Rhode Show Turns 10 Years Old
The Rhode Show is about having fun, eating well and living life in Southern New England. It airs on WPRI 12 Eyewitness News on WPRI.com in Providence, New Bedford, Fall River.  You can watch The Rhode Show weekdays at 9 a.m. on WPRI 12 and live streaming on WPRI.com. What I've always loved about The Rhode Show is that they do an incredible job sharing the Rhode Island lifestyle… from the kitchen to your closet to your daily life to what's going on in Rhode Island. They cover it all! They truly are a lifestyle show aiming to make your RI life the best it can be!

Throughout the last 8 years my involvement with The Rhode Show has become more and more, which I have loved! I'll never forget Rebecca Johnson (the previous executive producer) reach out to me in 2011 to see if I wanted to guest host with Patrick Little for the day while Danielle North was out on vacation. I was terrified but thrilled at the same time! Patrick was awesome and really made me feel so comfortable and at ease on the set with him. From the moment – I was bitten by the bug!
The team was kind enough to give me that shot and it turned into filling in as a guest host throughout the last few years when the hosts are on vacation. I've loved it so much because it's such a great chance to be in the thick of everything. I love storytelling. I love talking to people. I love listening to people. I love it all!
Well – today The Rhode Show turns 10 years old! Double digits! I watched their BIRTHDAY episode this morning and it made me smile! The show has just truly become a Rhode Island staple. It's not news – it's lifestyle topics and it gives it such relaxing feel. I've loved being part of the show throughout the last 8 years. It's been a blessing for me because it's fulfilled a passion within me that I've always had, but never got a chance to explore and go after full speed. I get to tell stories on my blog, but not like this. There's something about live TV that I just love! It's exciting!
The Rhode Show has also been amazing letting me have my kids on air, too! I've done back to school fashion segments so many times throughout the years with my kids as models. They really enjoy helping me out and I love having them right there with me! Michaela has always been so kind with them, too!
Most of the guest co-hosting has been with the guys – Brendan and Will! I have a blast with them because they're both so quick witted and just know how to really have some fun!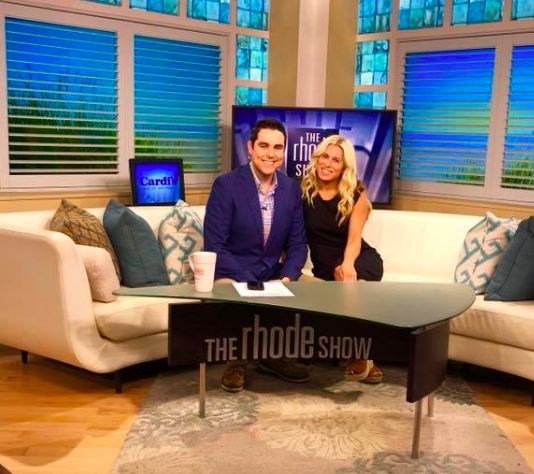 One of the best parts of being on-air is meeting all the people that come through the doors! Whenever I'm there doing segments, I love meeting people in the green room and chatting! There's not one day that is the same and that's a fun way to work!
I mean – I even got to interview a PATRIOT (sorry guys!)!
But the best part for me is just soaking up the energy! It's always electric and fun! Never a dull moment!
And being able to hang out with some of Rhode Island's best!
Hey hey!! Starting her young! 🙂
And Will is just the best! Always laughing! His laugh is contagious! If you're a guest – you know what I mean. He puts you right at ease!
And they've been awesome having my own husband on the show, too!! Grilling with The Backyard Food Company!
My little Victoria watching me on TV… not quite sure how it was possible that I was with her, but also on the TV, too!
Thank you to The Rhode Show for being so kind to me throughout the years! I've loved every single second and I feel blessed to be part of the family and the team!
Happy Happy Happy 10th Birthday!
May this just be the 1st decade down with many more to come!!
Check out all of my segments here.
For more information, head here!
The Rhode Show Celebrates 10 Years!
was last modified:
February 18th, 2019
by