One-Stop Holiday Shopping for Everyone on your List
When it comes to the holidays, the giving is my favorite part of all. Nothing excites me more! I love seeing someone's face light up with surprise or delight when you've gifted them with something special. To me – it truly embodies the spirit of Christmas. I always joke with my husband that the best gift for me is seeing people happy. That's all I need, that's all I want. As you can imagine, my holiday shopping list is a long one. I really do take the holidays to give thanks to the people in my life that are special and that I'm thankful for throughout the year. It's important for me to make sure they know how much I appreciate them and how much they mean to me and my family.
Just to give you a "little" gauge of who I'm shopping for this holiday season, here's who is on my list:
Husband
Kids
Parents
In-laws
Cousins
Teachers
Coaches
Godparents
Friends (Secret Santa – 1 gift needed!)
This year I'm shopping at BJ's Wholesale Club to cover my holiday shopping. I'm there every single week as it is shopping for our family, so I love that while I'm there shopping for my "normal" essentials – milk, bread, eggs, paper towels – I can also shop for the people on my holiday list, too! It makes it so easy with one-stop shopping and I really feel like I'm not stressing out or getting overwhelmed because I shop as I go! Every time I'm at BJ's I just "take care" of another person on my holiday list. I'm not fighting lines at the mall or driving around a parking lot filled with shoppers! It really is so easy and convenient for me and I appreciate that about BJ's and love that about them!
I want to give you some holiday ideas in the blog post because I think one of the toughest things about the holiday is really trying to figure out what to get the people on your list! It's easy when kids have a wish list, but it's not always easy for everyone else that we need to shop for during the holidays! I hope this serves as some inspiration for your holiday shopping or as a jumping off point for you as you start cranking down your holiday shopping list!

First up!? Your significant other! It's not always easy when you have a partner that says to you, "I don't need anything!" Yes. We all know that, but it's the holidays and gifts are a must! You don't need to break the bank, which is what I appreciate about BJ's. They have high quality items, brand names and incredible prices. You're getting what you need without spending a fortune… for that, I'm extra thankful. For some gift ideas… think practical and think useful. BJ's carries electronics from TVs to tablets to laptops to cameras! They have appliances (blenders, coffee machines, etc!). They have clothing and shoes and accessories for men… and the selections are incredible. BJ's exclusive Berkley Jensen collection offers a ton of styles and varieties. I've scored some perfect items for my husband throughout the year from Berkley Jensen. And if you're like me and really want to gift something special and something that your guy wouldn't buy himself… I'm giving the gift of comfort this Christmas. Warm blankets, cozy slippers and deliciously warm pajamas for HIM! Let him have some luxury this holiday!
Next up? Let's talk KIDS and COUSINS!
We have 12 kids to shop for during the holidays! Not to mention I need to (ahem) help Santa out, too! I love that BJ's offers the hottest and trendiest toys of the holidays for incredible prices! BJ's has their very own Top 10 Toy List and it's filled with toys that kids know and love! I personally appreciate that there's toys for every age – babies, toddlers, kids, tweens and teens! You've got NERF guns, Activity Sets, Baby Dolls, Plush Stuffed Animals, Retro Games, Sleds, Hot Wheels, Barbie… bring your child's wish list and you will cover it all at BJ's! I've already begun my shopping and I couldn't believe how many items I was able to buy and not break the bank! The holidays get expensive for us, especially with our own kids and I love that I can always find amazing prices at BJ's! They already have their Clipless Coupons out, too! That's right – I don't have to bring coupons with me, they're ALREADY marked down!
Let's talk Grandparents! Grandparents love gifts that mean something and I really make sure to take the time to appreciate that aspect of the holidays for them. Each year I have the kids pick out some special books for them to read.
BJ's has an enormous selection and they also have bestsellers, too! BJ's has really great gifts that grandparents would love – plush blankets, warm robes, frames for special photos, DVDs and beautiful holiday decor items that your kids could gift to them and start a tradition where each year you add something else to your grandparents collection for the holiday! We love doing that with my parents and then we label the bottom with the marked year! It's always a treat! Don't forget too, gift cards to BJ's are always a hit!
Teachers and coaches up next! I'm all about gifts that are easy! BJ's offers a huge selection of pre-made holiday gifts! Their gift baskets are perfect! They have amazing food selections you can gift, too from sampler platters to cookie trays. I personally love that BJ's makes it easy to gift people in your life, especially the ones that are with your kids so much. I always like to make sure I gift something to the teachers and coaches because they do so much for the kids. I love that as soon as I walk into my BJ's – right near the checkout center – I'm greeted with tons of gift baskets! I promise – you will find something!! OR! BJ's also offers gorgeous outdoor and indoor holiday displays from plants to wreaths! This is a fabulous thought, too!
I'm telling you – you can shop for anyone and everyone on your list at BJ's! I just love that I can do it all while doing my regular weekly routine shopping! It fits into my schedule and routine perfectly! I mean, it's a win-win… quality, value and convenience! You can't beat that at all! They make the holidays stress-free for you and that's what you WANT!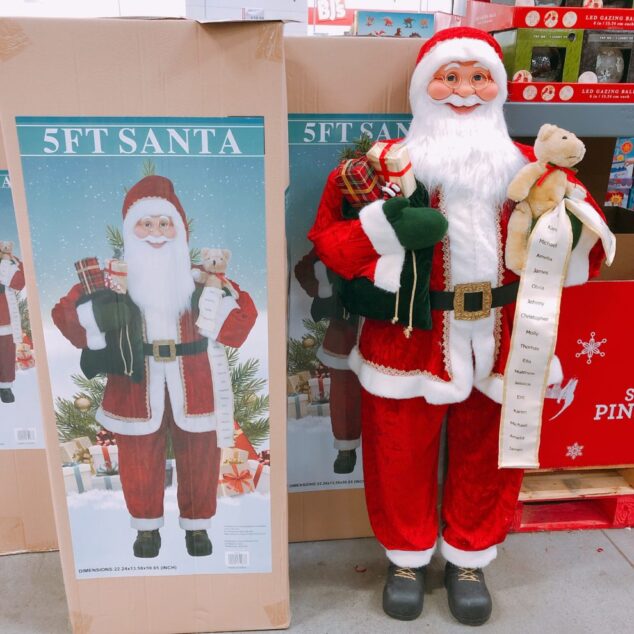 Happy Holidays!! And Happy Gifting!
Disclosure: This is a sponsored post with BJ's. All opinions are 100% my own.
One-Stop Holiday Shopping for Everyone on your List
was last modified:
December 3rd, 2018
by