Signs your Child is having Vision Trouble
My son Alexander started showing signs of vision trouble when he was 7 years old. He would squint to look at the TV. He would tell me he couldn't see the chalkboard at school. And he would always be asking me what things said on signs and posters. We immediately took him to the eye doctor for an exam and we were correct – our little guy needed intervention. 6 years later we have continued to stay on top of his eye health and he continues to wear glasses and (now) contacts.
I recently found out that 1 in 4 children have an undiagnosed vision health issue?  I was shocked to read this stat, it's higher than I thought! It was (pun intended) eye-opening. I had the opportunity to chat with Dr. Michael Chernich Senior Director of Eye Care for Pearle Vision about child eye health and what you can do as a parent to be proactive in it. Dr. Michael shared some surprising truths about America's eye health including that 80% of what a child learns is through their eyes only and yet only an estimated 14% of children receive comprehensive eye exams before entering kindergarten or first grade. That's pretty incredible, right? Impaired vision can affect a child's cognitive, emotional, neurologic, and physical development by potentially limiting their exposure to a range of experiences and information.
I asked Dr. Michael some questions regarding eye heath for kids and he was so kind to answer them all and really give some incredible and informative insight.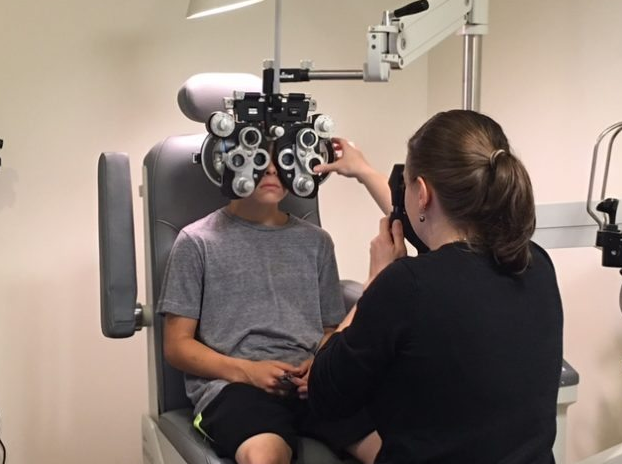 What age do you feel it's best for moms and dads to start routinely getting their child's eye health checked?
A:  It's important to ensure that you give your child every chance to succeed in school and clear, comfortable vision is the best place to start. Every child should get a dilated eye exam before the age of five. In fact, it's important to diagnose and treat amblyopia (also known as "lazy eye") in children under the age of seven. Undetected eye problems can cause some children to exhibit the same symptoms as ADHD and may lead to a misdiagnosis.
What are some signs that your child may be experiencing some eye health issues?
A: The most noticeable sign your child might be having vision trouble is squinting. Watch your child read a book, coloring or even watching TV. If they are sitting especially close to the TV or having to adjust the distance of their book from their eyes, chances are there might be an issue you need to have an Optometrist check out.
Another common thing to look for is children who tilt their heads when reading. This can be a sign that indicates a common vision disorder called Astigmatism.  Often it's the teacher who notices that a child may have trouble seeing the board. The best way to know if there is an issue is to talk to your children. Ask them if they see things a bit fuzzy or if they are having trouble seeing anything up close or far away. Ironically it's the power of observation that is more often than not an indicator of an issue.
What is your advice for a mom who has a child who is scared of getting their eye's checked?
A: Kids fear the unexpected and in general, going to any doctor when you are a child isn't something that is on the top of their to-do list. To help ease a child into getting their eyes checked I would let them know that there are no shots or blood tests or anything most kids fear when they go to their pediatrician. Take away those fears immediately. A comprehensive eye exam should be painless and highlight for a child how cool it is when they get to see pictures of the inside of their own  eye!
At Pearle Vision we created a fun animated series called the Eye Squad. By visiting their nearest Pearle Vision EyeCare Center Kids to get their eyes checked, children can become a part of a club of secret agents on a mission to stop Professor Blur from making kids see blurry. Following their exam they are presented with their membership certificate.  Starting eye exams early in life helps children develop a lifelong commitment to eye care.
What can impaired vision do to a child?
A: 80% of what a child learns is through their eyes and undetected learning-related vision problems can lead to trouble with schoolwork. In fact, a child with impaired vision may not even know what seeing clearly is! It's important to diagnose and treat amblyopia (also known as "lazy eye") in children under the age of seven. Undetected eye problems can cause some children to exhibit the same symptoms as ADHD and may lead to a misdiagnosis.
What are some statistics that would help parents see the need in getting their child's eye health routinely checked?
1 in 4 kids K-6 have undetected vision problems.
22% of kids between 5-17 can't see clearly
10 million kids suffer from vision problems even after having a school screening
1/20 kids has a vision problem that could result in permanent vision loss if left undiagnosed
80% of learning is through their eyes
How does it make you feel when you've successfully helped a child who had impaired vision get glasses with a prescription to help them see better?
A:  While it is rewarding on a number of levels to help people see clearly and ensure their eyes are healthy, for kids in particular who may not know what seeing clearly really is, the emotional gratification I feel when I help a child see clearly is tremendous. This is why I'm so excited to support Pearle Vision's #RaiseYourGlasses campaign, where you can get a chance to help someone in need. In partnership with tennis legend and cultural icon Billie Jean King (who self admittedly stresses the importance proper eye care and eye wear and the impact on her career), Pearle Vision is asking everyone to post a photo of themselves in their first or favorite pair of prescription glasses along with the hashtag #RaiseYourGlasses to Instagram, Facebook or Twitter. For every 10 photos posted, Pearle Vision is going to ensure a child in need gets the proper eye care their deserve.
Signs your Child is having Vision Trouble
was last modified:
October 24th, 2018
by