Polk Command Bar Product Review from Best Buy is something that my husband has been begging me to look at for the longest time! I mean – LONGEST TIME!! Polk Command Bar is really awesome and it an item that is and should be in every living room space!
When it comes to technology, I love to try out new products that are meant to make your life more convenient. I'm a big believer in the power of technology and what it brings into your life for the better.
Polk Command Bar
Recently we were sent the Polk Command Bar – available at Best Buy – to review. I was struck immediately by the fact that the Polk Command Bar promises to bring theater-quality sound to your living room with this Polk Command Sound Bar with Amazon Alexa Built-in. Since we spend a great deal of our family time in our living room, this really appealed to me and my family. As the Polk Command Bar states, "Its performance-tuned driver array and wireless subwoofer create an immersive experience, while the integrated far-field microphones provide the ability to control it using your voice via Amazon Alexa. The built-in dual HDMI 2.0 inputs enable this Polk Command Sound Bar with Amazon Alexa Built-in to produce excellent 4K HDR content."
Polk Command Bar – Video Review
Pretty amazing, right?
It really is an incredible piece of technology to bring into your home, one that you're going to love. I have to admit, the fact that the Polk Command sound bar works with any universal remote is a technology lifesaver!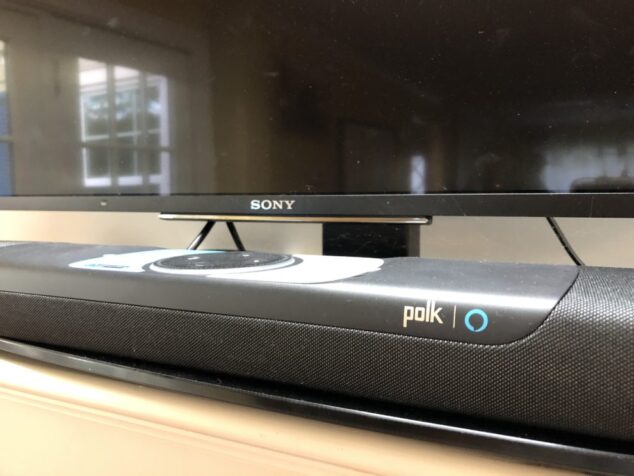 Built-in Amazon Alexa
Easily control, monitor and schedule your electronics using your voice.
260W total output power
Provides quality sound for your favorite movies, shows, games and music.
Performance-tuned driver array, wireless subwoofer and Dolby/DTS surround sound decoding
Offer an immersive, room-filling home theater experience.
Four-speaker enclosure
Features two 1-1/4″ x 3-1/4″ mid/woofer and two 1″ tweeter drivers to deliver a movie theater experience in your own home.
Bluetooth music streaming
Makes it easy to enjoy tracks stored on a compatible Bluetooth-enabled device (not included).
Sleek appearance
Fits seamlessly along most HDTVs for a streamlined look.
Universal Compatibility
Included High-Speed HDMI and Optical cables ensure quick and easy setup and the low-profile 2″ design won't block your TV's screen.
Inputs
Includes 2 HDMI, 1 Toslink and 1 USB.
Outputs
Includes HDMI.
Remote
Enables simple operation from a distance.
40Hz – 22kHz frequency response
Ensures a wide range of accurately reproduced sound.
Fire TV Compatible
HDMI ports designed and spaced to fit Fire TV and other wide HDMI streaming devices. Built-in USB port also powers original and 4K versions of Fire TV (where Fire TV is available).
Definitely worth checking out! I'm telling you – we love ours! If you have any questions about the features or set-up, please reach out via email and let me know. I can help you out – Audrey523 at mac dot com.
Enjoy it so much and you'll be glad you added this into your life!
Check out other technology posts!
Disclosure: Best Buy partnership.
Polk Command Bar Product Review
was last modified:
February 2nd, 2019
by