Looking for what to do in Omaha Nebraska? What about Free Things To Do in Omaha, Nebraska. I just got back from spending 4 beautiful days in Omaha, Nebraska. I was overcome by the beauty, the passion and the peacefulness of Omaha. Before heading there, I really only knew 2 things about Omaha, Nebraska: 1) Omaha is located on the Missouri River (thanks to my 5th grade social studies teacher!) and that Omaha Steaks is headquartered there.
What to Do in Omaha Nebraska
That was really all I knew for sure about the City. What I wasn't prepared for was seeing firsthand what kind of a true gem the City is… and how it's a destination that everyone should add to their bucket lists! There's so much to do in Omaha, Nebraska for adults and kids and the best part  – there's so much to do that's FREE in Omaha, Nebraska! So seriously… What to Do in Omaha Nebraska?  I wanted to share with everyone in this blog post because I couldn't get over the amount of things that are offered at no cost! As a family of 7 – FREE things to do in a City are always things I like to read about because it's an extra offering for us! I already shared my amazing experience at the Omaha Zoo, so I thought this would be fun to share what you can do that's FREE and FUN in Omaha, Nebraska!
What to Do in Omaha Nebraska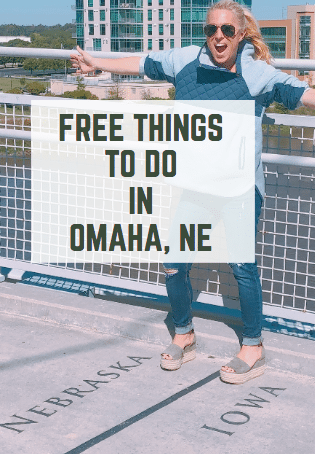 I' m sharing What to Do in Omaha Nebraska – FREE Things to Do in Omaha, Nebraska for adults and kids. I haven't done all of these, but I've been researching because I'm dying to head back there! I thought it would be fun to draft out my thoughts and suggestions fro my research! Let me know what I'm missing and what I should add to my list!
This is a fun one for anyone, regardless of your age — BOBBING. What is "Bobbing?" You can actually s

trike a pose while standing in two states at the same time

– Nebraska and Iowa! You can take a beautiful walk/stroll/jog across the Bob Kerrey Pedestrian Bridge, which is a one-of-a-kind 3,000 ft long cable stay bridge connecting the two states.  It's a blast putting one foot in Nebraska and one foot in Iowa – definitely a must-do!

Make sure you take a walk through the Gene Leahy Pedestrian Mall (1302 Farnam on the Mall Omaha, NE 68102 ).

Photo from VisitOmaha.com

This is a ten-acre park against historic and modern architecture in the heart of downtown. Lagoon and waterfalls, walking paths, gardens, playground, amphitheater and sculpture garden; connects to Heartland of America Park. Also the centerpiece for the Annual Holiday Lights Festival.

Visit the Heartland of America Park and catch the spectacular Heartland of America Fountain with its 320-ft water jet and light show. Lewis & Clark Interpretive exhibits, WWII and Airborne Memorial Sculptures and a pedestrian bridge connecting to the Lewis & Clark Landing. Gondola rides by Heartland Gondola. Located across the street from the historic Old Market area. Pet friendly outdoor areas.
Look at the sky in Omaha! Find some beautiful farm land and just take in the beauty. You can do this in a simple drive and just take a deep breath and breathe it all in. It's just magnificent.
Check out the Lewis and Clark National Historic Trail Visitor Center! I saw this right next to the Bob Kerrey Pedestrian Bridge, the National Park Service provides opportunities to learn about the Lewis & Clark Expedition and over 400 National Parks across the country through Ranger programs, exhibits, free brochures, a native plants garden and bookstore.
Joslyn Art Museum has been a premier center for the visual arts for over 80 years. With art from ancient times to the present, with an emphasis on 19th- and 20th-century European and American art and Art of the American West, there's something for everyone. Families can check out an Art Pack to take into the galleries . . . it will be your guide as you explore a theme of your choice, from architecture to Impressionism. The outdoor garden galleries, including the kid-friendly Discovery Garden, offer a welcome view of over 20 artworks in the fresh air. Young visitors will love the exhibitions of original art by children's book illustrators in the Mind's Eye Gallery. Major temporary special exhibitions are offered annually, along with concerts, lectures, events, classes, mobile and guided tours, and more. The Museum features a café and shop and is fully accessible. General admission to Joslyn is free to everyone during all public hours.
Explore Omaha's Old Market… we walked through as we were heading to eat lunch at M's and I was taken by the cool factor of it all!

It's spectacular! This is a must stop! Adorable shops, chic boutiques and fabulous food and entertainment! Street musicians and artists offer entertainment as you wander in and out of the many boutiques and galleries that line the cobblestone streets. Innovative restaurants, original steakhouses, local pubs, quaint cafes and jazz clubs make the Old Market a great stop when visiting Omaha.
What to Do in Omaha Nebraska – LODGING
Check out the Hilton Downtown!
Hilton Omaha is located in the heart of downtown near the Old Market Entertainment District and 7 minutes from Eppley Airfield Airport. Our hotel is one block from TD Ameritrade Ballpark and joined to the CenturyLink Center Omaha Convention Center via an enclosed sky bridge. Take our complimentary shuttle to the airport and to sites in the downtown area. Our lobby shop offers snacks, sundries and Starbucks® coffees.
This is where I stayed for 3 nights and it was heaven! The location was spot-on! It was quiet! The rooms were big and spacious! The staff was exceptional! I mean, EXCEPTIONAL! Whenever I travel by myself I always like to be pampered because I don't pamper myself at home! This hotel catered to every need and they were to friendly and sweet and wonderful! This is also a fabulous hotel to stay with your family because it's family-friendly and just a wonderful spot to enjoy and easy to get to where you want to go!
Highlights:
7 minutes from Eppley Airfield Airport (OMA)
Over 39,000 sq. ft. of flexible conference and banquet space
Walking distance to Omaha attractions including TD Ameritrade Ballpark
Access to our health club and spa, featuring a crystal clear pool and whirlpool
Connected to CenturyLink Omaha Convention Center via sky bridge
My Omaha, Nebraska trip was just a blast! I loved being there and wished I could've stayed longer (only thing missing would've been my family)! I was in Omaha with Omaha Steaks because I'm working with them as an Ambassador. I'm hoping this is my 1st of many trips out to Omaha! From getting off the plane and seeing how small and intimate the airport was to getting downtown in less than 15 minutes, Omaha had me at HELLO!
I would also love for you to keep checking back in on my blog as I share information about Omaha Steaks, too! I loved being there with them and having them host me. I also loved meeting the entire team and sharing my love of Omaha with them, too! It's great to see that this family business (still run by the family!) has always stayed right in Omaha, that speaks volumes for the City and the family.
Disclosure: Hosted trip with Omaha Steaks. All opinions are my own!
What to Do in Omaha Nebraska – FREE THINGS
was last modified:
February 21st, 2019
by