The first day of school has arrived!
It's here.
It's done.
They're off.
I flew in late last night from Cincinnati where I had the opportunity to speak with the P&G Family Care Team. I appreciated that the P&G team knew I couldn't miss the 1st day of school, so I raced home right after speaking! Throughout the entire flight home all I could think about was today. I had a mental check running through my head… make lunches, get clothes ready, make sure backpacks were packed, make sure cell phones were charged, make sure everyone was up early enough to shower, etc.
I couldn't stop running through lists of things to do! Thankfully my husband did an awesome job prepping for me, which I appreciate more than anything!
When the alarm went off this morning at 5:45AM, we were off and running!
William, Alex and Ben need to be at their bus stop by 6:45AM – so I wanted to make sure they had plenty of time to shower, eat breakfast and get used to the ultra morning call! William was like a bullet out of bed this morning, he was ready to GO! Alex and Ben dragged a little, but thankfully they were all excited for the day. 3 boys in middle school! It's crazy to me. They even posed for a photo with my traditional handwritten sign!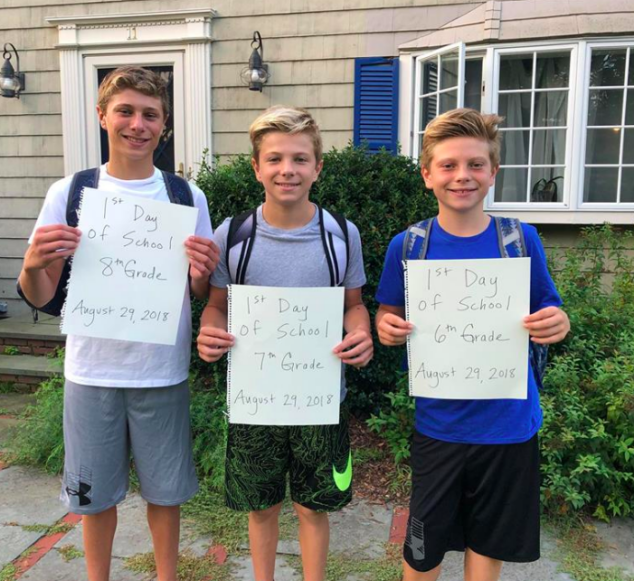 Next up… Victoria (which is a whole other post, too)! Kindergarten! I've been a WRECK about her all summer starting Kindergarten. She's my baby, the last one in the McClelland line to start school. It was an emotional morning for me. We had originally picked out another outfit, but the temps today are so hot (supposed to hit 95!) that we needed to change it this morning. We kicked off with the traditional Back to School sign!
And next up… Henry! First time in school without a brother! I felt bad dropping him off this morning on his own, but he seemed like he was fine and was excited to kick off 5th grade! He came with us to drop Victoria this morning and was very worried about being late, but we got him there on time! He posed with his sign and gave me the biggest smile ever!
And so… just like the – kids are back to school. The summer flew by and as much as I am ready to get back into a routine, I miss them today. I miss the giggling and the laughing and (even) the fighting over Fortnite.
I hope today is wonderful and successful for them!
First Day of School 2018
was last modified:
August 31st, 2018
by