Easy and Quick Vegetable Pizza
You're going to love this easy and quick recipe! It's a hit year-round for our family! My mother in law makes this for every family occasion and it's my absolute favorite! It's not only delightful to look at, it's delightful to eat! It's always such a fresh and light pizza to hand on hand whether it's being served as an appetizer or a main dish! This is a total win and you're going to love it. Not to mention – it's the easiest to make, too!
WHAT YOU NEED:
Two Packages Crescent Rolls
One package of Cream Cheese
1/3 Cup Mayonnaise
1/2 TBSP Fresh Dill Weed chopped
Fresh Vegetables shredded, sliced or diced
HOW YOU GET GOING WITH THE CRUST:
Crust:
Unroll crescent rolls and line a baking sheet. Prepare according to package instructions but start watching five minutes before recommended time. Remove when golden brown and let cool.
MAKING THE SAUCE THAT BRINGS IT ALL TOGETHER:
Sauce:
Combine and stir the cream cheese and mayonnaise (or sour cream) . You may need to add more mayonnaise to get a spreadable consistency. Better to add too little than too much. Avoid making it too soupy.
ASSEMBLE TIME, BABY:
Spread sauce on cool crescent crust and sprinkle chopped dill evenly. You can use dried dill weed as well.
Add vegetables. I used shredded carrots, chopped sweet red, orange, yellow and green pepper.
Cut into squares and serve.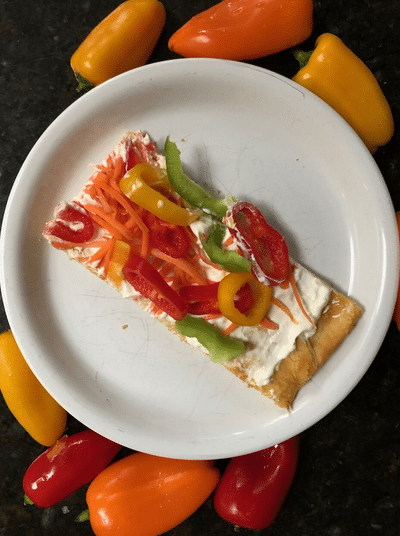 ENJOY!!!!
Easy and Quick Vegetable Pizza Recipe
was last modified:
August 8th, 2018
by