Looking for the Perfect Little White Dress? This summer I've decided to amp up my dress game. I've been loving to wear cool and fun and pretty dresses to work events and family outings. When I feel good on the outside, I always feel good in the inside. There's a confidence that comes from feeling good about how you look and wearing dresses lately has done that for me!
I'm all about trying to find summer dresses that are easy to toss on and go! I love being able to look in my closet and have an arsenal of items right there, ready to rock and roll! It's the best way to keep myself ready for just about anything at all!
Little White Dress
Every summer I love to find a new Little White Dress! I'm always on the hunt for the best Little Black Dress, so in the summer… the Little White Dress takes top priority! I know that many people suggest having a Little Black Dress (or LBD) in your closet. But do you have a Little White Dress? You won't be able to wear it year round, but you will be able to wear it around the clock in the summer months. It's just such a fresh breath of air! It's just such a pretty go to item that every woman should have on them during the summer months.
I know that most women worry about wearing a Little White Dress because they don't want to have undergarment lines. I'm going to give you a HUGE fashion tip and trick! Wear nude bra and undies underneath your dress. You don't have to worry about having any lines. Believe it or not, if you wear white undies and bra people will be able to see your lines there, too. They are blaring lines for everyone! Stick with nude undergarments.
OK… so I'm dishing on this fabulous Little White Dress that I just found for only $35 at Target! It's the cutest little dress ever and it's one of those dresses that you can easily dress up or dress down. I love that I could even toss this on for a day at the beach. It's THAT kind of magical dress that work for just about any occasion. I think it's fabulous to have a item that works in a variety of different ways, especially spring and summer items. You're always on the go and don't have to worry about wearing layers on top of everything!
Where can you find this fabulous dress?
Women's Short Sleeve Tiered Mini Dress – Who What Wear™!
It's not only cute, but it's super comfy, too! I love wearing it because it's just the perfect dress to wear with sandals or heels or flop flops! I'm wearing espadrilles right now because I wanted to wear something VERY summer, but the beauty is – you can really wear anything. I love that it's the perfect length, too. It hits right above the knee, which allows me to feel that I could wear this on work trips, too. It's appropriate and professional.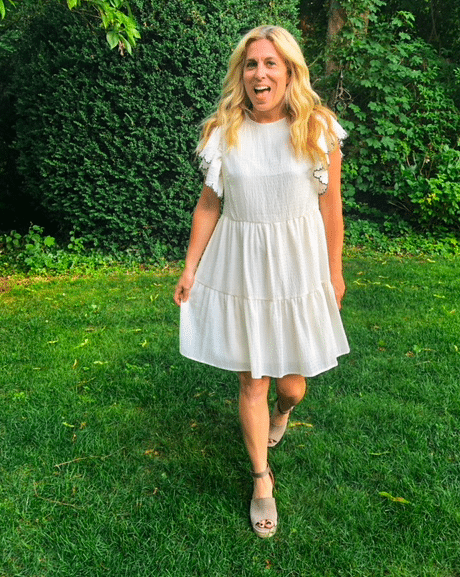 The sleeves are the standout out on this dress! They ruffle right at the ends and just give it an extra fashion flair! It's suitable for so many different occasions and I love that this really is a standout item in your closet. I mean, just look at the sleeves here! They are fantastic!
It also is available in black, too! I'm OBSESSED with it that one, too!
Grab it now here! Don't be afraid to buy this one, too in the black option. Even though the fabric is on the summery side, I've worn my black option in the winter months with a little wrap around me, too. The piping on the dress is just adorable and sweet and so pretty!
Don't stop here with this Little White Dress option! I'm all about sharing some of the other options and styles out there! I wanted to find some dresses at the perfect cost and really be able to showcase what is fabulous out there right now! If you have any questions on these dresses, feel free to ask me or reach out to the stores that I feature, too! I wanted to showcase 30 different Little White Dress styles and fashions for you for the summer! Boom! I hope you like them!
Also – check out my What to Wear Series!
Little White Dress – 30 Options
was last modified:
September 7th, 2019
by