A Running Late Hairstyle for Moms is something that all moms need to have on hand! I'm obsessed with side braid hairstyles for moms. These are the easiest of all!  I don't know about you, but when I'm running late in the morning usually my hair goes up! It's either in a high pony or a messy bun. I try my best to make it appear cute, but it doesn't always work 100% of the time.
Side Braid Hairstyles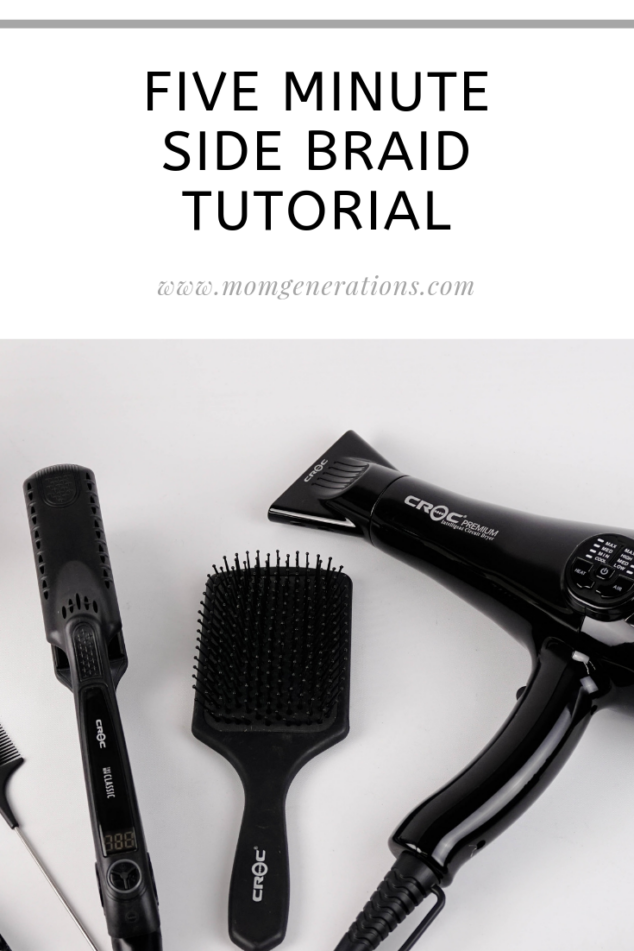 With 5 kids in the morning to get up and ready and out the door – my beauty summer routine isn't nearly what it is during the school year. I have (legitimately) 5 minutes or less in the morning to get out the door! I have to be quick on my feet, but also have in the beauty arsenal some tricks that will work!
One summer hair trick I've perfected side braid hairstyles that work for my life. The side braid has been my go-to for the last couple of weeks! I just don't have the time or the patience in the summer to curl my hair. It's so hot and it takes so long for me to do! I love having go-to easy hairstyles that I can pop up and feel good and beautiful in, but also know that it took less than 5 minutes to do! That's a win-win right there!
So… for all you moms out there who are running late, I have a quick (and easy) hairstyle for you! You will literally go from looking bedhead hair to chic hair in 5 minutes or less!
As you can see, I needed a little va-va-voom this morning and the side braid hairstyles did its trick in just minutes! Check it out!
Side Braid Hairstyles Tutorial
Let me know if you try it and what you think! Even my husband – who usually NEVER comments on my hair – loves this look! Bonus WIN!
This is why every mom needs her go-to "in the morning" hairstyles:
It will save you time in the morning to have your easy go-to faves!
You will start expanding off of your styles as you get more and more comfy with what you've got on your plate.
Start experimenting with styles. Believe me – you will love finding ways to make yourself look chic and fabulous!
Sometimes we all just need a fab up-do and sunglasses to make us feel like celebs!
Braids look chic at any age, so find one that works for you and your comfort level!
My go-to hair product for styling in the morning is dry shampoo. I'm obsessed with dry shampoo and don't know how I lived without it for so many years! There are tons that I love, but the Batiste works beautifully!
Looking for more hair content? Check out my Dutch Braid! It's easy and doable for ANYONE to style (I promise!).
Side Braid Hairstyles
was last modified:
July 3rd, 2019
by