Luau Party Prep: Easiest Mai Tai Recipe Ever
We love to entertain at home, but it's even more fun to entertain with a theme! The LUAU theme is always a fan favorite! It's so much fun to dress up, decorate and throw a Luau Party! It's the perfect and ideal summer theme! You know everyone coming will enjoy it and have a blast! And You also know you can have a ton of fun with it! The good times will keep on rolling with it!
I thought it would be fun to create some Luau Party Planning content this week! Since we're going to be throwing a Luau Party this August, I figured I might as well start trying recipes now and stocking up on some awesome decorations! This is the best part about having a theme early on, you can really take the time to get into it and find the perfect party accessories!
Today I'm sharing a drink recipe with you! The perfect drink for a Luau is the Mai Tau! It's iconic and it's the go-to drink for every Luau Party I've ever been to! Here's the thing – I just love easy and quick when it comes to anything for a party! I don't want to be slaving away in the kitchen or behind a bar! I don't want to be reading through 100 different steps for something. I just want to make it and serve it quick!
I have perfected the PERFECT and EASIEST Mai Tai Recipe Ever! My husband gets credit for it, I can't take the credit! He mastered it and (for us) it's a great drink on a hot summer night to just indulge in at home! Not to mention… it's really pretty, too!
Easy, right?
Here's the recipe for you to read –
Easiest Mai Tai Drink Recipe:
Get a BIG jar or pitcher to mix everything in!
The just start adding on in:
1 cup of Light Rum
1 cup of Dark Rum
1 1/2 cup of Triple Sec
1/2 cup of Orange Juice
1 cup of Pineapple Juice
1/4 cup of Cranberry Juice
Mix everything together and serve!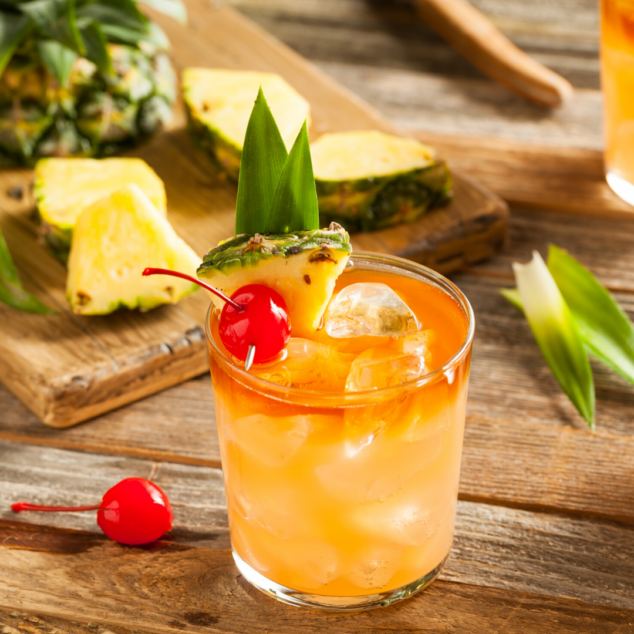 Feel free to garnish and have some fun drink accessories with it!
LUAU PARTY PREP: EASIEST MAI TAI RECIPE EVER
was last modified:
July 7th, 2020
by