I love braiding my hair! When I was a little girl my mom would braid my hair at least 3 times a week. She would do braided pigtails, french braids and even twist braids on my hair. I had very long hair, so for me – it was always special to see what she could do with my hair. It really made me feel beautiful and special! Now that I have my own daughter, I get this special connection. I've been working on Dutch Braids in Victoria's hair. Everyone always asks me when she's out and about – How to Do a Dutch Braid! It looks hard, but it's actually pretty simple! It's the ONLY kind I do on my own hair!
How to Do a Dutch Braid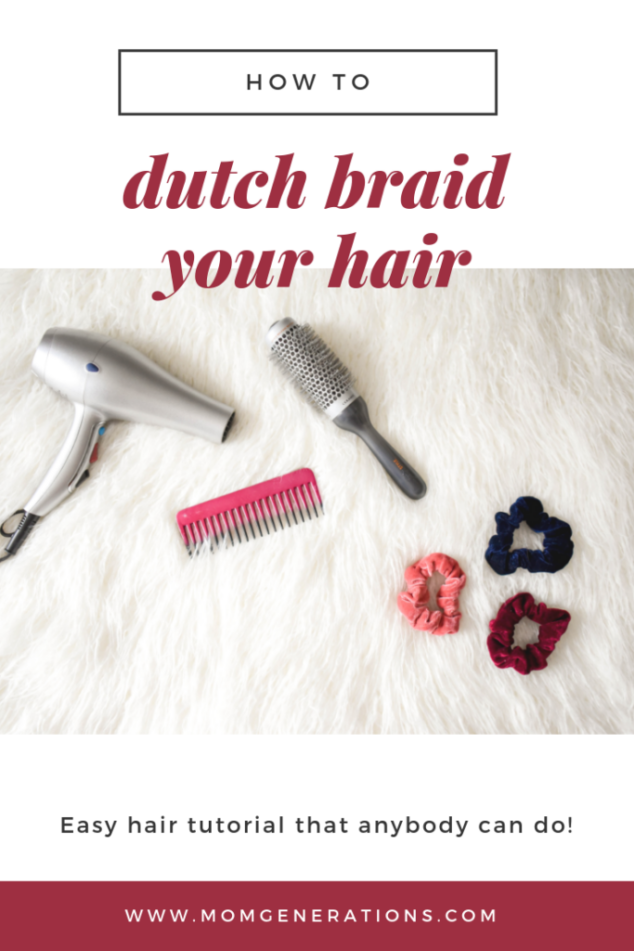 How to Do a Dutch Braid
Looking How to Dutch Braid your Hair!? I'm here to help!
There's nothing like twinning with my girl! We have so much fun planning and creating outfits that will either match or complement each other perfectly! It's something that I personally love to do and it's amazing having a daughter that gets equally excited, too! I can't tell explain properly how much fun it is to wake up and having a little daughter say to you, "What are we going to wear today?" And then she goes to search for something like you have on. It warms my heart!
If you follow me on social regularly – you know I love to switch my hair up! I love to wear it straight and wavy and curly and up in ponytails and buns! I have fun with my hair because I've really tried hard over the years to figure out how to do certain styles on my own. The cute thing is seeing Victoria embrace this, too! If I'm waving my hair – she wants hers wavy, too. If I'm putting it in a bun, she wants it in a bun, too. It's matchy matchy for our hair, too! I love it.
Recently she saw a little girl with dutch braids and LOVED them! She wanted them, too. Here's the thing – I'm not that great at braiding – but I can follow a tutorial like a master! I immediately went and found videos on How to Do a Dutch Braid. I never have been and (believe me) I've tried to be an expert at hair, but seeing my daughter fall in love with this little girl's braids made me get my butt on YouTube and figure out how to do dutch braids! Here's the thing – when I see my daughter light up with excitement over hair – you've got me! You've got me good! I figured I'd start with myself and see if I can get it… I knew if I could do it on my hair, then I could do it on her hair!
Victoria wanted matching braids… and well, she got it!
How to Do a Dutch Braid
I told her we can keep doing matching hair now, too! I just gotta stay on top of my braid game!
For my fellow mamas out there looking to figure out how to do a Dutch Braid, this video was incredible to use as a tutorial! I loved every second and she made it easy to figure out… !
Here's an incredible How to Do a Dutch Braid Tutorial – it's slow and doable and practical!

Another hairstyle Victoria loves is Messy Bun with Side Braids! I made this one up on my own! 🙂
If you're looking for the best brush for a little girl's hair – it's the Wet Brush – it's EVERYTHING!
How to Dutch Braid your Hair #HairGoals #Twinning
was last modified:
February 13th, 2019
by