Throughout the last 8 years, I've been honored to work and partner with Tide on various campaigns and projects. As many of you know, for the last 2 years I've had the pleasure to be part of P&G's Fabric Care Advisory Board and have done my best to help them to spread awareness about laundry safety. As a mom of 5 kids, I know first-hand the importance of making sure my house is safe and secure for my children and any children coming over. You want to make sure there is safety at home. The laundry room is an area in the home that cannot and should not be overlooked. Being able to share this message from and with Tide has been something that I have cherished because I know it's making a difference.
SAFETY AT HOME Facebook Live with Tide
Educating parents and caregivers about the importance of using and storing Tide PODS correctly is highly important to P&G. To reduce potentially harmful incidents related to liquid laundry pacs, P&G has paved the way in the laundry industry by initiating significant product developments, consumer education initiatives and packaging changes. I've had the chance to share all of this with you throughout the years and I can't tell you how amazing it is to get such positive feedback from moms and dads and grandparents and caregivers about all that P&G is doing. I love being able to share tips on safety at home. It's important to share.
I'm thrilled to share with you that on May 31st at 1:30PM (ET) Vera Sweeney and I will be co-hosting a Facebook LIVE with Tide to kick off June's National Safety Month with child psychologist Dr. Shefali Tsabary, PH.D. Dr. Shefali will be presenting her unique perspective as a child psychologist in an organic, open and honest conversation with us while we discuss the best ways to keep our kids safe and also chat about Tide's innovation in driving a shift in household safety.  I love that she will be discussing safety at home because it's a topic that never gets old for moms and dads. This is a Facebook LIVE that all parents and caregivers should be part of and listen in on! Plus there will be giveaways!
We're thankful for this incredible opportunity because it's such a wonderful way to keep safety top of mind and get the advice and wisdom from Dr. Shefali. We will also be sharing a very interesting and insightful online quiz that Dr. Shefali and Tide collaborated on! This short online quiz will show parents and make them more aware of their "safety style." The quiz takes you through 6 common parenting scenarios and gives you a chance to determine how you would respond to each designated situation. I took it and I'm a Cheetah, which was extremely accurate for me! It's something we can't wait to share with you on the 31st!!!! I think it's a great way to make sure you're doing everything you can for Safety At Home.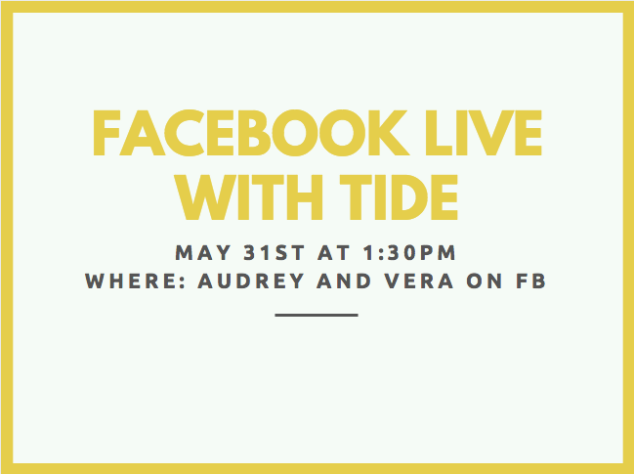 Please MARK IT DOWN!!
Facebook Live Details
Date: Thursday, May 31
Time: 1:30PM (ET)
Location: Hosted on Audrey & Vera's Facebook page
Giveaway: 10 Tide POD CRC Tubs and 10 copies of Dr. Shefali's book, The Awakened Family
And please make sure you let your mom and dad friends know about the Facebook Live! We really want to try and get as many people there as possible! We think it will be fun for you to share because it's nice to know that we're all in this together. Safety is a topic that could and should be discussed around the clock. It's a topic that is very near and dear to my heart as a mom. Love for you to pass and spread the word!
See my other Tide posts, too!
Sharing my Tide Love with the New Caps
Facebook Live for Baby Safety Month with Tide
Disclosure: Sponsored partnership with Tide. All opinions are 100% my own.
SAFETY AT HOME Facebook Live with Tide
was last modified:
May 13th, 2019
by