Sponsored by Warner Bros. Pictures
5 Gifts Every Mom Needs for Mother's Day
Mother's Day is ALMOST here!
Can you feel the anticipation in the air!? Can you see people hunting for the perfect gifts yet? I was behind a mom at the market last week who had me laughing out loud as she relayed what she's gotten for gifts throughout the years from her husband. "One year he got me gardening tools! I don't garden! And then last year he got me margarita glasses, but I don't like margaritas!" She was truly making me and all the ladies around us laugh! But it's true, it got me thinking about Mother's Day and how it is one of those holiday's that brings on the gift pressure.
Kids are easy, they can make to give a mom anything and we will love it to the core.
But the spouses? The pressure is on!
I'll never forget the year my husband forgot Mother's Day. I'm not kidding, he FORGOT Mother's Day. We had 4 little boys at the time and I sat there in the living room anxiously awaiting something special from them, when I realized nothing was coming… I burst into tears! I remember saying to my husband, "How could you forget?" But he did and he didn't mean it, but it really upset me. Now I can laugh about it, but 8 years ago… I couldn't! So basically, every Mother's Day since then for my husband has been a pressure zone. He wants to make sure he does it right.
I thought I would make it easy for my husband this year and just share 5 gifts that every mom needs for Mother's Day. I figure this way he'll know and hopefully I can help and shed some light for some other spouses out there, too! There's not one MOM on earth that wants to be forgotten on Mother's Day, so let's make it easy for everyone out there with some gifts that will absolutely bring a SMILE!
Are you ready!?
#1 – MASSAGE.
I'm all about the relaxation and pampering for Mother's Day. If you're smart, you will also include a card sharing all the things that MOM does for you and your family and why you know she needs an hour massage. She needs quiet. She needs peace. She needs someone doing something for her. There are so many spas that offer massages, my advice – purchase a gift card and let her pick the time and date. And if you're extra good, book a couple… don't just make it a one-shot deal!
#2 – SET-UP A GIRLFRIEND LUNCH DATE –
OK, I know this might be tough to accomplish, but if you do – you will get bonus points forever and ever. If you know her mom friends, get in touch with their spouses and book a lunch date for them all in honor of Mother's Day. Let the MOM in your life head to lunch and laugh and relax and do nothing but enjoy her girlfriends. And please… for the love of GOD, do not text during lunch "When will you be home?" Or "How long are you planning on stay out?" Let her be and let her have a good time!
#3 – Tickets to see Melissa McCarthy's new movie LIFE OF THE PARTY which opens in theaters everywhere just in time for Mother's Day – So…. This is probably the TOP GIFT I WANT this year!! I'm a HUGE Melissa McCarthy fan… and I love to laugh and this movie seems out of control hilarious.
If you haven't seen the previews, here's a little snippet – McCarthy stars as an old school mom who creates a whole new life after her husband suddenly dumps her by going back to college…landing in the same class and school as her daughter, who's not entirely sold on the idea. Plunging headlong into the campus experience, the increasingly outspoken Deanna—now Dee Rock—embraces freedom, fun and frat boys on her own terms, finding her true self in a senior year no one ever expected.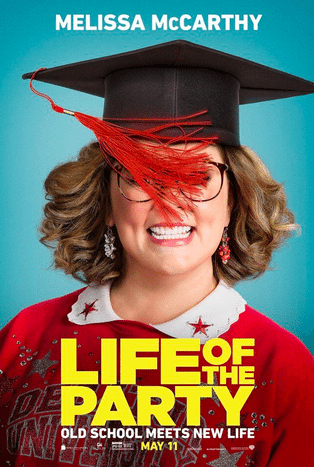 I mean, this is hilarious, right!? I've been dying to see this since the promos came out for it. Nothing would make my Mother's Day weekend more than taking a trip to the movies to see this one on the big screen.
Get your tickets now and check out the trailer below.
#4 – TICKETS TO A LOCAL VINEYARD –
I'm a wine girl, so for someone like me… this would be amazing. If the MOM in your life isn't a wine girl, maybe a brewery. The thing about heading to a Vineyard is that it's just a relaxing place to be. There's always so much to do at a Vineyard. At the ones near us there's live music and food and gorgeous places to walk and explore. I've always loved a Vineyard because it's a place that you can just escape to for a couple of hours! Everything else in the world going on fades away and that's a beautiful thing.
#5- SHOPPING SPREE –
Don't laugh, you know you loved this kind of gift from your parents when you were a kid! Do you know how long it's been since I've been on a shopping spree just for MYSELF?
You don't need to go crazy, but find her favorite store or stores and let her have some fun! The summer is upon us and it's time for a few new pieces, let her go shopping alone and try on a million things without worrying about the kids. This one will always be a fan favorite in my book!
So here are my 5 BIG ideas!!
Go crazy with all 5 or pick and choose!
Allow this weekend to be ALL about MOM!!
And to my fellow mamas, HAPPY MOTHER'S DAY!!!!!!!!!
5 Gifts Every Mom Needs for Mother's Day #LifeoftheParty
was last modified:
May 8th, 2018
by